The Movie

Video Quality

Audio Quality

Supplements
Dirty Grandpa is a 2016 American sex comedy film about a lawyer who drives his grandfather to Florida during spring break. The film was directed by Dan Mazer and written by John Phillips. It stars Robert De Niro, Zac Efron, Aubrey Plaza, and Zoey Deutch.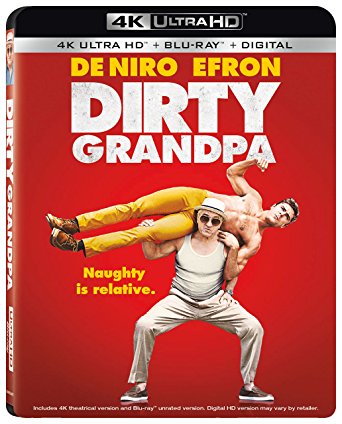 Purchase DIRTY GRANDPA on Ultra HD Blu-ray Today!
THE MOVIE:

I guess I should start this off by mentioning that my love for Robert De niro tends to make me find enjoyment in anything he does. DIRTY GRANDPA received poor critical acclaim during its theatrical run, but I found the movie to have many laugh out loud moments. If you go into this movie taking it for the comedy it is SUPPOSED to be at face value you will likely find many of those same moments yourself. The film isn't knocking on the door of things you haven't seen before. It plays out more like a mixture or over characterized version of lots of movies you have seen before. A proverbial smelting pot if you will.
Jason played by Zac Efron is convinced after his Grandmother passes away by his Grandfather (De Niro) to go to Florida with him on a trip. Jason's fiance Meredith is not all too happy with their wedding right around the corner. It's there that chaos and insane hilarity ensues in the attempt of the Grandfather to hook up Jason with his old squeeze. Meanwhile her best friend Lenore played by the lovely Aubrey Plaza is on a mission to complete the trifecta by screwing a Freshman, Alumni and a Professor all in the same year. She is needing a professor whom De Niro coincidentally disguised himself as at time of introduction by sheer luck.
It's overly raunchy, and absolutely ludicrous at times, but when viewing in the right mood you can find yourself some laughs.
VIDEO QUALITY:

The ever so lovely Aubrey Plaza never looked better then in Dolby Vision on Ultra HD Blu-ray. *wink wink* The ever changing scenery in this film allows the HDR to really showcase well with beach scenes, party scenes, inside, outdoors, golf courses, you name it. Not much to complain as I doubt many are too picky with this title versus a masterpiece epic etc. That said, Dirty Grandpa has never looked better.
AUDIO QUALITY:

DIRTY GRANDPA slams onto Ultra HD Blu-ray with a Dolby Atmos track that delivers in the form of loud music, yelling, screaming, and everything in between. The Blu-ray disc features the same DTS HD Master 5.1 audio track that handles the film well. The bass sees a lot of action in this track as well as your fronts that carry the bulk of the load.
SUPPLEMENTS:
*Filthy Filmmakers Who Have No Shame Audio Commentary
*Gag Reel
*The Filthy Truth: The Making of Dirty Grandpa
*Lessons in Seduction
*Daytona Heat
*I Got Nothin' to Hide: A Look at Daytona's Most Vibrant Drug Dealer
Filming began on January 19, 2015, in Atlanta and ended on May 9. It was theatrically released on January 22, 2016, by Lionsgate and received scathing reviews from critics, but succeeded in the box office, grossing over $105 million worldwide. – wikipedia