The Movie

Video Quality

Audio Quality

Supplements
Death Wish is a 2018 American vigilante action film directed by Eli Roth and written by Joe Carnahan. It is the sixth installment of the Death Wish series and a remake of the 1974 film of the same name starring Charles Bronson, based on Brian Garfield's 1972 novel.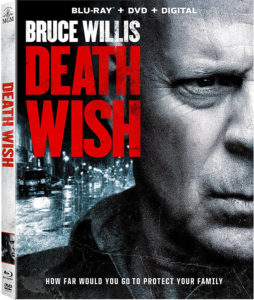 Purchase DEATH WISH on Blu-ray Today!
THE MOVIE:
DEATH WISH while critically slammed during its box office run is a film that I feel is miles better then its rating. An absolute travesty that it got such negative reviews. I'm lost for words even reading them. DEATH WISH is the best Bruce Willis action film since Die Hard 3. Eli Roth also did an amazing job directing this, as he added that element of suspense you'd often get from his horror movies in the suspenseful scenes to really keep you at the edge of your seat. I felt the score of the film was masterfully done as that is what added the kick to those scenes. Thankfully the film appears to have turned a profit theatrically so we can all hope that we get to see more of this DEATH WISH franchise remake with the always charming and bad ass Bruce Willis.
We recommend that you check out DEATH WISH as you might be pleasantly surprised.
VIDEO QUALITY:
It's a pity the 4k Ultra HD version of DEATH WISH appears to have been scrapped. Likely due to the poor theatrical reviews. Never the less the film does look great on blu-ray and some small elements of grain during the dark night scenes, but overall a very well executed transfer given the amount of changing scenery. If you can see all the pores and wrinkles on Bruce then you know its an amazing transfer. Ha.
AUDIO QUALITY:
DEATH WISH comes to blu-ray with a stellar 5.1 DTS HD Master Audio track that is front heavy baring the bulk of the load. The score resonates nicely in some immersive scenes utilizing the rear channels, but with the gun shots ringing out it seems like it could have been a tad better at 7.1. Great bass throughout the film putting the sub to light work given that Eli Roth knows how to work that suspense angle. Ala Hostel.
SUPPLEMENTS:
DEATH WISH at release comes with a nice gloss slipcover, digital copy, and the following extras.
Commentary with Eli Roth and Roger Birnbaum
Deleted Scenes with Optional Commentary with Eli Roth and Roger Birnbaum
Extended Scenes from the Mancow Morning Show and Sway in the Morning
Vengeance and Vision: Directing DEATH WISH