The Movie

Video Quality

Audio Quality

Supplements
Forrest Gump is a 1994 American romantic drama film based on the 1986 novel of the same name by Winston Groom. The film was directed by Robert Zemeckis and stars Tom Hanks, Robin Wright, Gary Sinise, Mykelti Williamson, and Sally Field. The story depicts several decades in the life of its titular character (Hanks), a slow-witted but kind-hearted, good-natured and athletically prodigious man from Alabama. Gump witnesses, and in some cases influences, some of the defining events of the latter half of the 20th century in the United States, specifically the period between his birth in 1944 and 1982. The film differs substantially from Winston Groom's novel, including Gump's personality and several events that were depicted.
Purchase FORREST GUMP on Ultra HD Blu-ray Today!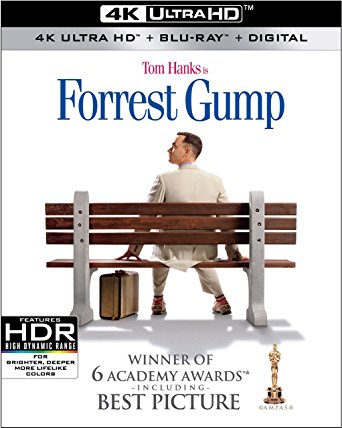 THE MOVIE:
FORREST GUMP is an all time classic and stars Tom Hanks in quite arguably his best role. In this film of the every man who becomes one of the most courageous and just so happens to be at practically every major event on the 20th century. From Vietnam, to JFK, to Black Panthers, to running the Country and coining the term "SHIT HAPPENS". Forrest Gump is a story and tale of trials and tribulations with comedy and drama strung all the way through.
VIDEO QUALITY:
FORREST GUMP on Ultra HD Blu-ray looks better than it ever has before. FORREST GUMP is a film that has many different types of scenes. From the country side of Alabama, to the rain forest of Vietnam, and the countless miles of highway across the Country. HDR provides a great deep spectrum of colors and hues that are more dark and vibrant than ever before.
AUDIO QUALITY:
FORREST GUMP arrives on Ultra HD Blu-ray with an exceptional Dolby Atmos track. An immersive audio experience comes through your fronts, center, and rears that plays to the film's every changing scenery greatly. The blu-ray disc has the same DTS HD Master audio 5.1 track that fits the film quite nice as well.
SUPPLEMENTS:
FORREST GUMP on 4k features the same special features of that of the prior blu-ray release.
Audio Commentary: Robert Zemeckis, Steve Starkey, and Rick Carter.
Audio Commentary: Wendy Finerman.
Musical Signposts to History
Greenbow Diary
The Art of Screenplay Adaptation
Getting Past the Impossible: Forrest Gump and the Visual Effects Revolution
Little Forrest
An Evening with Forrest Gump
Archival Special Features
The Make-Up of Forrest Gump
Through the Ears of Forrest Gump: Sound Design
Building the World of Gump: Production Design
Seeing is Believing: The Visual Effects of Forrest Gump
Screen Tests
Trailers
In 2011, the Library of Congress selected the film for preservation in the United States National Film Registry as being "culturally, historically, or aesthetically significant". – wikipedia