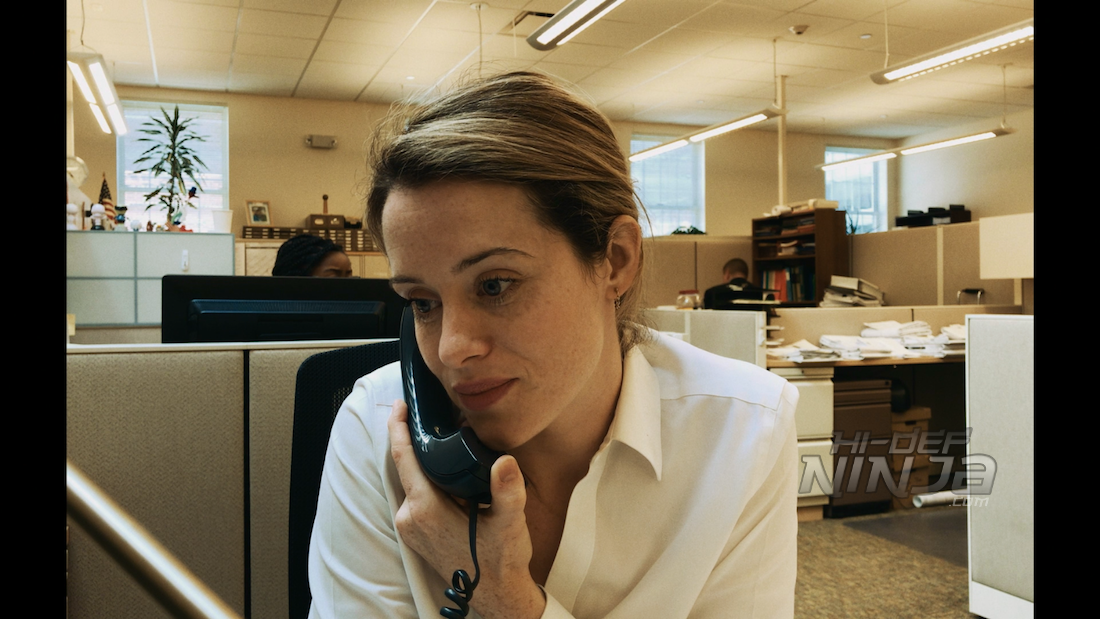 UNSANE Blu-ray Review
The Movie

The Video

The Audio

The Supplements
Sawyer is a woman who has had to leave her home due to issues with a stalker.  She is triggered by little things and constantly in fear.  She needs to find a way to deal with this before it becomes too much to handle.  She finds a facility called Highland Creek Behavioral Center to look into getting the help that she needs.  After she does an initial interview and intake with one of the employees/doctors there, she somehow gets into a situation where she is not allowed to leave.  
UNSANE is director Steven Soderbergh's latest film.  This isn't the first time that he has dealt with metal health or healthcare in general.  He has explored the need for mediation and how the Big Pharma can see a crisis as a moneymaker in CONTAGION.  The other film was SIDE EFFECTS where a woman who has psychotic tendencies manipulates the people and professionals around her to tell the narrative that she creates.  
In this movie, you are constantly questioning both Sawyer's sanity and the motivations of the clinic.  Having some knowledge of how behavioral centers work and the process of the people who run them, I can say that this is a rather realistic portrayal of the "trickery" that can be used to maintain a certain number of patients per month.
Claire Foy's Sawyer is perfectly neurotic and unpredictable.  As I mentioned, this makes what is really happening unclear until the very end of the movie.  
Cast
Claire Foy – Sawyer Valentini
Joshua Leonard – David Strine
Jay Pharoah – Nate Hoffman
Juno Temple – Violet
Aimee Mullins – Ashley Brighterhouse
Amy Irving – Angela Valentini
Polly McKie – Nurse Boles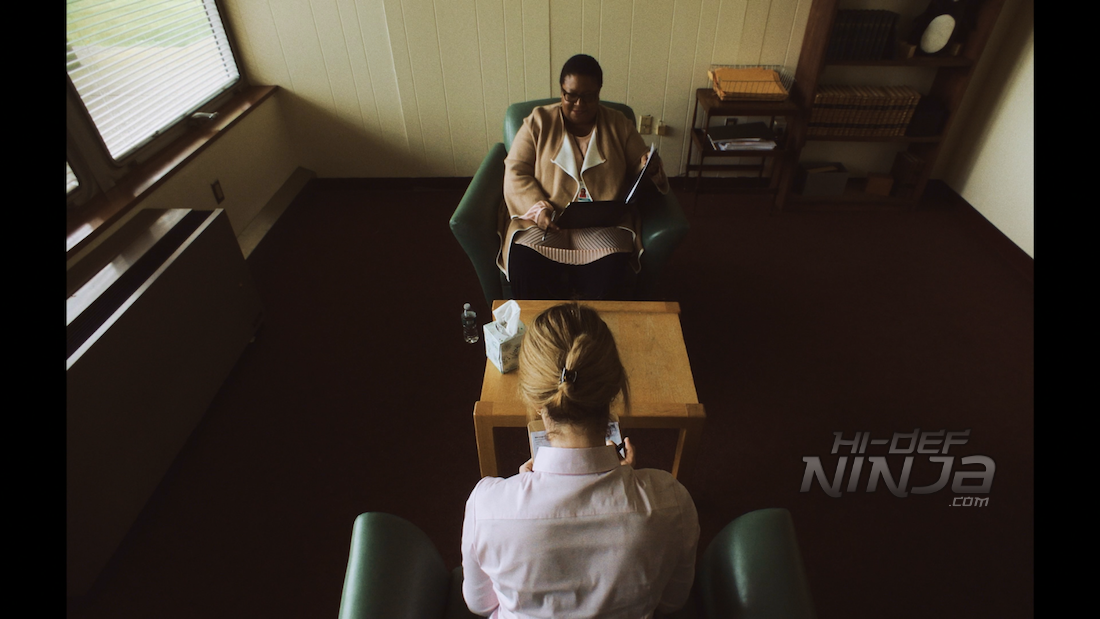 VIDEO QUALITY:
The video is a 1080p AVC presentation that has a unique look.  This is due to the movie being entirely shot on an iPhone 7 Plus in 4K.  This gives the film a sort of gloomy and unsettling look.  The details are sharp in all of the various lighting but the darker scenes add stronger contrasting.  The few outdoor scenes are bright and have clean images.  Coloring has more of beige/drab look and that is definitely the point.
ULTRA HD BLU-RAY VIDEO QUALITY:
It's quite hard to judge the UHD release of this movie fairly as the Director's vision was going after a certain look for the film. If you do not understand that, then you will think the UHD is utter crap. Once you understand that, you can then appreciate the film's distinct look for what it was intended to be. Thus with that in mind, the higher resolution is a small step up from that of the 1080p version. However this is not a film in which you are to showcase UHD Bl-ray and all its glory unto friends and family visiting. A mind trip of a movie with a mind trip video transfer to go hand in hand.
AUDIO QUALITY:
The audio is a lossless DTS-HD Master Audio 5.1 mix.  It manages to keep the tone of the film with the sounds of the city or the echoes in the hallway.  Sound really has a chance to reverberate well in pretty much any setting that is on screen.  The music has some clean and subtle LFEs from the music.  The effects and dialogue get along very well.
SUPPLEMENTS & PACKAGING
-Unsanity: This is a 4 1/2 minute extra that looks behind the scenes and how the film was brought together.
Disc Details
2-disc set w/ 1 Blu-ray and 1 DVD
Digital copy
Running Time
98 mins
Edition Ratings
Rated R
Region Coding
Region Free
Video Resolution
1080p AVC MPEG-4
Aspect ratio: 1.56:1
Audio Mixes
English DTS-HD Master Audio 5.1
Subtitles
English SDH
French
Spanish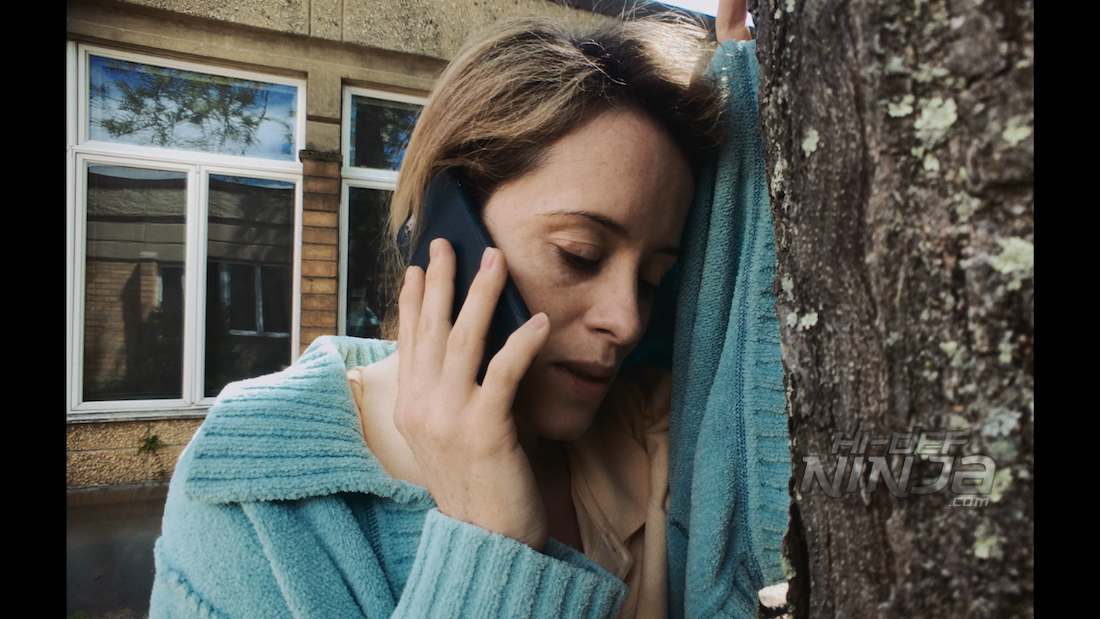 THE BOTTOM LINE:
UNSANE is a great thriller and has a smart look to it that keeps the feel of uneasiness all the way through.  Claire Foy is perfect for the role and don't expect a proper lady here.  The Blu-ray has a great look to it and the audio has a clean mix.  There is only one extra on the disc and with a movie being filmed in such a different way, I would expect a little more attention to this idea.  If you're a fan of the director or curious about the movie at all, I can highly recommend picking it up.