The Movie

Video Quality

Audio Quality

Supplements
A Quiet Place is a 2018 American horror film directed by John Krasinski, who stars with Emily Blunt, his real-life wife. The film is produced by Michael Bay's company, Platinum Dunes, which is also run by Andrew Form and Bradley Fuller. Scott Beck and Bryan Woods began working on the story in 2014, and Paramount Pictures bought their spec script in 2017. Krasinski then joined as a director and wrote a new draft of the script. Principal photography took place later in the year in upstate New York. In A Quiet Place, a family must live life in silence while hiding from creatures which hunt by sound.
Purchase A QUIET PLACE on Ultra HD Blu-ray Today!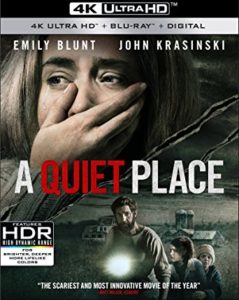 THE MOVIE:
A QUIET PLACE is a fresh and unique take on the sci-fi horror genre that rocked theaters world wide. Many audiences clamored at the fact that they felt like their was a new dimension for the movie viewing experience in that of themselves. Countless times I read and viewed how audiences felt like they had to stay quiet while watching the movie as they felt completely immersed by the experience and didn't want that buttery popcorn to cause an alien monster to wreak havoc!
That's right if you haven't heard all the noise that A QUIET PLACE has been making then you might have missed out on the premise entirely. A QUIET PLACE follows a family in a somewhat post alien invasion in which these alien monster like creepies live underneath the ground and have a crazy sense of hearing and attack on sound. That said, the family lives through this new landscape by being extremely cautious as to not make any sound. It'll leave you thinking of how life must truly suck to endure this type of livelihood in which you take for granted the small things in life. You know, like just holding a conversation out loud with your parents.
The Director of the film is none other than then leading male star John Krasinki whom is the real life husband of the leading lady of the film Emily Blunt. Great chemistry and chaotic event ensue that keep you entertained all throughout. Without spoiling too much, you can get the grasp of this film by what's been said here, or the fervor you've read or seen online for this film and know that this is one worth seeing. If you are not much of a horror fan, then fear not, as it lends more to the likes of a sci-fi survival movie if you ask me. It comes highly recommended from Hi-Def Ninja.
VIDEO QUALITY:
A Quiet Place releases on to Ultra HD Blu-ray with Dolby Vision HDR which showcases beautifully on this release. There are many dark scenes whether at the farm, or inside the house that have a great depth to it that presents well with the fullness of the high dynamic range. Even the opening sequence and walk allows for great full brights. A Quiet Place looks wonderful in 4k.
AUDIO QUALITY:
The irony of a movie based on staying quiet is that the Dolby Atmos audio track is exceptional. While being quiet may be the premise there are plenty of loud scenes for the score and sound effects to amaze. So that being said, what we are left with is an immersive audio experience that your 5.1 set up will hammer out with ease. I'm sure a soundbar is equally as nice.
SUPPLEMENTS:
A Quiet Place releases to blu-ray with a small but stellar bunch listed below.
* Bonus Content:Creating the Quiet – Behind the Scenes of A QUIET PLACE
* The Sound of Darkness – Editing Sound for A QUIET PLACE
* A Reason for Silence – The Visual Effects of A QUIET PLACE
A Quiet Place premiered at South by Southwest on March 9, 2018, and was released in the United States on April 6, 2018, by Paramount Pictures. It became a major box office hit, grossing $331 million worldwide and received acclaim from critics, who praised its originality, atmosphere, as well as the acting and directing, with one calling it a "smart, wickedly frightening good time".[5] A sequel is currently in development. – wikipedia