The Movie

Video Quality

Audio Quality

Supplements
Transporter 3 (French: Le Transporteur 3) is a 2008 French action film, It is the third and final installment in the original trilogy of the Transporter franchise. Both Jason Statham and François Berléand reprise their roles, as Frank Martin and Inspector Tarconi, respectively. This is the first film in the series to be directed by Olivier Megaton. The film continues the story of Frank Martin, a professional "transporter" who has returned to France to continue his low-key business of delivering packages without question.
Purchase Ready Player One on Ultra HD Blu-ray Today!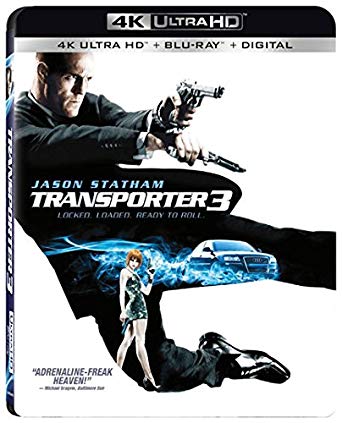 THE MOVIE:

Frank Martin (Jason Statham) is back! The Transporter is back! I'll be the first to say and probably not the last that I thought the sequel to the first was absolutely horrible. I had low hopes going into this one and even so this one really shocked me. I'm glad to see the Transporter back in A+ action! I think fans of Statham will love this and fans of the Transporter franchise will be glad that this one got the quality it deserved! Sure the plot may be a little off the wall, but the martial arts and stunt driving more than made up for it!This time Frank is forced to transport Valentina (Natalya Rudakova), an objectionable young woman, across Europe by a group of villains who have fitted Frank and Valentina with explosive bracelets. If either of them move more than 75 feet away from Frank's car, their bracelet will explode making this quite the rollercoaster ride! So what's the connecton to all of this? Well, the "Bad Man" Robert Knepper is smuggling in toxic waste to basically hurt the environment. I could go into further detail and make more sense of myself but I dont want to reveal any spoilers for those who have yet to see the film!
If your a Statham fan, you gotta see this on UHD!
ULTRA HD VIDEO QUALITY:

Driven from a great blu-ray transfer the added HDR from Dolby Vision really gives this the extra umph it needs. Such a great looking Ultra HD Blu-ray 4K release with darks displaying much depth. The fast action scenes handle well with striking colors in 4k resolution. Granted the original source however is not from 4k thus why many sites are claiming this fake 4k. However do keep in mind that the blu-ray quality was amazing, and with Dolby Vision I see improvement even if its small, never the less it looks great.
BLU-RAY VIDEO QUALITY:

This is reference quality right here. PQ is immaculate. Vibrant colors all around and deep blacks. Even in scenes that are cast from far away the clarity is always there. Two thumbs up to the film crew and those technicians who made the Blu-ray transfer. Any small bit of grain resembled in this flick is there because its supposed to be. Its not there alot, but noticeable in some few instances.
AUDIO QUALITY:

The Transporter 3 comes PACKED with an audioholic's wet dream. The UHD has a fantastic Dolby Atmos track while the blu-ray features the same DTS HD-Master 7.1 Lossless soundtrack. The sound is downright amazing. It provides a sleek full sound whenever needed and the clarity is cystal clear. Your sub will get put to use and the whizzing of the cars passing during race scenes may lead you to believe that your at the Indy Speedway. It's mixed and mastered with perfection with speakers equally utilized and the bass will … let me put it bluntly, go bananas, shake the house, and rOxOrs your bOxeRS! Pure reference quality here folks, show this one off to the friends and fam! Your set up will be put to work with every car racing wrenching scene. The clarity is awesome, truly a great mix and master here!
SUPPLEMENTS:

Special features are on both the UHD and Blu-ray disc and are that of the previously released extras. It firstly offers an audio commentary track with director Olivier Megaton where he covers the film from its beginning stages. He also comments on the design of the bracelet and the script in itself. Also it has a feature called, "Making of Transporter 3" (480p) in which where it shows the transformation of what will come of 3 based on the previous 2 along with car scenes and interviews with cast and crew. A fun watch.
My favorite however is, "Special Delivery: Transporters in the Real World" (480p) This feature has interviews with Navy Seals, former secret service agents, intelligence operatives, special forces, you name it! They discuss everything from the real world duties of a Transporter including both mental and physical challenges of the profession.
Storyboard Compare: (480p) Showcases storyboards of the film
Visual Effects (480p) A look into the special effects of the film.
The Sets (480p) A look into the Frank Martin's surrounding ; architect of his home. Also another look at the climax of the movie.
Trailers (1080p) The Spirit, Crank 2, Bangkok Dangerous, Punisher War Zone
Natalya Rudakova was spotted by Luc Besson on the street as she hurried to her job at a New York City hair salon. He paid for 25 acting lessons over a six-month period in Paris before she received the role. Roger Ebert noted the rarity of leading ladies who are heavily freckled- wikipedia