The Movie

Video Quality

Audio Quality

Supplements
Hereditary is a 2018 American horror film written and directed by Ari Aster, in his feature directorial debut. It stars Toni Collette, Alex Wolff, Milly Shapiro, Ann Dowd, and Gabriel Byrne, and follows a family haunted after the death of their secretive grandmother.
Purchase HEREDITARY on Ultra HD Blu-ray Today!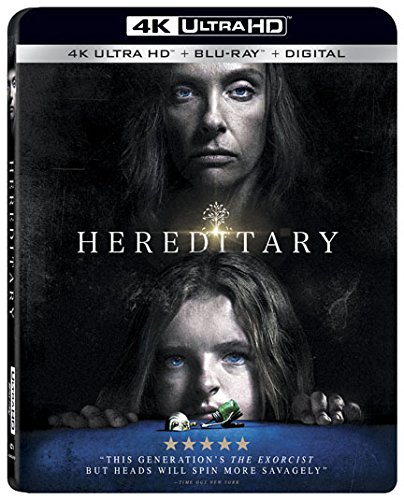 THE MOVIE:

Hereditary has been billed as not only 2018's best horror film, but being argued that it's the scariest film since The Exorcist. Which I'm sure most of you film lovers know that The Exorcist despite any debates has always been billed, deemed, quoted as such. So with that being said we're talking about one huge bold claim right? So how exactly does Hereditary stack up against such a masterpiece. Well admittedly the widest publicized quote was that of Time Out New York's in stating it's "this generation's Exorcist". So if comparing it in such a form as to our modern times of the present then to that I can wholeheartedly agree.
Hereditary hits on all forms of the scales of weird, scary, alarming, shocking, twisted, dark, creepy, and sacrilegious. Man this film really had me wanting to say some prayers before sleep and take a shower. Ha. And while I laugh there, I don't laugh in that I actually did both. What a trip. I thought I'd let my 16 year old daughter watch this one, but the responsible parent that I am will have hear steer clear of this at least until the point in which she reaches that she no longer listens to me and just watches it anyways right? Thankfully I'm blessed that I haven't hit that bump in the road yet.
If you like a good scare, if it's a blood curdling thrill ride you seek, then look no further and add Hereditary to your collection.
VIDEO QUALITY:

Hereditary hits ULTRA HD Blu-ray with a captivating Dolby Vision 16×9 widescreen 2.00:1 presentation. Like most scary or horror movies they often feature dark scenes. Hereditary is no different, and that is where the HDR really shines, or should I say darkens. Dark deep blacks that really thicken up those dark scenes to make for a great bold visual treat. This looked amazing on UHD and I have no complaints in the video department.
AUDIO QUALITY:

Coming to UHD and Blu-ray with a 5.1 DTS HD Master Audio track Hereditary sounds so good that I thought it featured Atmos. I guess it would have been perhaps nicer to either have 7.1 or Atmos, but never the less it does sound great and handles the film quite well.
SUPPLEMENTS:

Hereditary comes with a nice gloss slipcover at release, digital copy, and the following special features.
Deleted Scenes
"Cursed: The True Nature of Hereditary" Featurette
"Evil in Miniature" Photo Gallery
Hereditary premiered on January 21, 2018, in the Midnight section at the 2018 Sundance Film Festival, and was theatrically released in the United States on June 8, 2018. It was acclaimed by critics, who called it "truly, upsettingly powerful on an emotional level", with Collette's performance receiving particular praise. It became A24's highest-grossing film worldwide, making over $79 million. – wikipedia
I base my grading of "The Movie" section on comparing the movie to films in that movie's genre. Comedies against other Comedies, Scary/Horror movies versus each other, etc. In addition if the movie is supposed to be a numb fun popcorn flick then it is graded as such and not compared to a "masterpiece" but instead it's intended audience.