The Movie

Video Quality

Audio Quality

Supplements
Punisher: War Zone is a 2008 American action film based on the Marvel Comics character the Punisher, directed by Lexi Alexander. The film is a reboot that follows the war waged by vigilante Frank Castle (Ray Stevenson) on crime and corruption, in particular on the disfigured mob boss known as Billy "Jigsaw" Russotti (Dominic West), rather than a sequel to 2004's The Punisher.
Purchase Punisher War Zone on Ultra HD Blu-ray Today!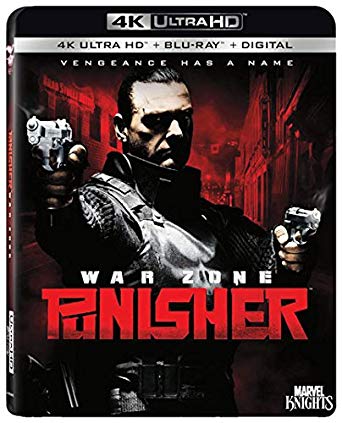 THE MOVIE:

PUNISHER WARZONE released 10 years ago, and it hardly feels it's been that long. Since then we've really only had the smash hit Netflix series, but already this film was taking a different tone from it's predecessor THE PUNISHER starring Thomas Jane and John Travolta. I actually much prefer this movie, as it was more action and substance with less flare. The darker tone that Ray Stevenson stars in didn't necessarily set the world on fire, but is a fine installment in the film history that is the PUNISHER franchise.
PUNISHER WARZONE finds Frank Castle taking on 2 different fronts of war; in that of trying to take down Jigsaw a mob boss he mutilated, but also having to escape an anti-vigilante task force that is seeking justice over an FBI agent's death. A death that happened during the incident Billy Russoti got transformed into Jigsaw. Jigsaw is out recruiting all the baddies he can get his hands on thus making the mission for Frank Castle all the more challenging. Popcorn flick fun, shoot em' up Punisher style type of film.
VIDEO QUALITY:

Punisher Warzone is presented in a 16×9 Widescreen 2.35:1 presentation with Dolby Vision 4K HDR 2160p. Punisher Warzone takes the franchise one step further offering another darker movie under the Marvel Knights banner which set out with intentions for the hard R rating. With that came a dark, dreary and sometimes drab movie in regards to visual looks. That said its a film that can benefit widely from the higher color gamut of HDR and Dolby Vision does a fine job at that. Tested on a 65″ LG the film offers full thick darks that add great contrasting depth to other hues in the scenes. This is the best Punisher Warzone has looked and likely the best we'll ever see it.
AUDIO QUALITY:

This version of Punisher is almost like a John Wick before there was John Wick. In that I mean lots of bullets ringing and bodies flying. Dolby Atmos track delivers an immersive experience that is a great viewing experience sonically from top to bottom. Fronts and center channel will handle the bulk of the load but the bass will rock and the rears will have bullets whizzing past.
SUPPLEMENTS:

PUNISHER WARZONE comes to Ultra HD Blu-ray with the following extras.
Audio Commentary with Director Lexi Alexander and Director of Photography Steve Gainer
The Making Of Punisher: War Zone (HD, 9:02)
Meet Jigsaw (HD, 3:34)
Weapons of The Punisher (HD, 4:39)
Training To Become The Punisher (HD, 5:47)
Creating the Look of the Film (HD, 2:36)
Theatrical Trailer (HD, 1:08)
It is the third feature film adaptation of The Punisher and is the first film to be produced under the Marvel Studios and Marvel Knights production banner, which focuses on films for mature audiences. Punisher: War Zone was released in North America by Lionsgate on December 5, 2008, and it was released in the United Kingdom on February 6, 2009. – wikipedia