The Movie

Video Quality

Audio Quality

Supplements
Fahrenheit 451 is a 2018 American dystopian drama film written and directed by Ramin Bahrani, based on the book of the same name by Ray Bradbury. It stars Michael B. Jordan, Michael Shannon, Sofia Boutella, Lilly Singh, Grace Lynn Kung and Martin Donovan. Set in a future America, the film follows a "fireman" whose job it is to burn now-illegal books, only to question society after meeting a young woman. After premiering at the 2018 Cannes Film Festival, the film aired on HBO on May 19, 2018.
Purchase FAHRENHEIT 451 on Blu-ray Today!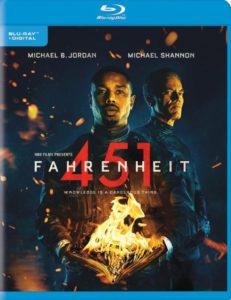 THE MOVIE:

FAHRENHEIT 451 marks another pairing with Director Ramin Bahrani and Michael Shannon. While FAHRENHEIT 451 does have many strong points, it is however not as great as a complete film as their last outing together. That of "99 Homes". Based on the sci-fi classic from Ray Bradbury, FAHRENHEIT 451 stars Michael B. Jordan (now of Black Panther fame) in a future where all books are to be destroyed.
The film has a great concept and plot, where now Firemen are no longer here to put out fires yet to start them, and burn any and all books discovered. All literature as well whether stored on a computer etc. Some of the futuristic vlog like city scape scenes I think are the most negative part of the movie as it's hard to really sink yourself in that reality and I'm sure subsequently the film won't age well because of that.
However, with that aside I can say that the 2nd half of the movie is far better then the first half and it's a nice viewing with a short run time that doesn't exceed it's content in ways detrimental to the film. Obviously the film premise in itself can be that of a reach. For huge movie buffs, you are likely myself and can find enjoyment and immersion in films where the casual movie go'ers cannot. That said, the film is worth a watch, and given the cheap introductory price of $12.99 with digital copy, perhaps a purchase as well.
VIDEO QUALITY:

FAHRENHEIT 451 is an overly dark movie in regards to the scenes which does help the tone of the movie in that the fires light up the scenes. With many night scenes, the film actually transfers very beautifully to blu-ray. Nice pure depth and great blacks, the video quality is one of the more exceptional things about this film. Who doesn't love seeing fire in 1080p as well?
AUDIO QUALITY:

FAHRENHEIT 451 comes to Blu-ray with a DTS HD Master 5.1 audio track that delivers quite finely for this release. With the spreading of fire, dialog heavy driven track, and fire engines blaring the track handles the film adequately. A futuristic vibe at times allows for some eccentric noises, sounds, etc. and no different then the above the DTS HD Master 5.1 fits it well. Front heavy track except with road noise, some burning scenes, and some ambient music comes from the rears as well as some SFX.
SUPPLEMENTS:

A bare bones release that doesn't even have a skip to chapter setting. There is however a digital copy and one special feature listed below.
Behind the Fire: A feature taking a deeper look into the film as the main character actors and Director discuss Guy Montag's evolution and relationships.