Sicario: Day of the Soldado (released in the UK as Sicario 2: Soldado) is a 2018 American thriller film directed by Stefano Sollima and written by Taylor Sheridan. A sequel to 2015's Sicario, the film features Benicio del Toro, Josh Brolin, and Jeffrey Donovan reprising their roles, with Isabela Moner, Manuel Garcia-Rulfo, and Catherine Keener joining the cast.
Purchase SICARIO DAY OF TE SOLDADO on Ultra HD Blu-ray Today!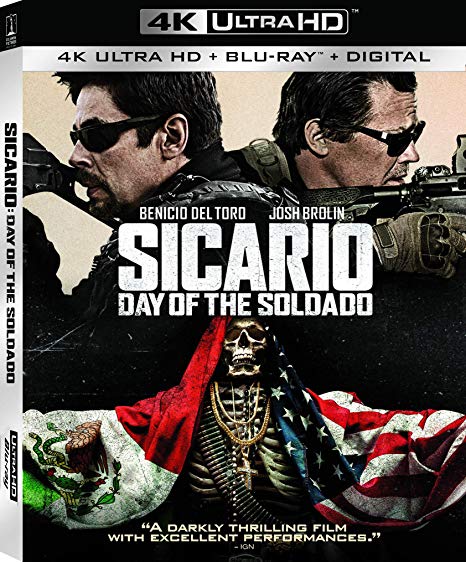 THE MOVIE:

Sicario Day of the Soldado is further cementing a new heavyweight in Hollywood in that of Taylor Sheridan. I'm absolutely blown away that this jack of all trades whether he's acting, writing, or directing is putting out such gold. If you aren't familiar with the name, simply google him and you'll surely recognize his face. What a talented human being to be churning out such hits in the writing department and his Directing is equally impressive.
Sicario Day of the Soldado follows up the surprise hit of the first Sicario film both written by Mr. Sheridan and both Josh Brolin and Benicio Del Toro returned to reprise their roles as Matt Graver and Alejandro. Alejandro has been hiding out in Colombia only to be reactivated with no strings attached by Graver to get revenge on the Reyes Cartel all the while starting a cartel vs. cartel war in Mexico. The USA's involvement is off the books in this covert no rules of engagement action packed gritty thriller.
What amazes the most about Sheridan's scripts is the sense of realism the films encompass and just feels like a piece of work that is highly intelligent in that of research and due diligence that was done before we finally ever get to to see the art grace the big screen. I'm well read and informed on many of the subject matters that most his films have been focused on so it's with that background that I'm left impressed. Point being they are well thought out scripts not taking any of their audience for granted, and wanting the film to hypothetically be as real as possible.
The score is every bit as impressive as the first adding to the thrill seeking, gripping sonics that lure you in for every drop!
SICARIO: DAY OF THE SOLDADO has a run time of approximately 123 minutes and is rated R for strong violence, bloody images, and language.
VIDEO QUALITY:

Sicario Day of the Soldado comes home to Ultra HD Blu-ray 4K with Dolby Vision that provides great clarity with a high focus on realism. The Mexican landscape, desert scenes, and dark nights allow for the deep darks of the HDR to really showcase themselves. Great saturation, a long with vivid brights where applicable make for an above satisfactory experience. The Sicario films always have a bit of drab and grit to them but it only comes with the territory of the movie itself. A solid look overall.
AUDIO QUALITY:

Sicario Day of the Soldado makes it's way on to Ultra HD Blu-ray 4k and Blu-ray with a riveting score and one that would make Jóhann Jóhannsson proud. Hildur Guðnadóttir gets the billing credit for that and worked with Johann on three other blockbusters before. (Prisoners, Arrival, and Sicario) Coming to UHD with a Dolby Atmos track is exactly what the Doctor ordered and needed! Guns blazing, bombs exploding, and high speed car chases. Sicario has it all, and has the soundtrack to deliver it for the best ear candy in your home imaginable.
SUPPLEMENTS:

Sicario Day of the Soldado includes a digital copy as well as the special features mentioned below.
Sicario Day of the Soldado includes three behind-the-scenes featurettes learn more about why this heart-pounding new chapter needed to be told in "From Film to Franchise: Continuing The Story" and take a deeper look into Sollima's vision for the film, the intense action and real world connections in "An Act of War: Making Sicario: Day of the Soldado." "The Assassin and the Soldier: The Cast and Characters" has Del Toro and Brolin leading the conversation about how their characters Matt and Alejandro have evolved in this film, and takes a look at the strong supporting cast.
Sicario: Day of the Soldado was released in the United States on June 29, 2018, by Sony Pictures Releasing under its Columbia Pictures label, while it was distributed internationally by Lionsgate. The film is dedicated to the memory of Jóhann Jóhannsson, the composer of the first film, who died in February 2018. – wikipedia