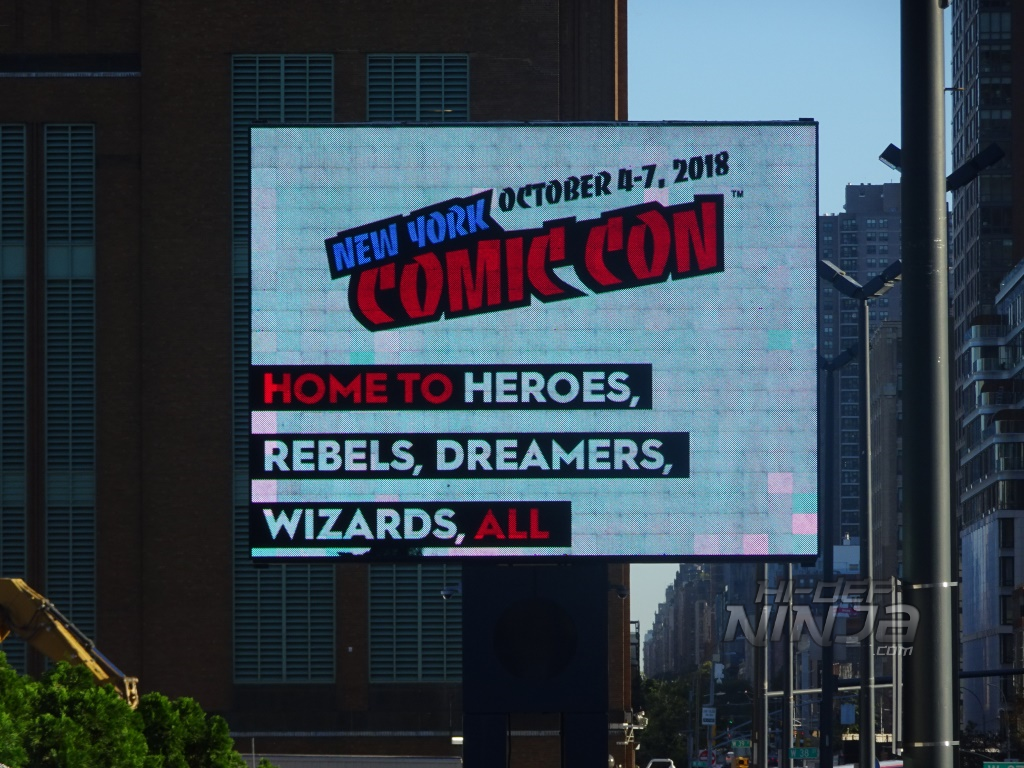 New York Comic Con is over now but that doesn't mean all the fun has to stop. For the 13th edition of this show NYCC brought in an expected 250,000 attendees. The show held at the Jacob K. Javits Convention Center in Manhattan is a celebration of all things pop culture. Like any top tier convention there were a ton of things to do throughout the shows four days from Panels, Exhibit Floor, Artist Alley, and Offsites.
As there is so much to cover I'll be dividing up my coverage of the show floor into categories. Below I'll be rounding out my coverage of the show floor by taking a look at a few more booths. There are over 800 exhibitors at the show from the top tier comic publishers (DC, Marvel, Dark Horse, Skybound, etc), to the smallest booths selling Lego minifigures and everything in between. The only real way to experience everything is to actually go but below is a nice mix of companies on the show floor.
Insight Editions
https://insighteditions.com/
A familiar face; Insight Editions produces illustrated books that cover a wide range of topics in pop culture, entertainment, history, and the arts. Unlike at San Diego Comic-Con the Insight booth had product to sell including early release products, giveaways and contests, signings, and a Harry Potter themed photo-op at their space this year. As someone that works in publishing I can honestly say they are producing some of the highest quality books that reach a wide range of fandoms. Their licenses are strong and I only see the company growing.
DC Entertainment
The DC Entertainment booth is always where numerous artist signings, drawing demos, movie costumes, figure displays, and giveaways throughout the convention. As with San Diego Aquaman was the focus of the booth with costumes from the movie, they were also demoing the Lego DC Super-Villains game. I was able to stop by during the Gotham cast signing.
Playmobil
http://www.playmobil.us/
So I recently covered Playmobil at the ttpm Holiday Showcase; however they did catch my interest at the show since they unveiled new figures in the Ghostbusters line including a Ghostbusters 2 Ecto-1 and new 6'' collectible figure assortment which we hope to find out more about at the Toy Fair in February. This was their second year at NYCC and we're hoping they come back for a third!
RockLove Jewelry
http://www.rocklove.com/
Creator and designer Allison Cimino has made a line of jewelry that fuses her love of history, fantasy, and sci-fi with her training as a silversmith to develop RockLove's exclusive sterling silver collections. Handmade in NY the RockLove line uses the highest quality precious metals, genuine gemstones, antique relics, and fair trade organic materials.
RockLove has been able to collaborate with many franchises but at NYCC they showed off their Disney x RockLove Popup Boutique featuring a display of five of their collections – Nightmare Before Christmas, Christopher Robin, Snow White, Alice in Wonderland and The Little Mermaid – as well as licensed pieces for Marvel including a neat set of Black Panther Kimoyo beads and Guardians of the Galaxy Sterling Infinity Orb Locket.
I first saw the RockLove family at a Star Trek convention last year and it's great to see how much they've grown. Their products really exude quality from the products all the way through the packaging.
Heroes & Villains
https://heroesvillains.com/
From their website: Exclusively owned by Bioworld, the premier industry leader specializing in creating innovative licensed collections of the most iconic pop-culture brands Heroes & Villains provides fans the opportunity to delve deep into the fictional storytelling experience of one of the world's most iconic pop-culture brands with a premium apparel and accessories line. Designed with acute attention to detail and accuracy, Heroes & Villains commits to creating pieces that act as an experiential extension of the fandom world.
A first timer at the show Heroes & Villains were showing off their Endor Supply collection with both a Commando Collection for the Rebels and the Imperial Collection for the Empire. Their quality products which are inspired by moments from Return of the Jedi include hats, keychains, wallets, bags, jackets, and shirts. With more companies coming out with quality products that can fits into your work clothing lifestyle I am hoping to see where this company goes.
Eaglemoss
https://www.eaglemoss.com/en-us/
Another company that I first was introduced to at a Star Trek show, Eaglemoss, partners with the hottest properties to produce high quality and detailed products producing and distributing more than 150 collections. Their Star Trek line of ships are truly impressive.
Chevrolet AlterEgo
Chevy along with their booth space on the floor had a spot in the concourse with a few Disney themed painted cars
Random Photos from the Floor
Finally here are a few photos from when I was roaming the convention floor