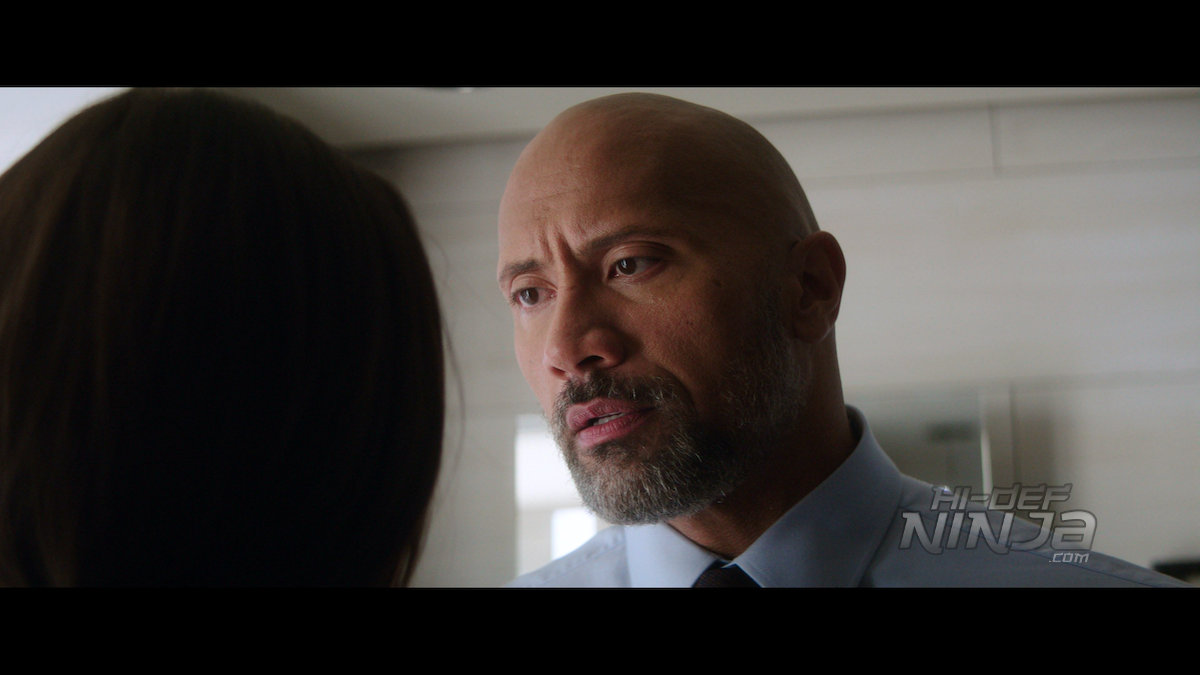 SKYSCRAPER 4k Ultra HD Review
The Movie

The Video

The Audio

The Supplements
Ex-US Marine and FBI Hostage Rescue Team Leader Will Sawyer was in an accident years ago and lost his leg.  Since the changes in his life, he has gotten married, had two kids, and is working security for a firm.  As a part of his job, he has to double check the security in a building built by Zhao Long Ji.  It is the world's tallest building in the world at 3,500 ft. and it is called The Pearl.  The living quarters has yet to be opened to the general public but Sawyer's family have began living in their apartment already and there is a group of mercenaries that don't know that.  
SKYSCRAPER is directed by Rawson Marshall Thurber and he has done a lot of comedies in the past like DODGEBALL: A TRUE UNDERDOG STORY and CENTRAL INTELLIGENCE. This is his second time working with Dwayne Johnson but this isn't a comedy.  Sure, there are some jokes here and there like you expect from an action movie but nothing is really meant to be funny. This movie goes for the high action, high octane, big effects, and unbelievable circumstances.  The basic setup is a bit reminiscent to DIE HARD with a building being held by terrorists and a guy with training trying to save his family.  Is that a bad thing?  No because it doesn't copy the film exactly.  Similarities happen, what can you do?
 
Cast
Dwayne Johnson as Will Sawyer
Neve Campbell as Sarah Sawyer
Chin Han as Zhao Long Ji
Roland Møller as Kores Botha
Noah Taylor as Mr. Pierce
Byron Mann as Inspector Wu
Pablo Schreiber as Ben Gillespie
Hannah Quinlivan as Xia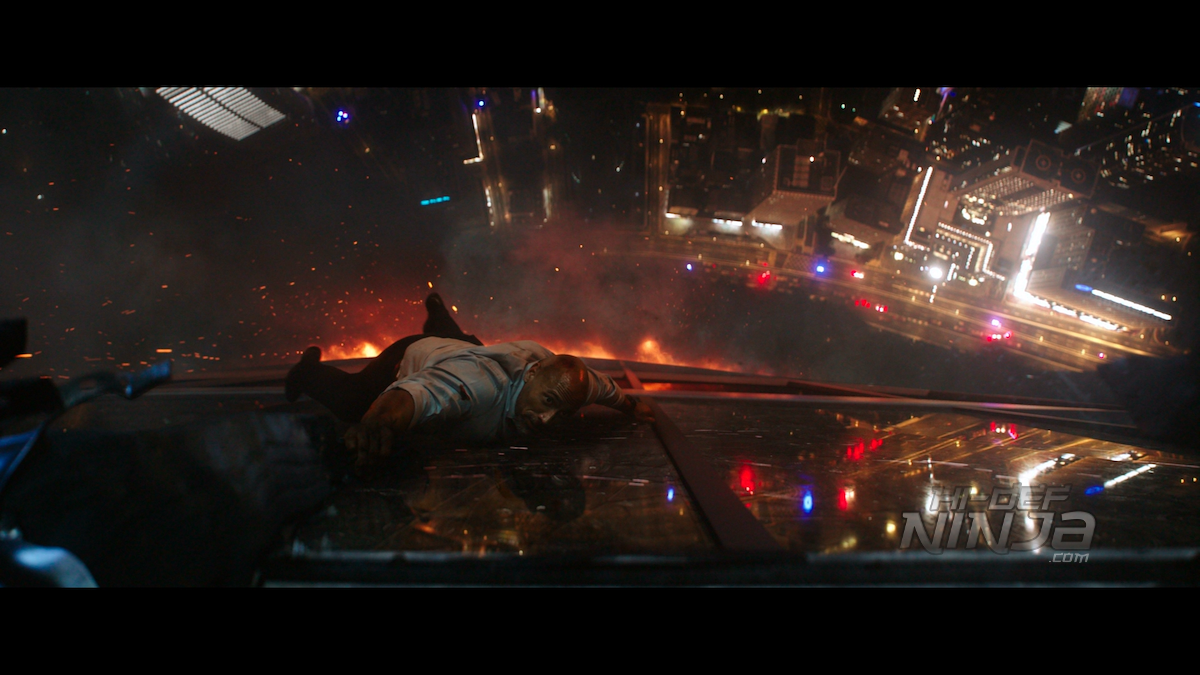 VIDEO QUALITY:
The video is a 2160p HEVC presentation that has a nice transfer.  There is a lot of CGI where set pieces and explosions couldn't be created by more practical means.  There is a light grain on the video so there isn't that polished HD look and something that more closely resembles film.  There are plenty of details in both the light and dark scenes.  The colors from the flames as well as the decor of the building are bold.  The screens on the electronics are also brilliant with color.  The skin tones are warm and close-up shots show the soot on the faces of the characters.  As for the blacks, they are very inconsistent.  There are scenes where they are deep and inky but then in another shot, they lose the darks.  
AUDIO QUALITY:
4k UHD
The audio is a Dolby Atmos mix that defaults to a Dolby TrueHD 7.1 mix depending on the equipment.  The effects sound amazing with the overhead from the Atmos mix.  There is plenty of ambient sound from the flames and wind blowing when the scenes are from the side of the building are happening.  Not to mention the flames when Sawyer is moving around inside the building.  Gunshots are also nicely done as they move around the sound field.  Voices are prioritized well with the effects.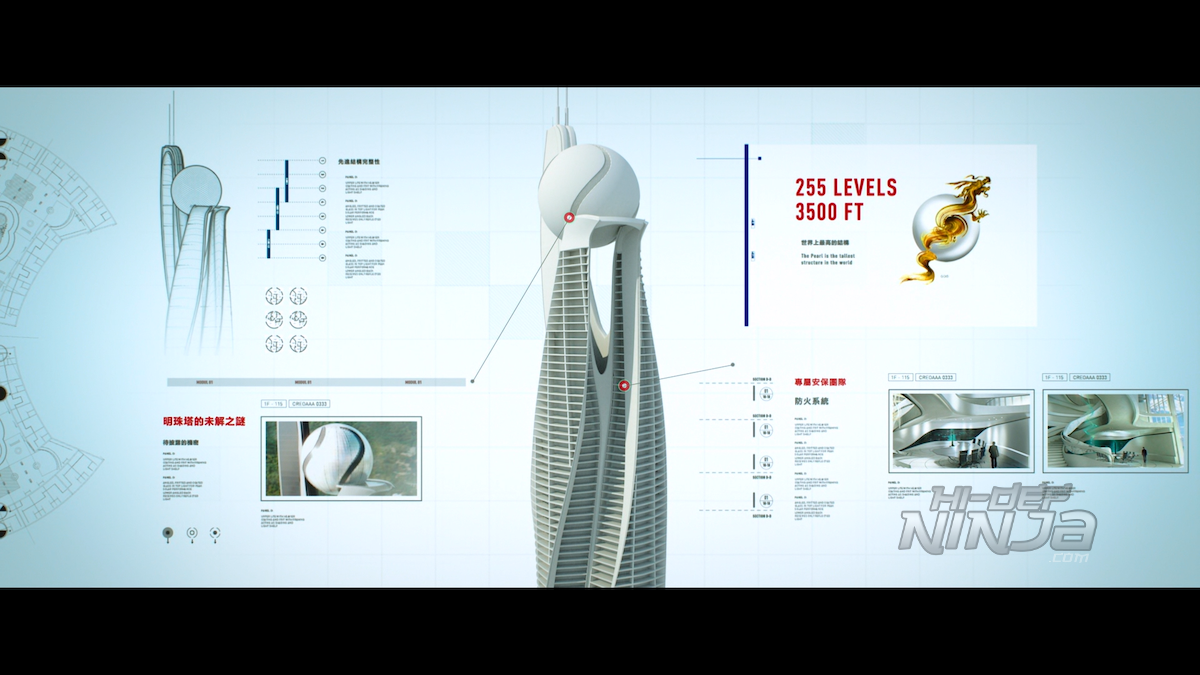 SUPPLEMENTS & PACKAGING
-Audio Commentary: with Director Rawson Marshall Thurber
-Dwayne Johnson: Embodying a Hero
-Inspiration
-Opposing Forces
-Friends No More
-Kids in Action
-Pineapple Pitch
-Deleted Scenes
-Extended Scenes
 
Disc Details
2-disc set w/14k UHD and 1 Blu-ray
Digital Copy
 
Running Time
102 mins
 
Edition Ratings
Rated PG-13
 
Region Coding
Region Free
 
4k UHD
Video Resolution
2160p HEVC H.265
HDR: Dolby Vision and HDR10
Aspect Ratio: 2.40:1
 
Audio Mixes
English Dolby Atmos
English Dolby TrueHD 7.1
French Dolby Digital Plus 7.1
Spanish Dolby Digital Plus 7.1
 
Subtitles
English SDH
French
Spanish
 
Blu-ray
Video Resolution
1080p AVC MPEG-4
Aspect Ratio: 2.40:1
Audio Mixes
English Dolby Atmos
English Dolby TrueHD 7.1
French Dolby Digital Plus 7.1
Spanish Dolby Digital Plus 7.1
 
Subtitles
English SDH
French
Spanish
 

THE BOTTOM LINE:
SKYSCRAPER is a fun, action movie and it has a really good cast.  The acting is decent and fits for the type of movie.  As for the release itself, the video is pretty good but the sound is excellent.  There are a ton of extras and you can learn a lot about the movie from them.  I can recommend renting it first but if you have seen it, maybe pick it up.