New York Comic Con is over now but that doesn't mean all the fun has to stop. For the 13th edition of this show NYCC brought in an expected 250,000 attendees. The show held at the Jacob K. Javits Convention Center in Manhattan is a celebration of all things pop culture. Like any top tier convention there were a ton of things to do throughout the shows four days from Panels, Exhibit Floor, Artist Alley, and Offsites.
Usually at each convention I go to I try to hone in on one thing. At NYCC that one thing was actually a person; best-selling author of short fiction, novels, comic books, graphic novels, audio theatre, and films Neil Gaiman. Neil had a very busy convention promoting not one but two of his books turned series – Starz American Gods which will be entering Season Two and his Amazon Prime upcoming series Good Omens. Neil was on hand doing panels, press interviews, signings, and surprising fans at the convention center at activations. Along with his appearances both studios had a heavy marketing campaign for each of their series.
Amazon Prime Good Omens Good Omens Website; Facebook; Twitter; Instagram
Good Omens Panel
Panelists: Neil Gaiman, Douglas Mackinnon, David Tennant, Michael Sheen, Miranda Richardson, Jon Hamm; Moderated by Whoppi Goldberg
Fans at NYCC were given a sneak peak of the new Amazon Prime series based on Terry Pratchett & Neil Gaiman's book of the same name. Good Omens, a dark comedy, follows the sensible angel Aziraphale (Michael Sheen) and suave man-about-town demon Crowley (David Tennant), friends for 6000 years, as they join forces to protect earth and stop the apocalypse.
The panel held at the Madison Square Garden Theater stated off with a bang by revealing special guest moderator Whoppi Goldberg who then introduced creator Neil Gaiman and cast to discuss the series. From the teaser and clips shown I personally enjoyed how well Sheen and Tennent play off each other. Aziraphale was described as not being quite as good as he thinks he is while Crowley isn't as bad as he thinks he is. Both have grown fond of their lives on earth and humanity and though one represents Heaven and the other Hell have taken it upon themselves to protect earth. Jon Hamm who plays Gabriel in the series fits in perfectly with some really comedic moments, especially when visiting Aziraphale's bookshop.
The series will have six episodes when it premiers in 2019.
Fans who attended the panel were given this really amazing Good Omens poster drawn by Rory Kurtz; a pin, and a The Nice and Accurate Prophecies of Agnes Nutter journal!
Good Omens Booth
To help promote the series Amazon prime also had a Good Omens "The End is Nigh" experience on the show floor. Upon entering the peculiar elevator, marked for either Basement or Penthouse, fans were either fortunate enough to be let in "Heaven" or were ill-fated and found themselves in "Hell." A really fun advertisement board on the outside of the activation scrolled fans various photos from the experience as well as having promotion related to the show.
Once inside fans who were blessed and made their way to "Heaven" found a replica of angel Aziraphale's bookshop which included various antiquities, a chess set, and a photo opportunity. Guests like me however who ended up in "Hell" were able to get some photos inside of demon Crowley's 1962 Bentley. Once done with the experience fans were given a pin and The Nice and Accurate Prophecies of Agnes Nutter journal.
Neil Gaiman also surprised some fans on Thursday by popping out of the elevator to give them a truly unique experience.
Good Omens Signing
Prior to NYCC fans were able to enter a lottery and if selected win a spot at the Good Omens cast signing. While I was unable to enter the lottery I used my super ninja skills and got into the cast signing. All the panelists from the panel including Neil Gaiman, Douglas Mackinnon, David Tennant, Michael Sheen, Miranda Richardson, and Jon Hamm were there to sign the Good Omens poster.
As someone who does not normally do a lot of cast signings at conventions this was a really fun treat. With only about 75 to 100 fans in the room it was really exciting not just during the signing but while making your way to the front of the line you were able to chat with other fans and because of how they snaked the line take photos without holding up the cast. When you did finally get to the front it was really nice to be able to shake hands with the cast and creator and even chat for just a few seconds. As this was the second time I had done a Neil Gaiman signing that weekend I asked Neil which book he recommends people read first; the answer – Neverwhere.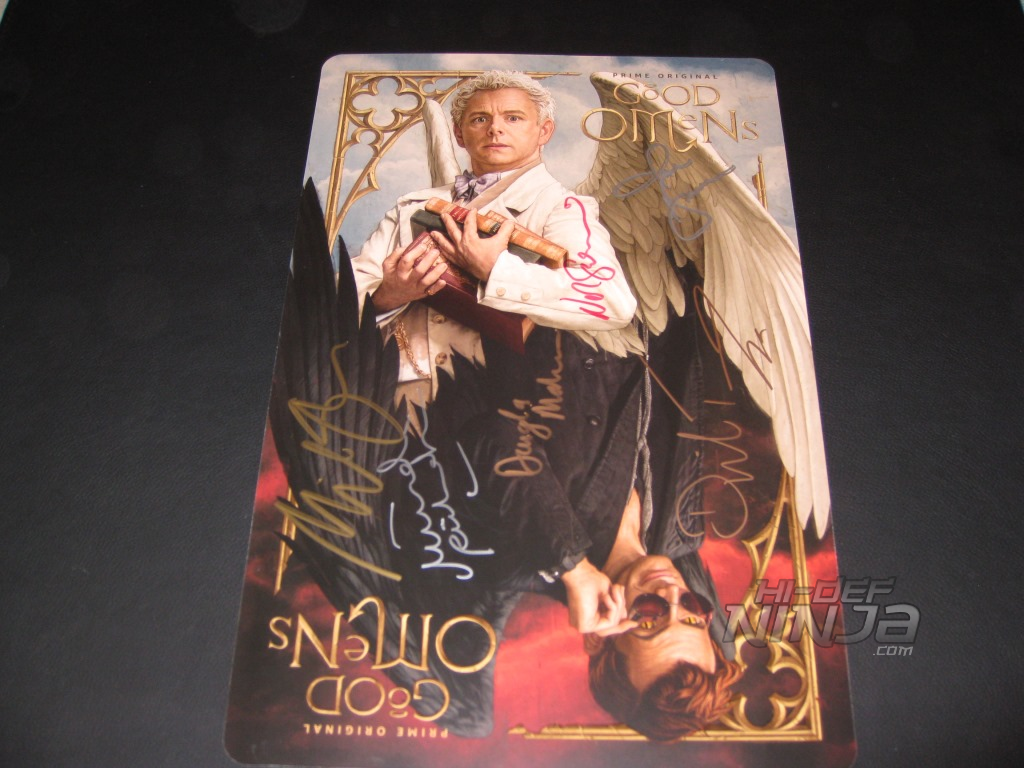 Good Omens Afterparty
If all that isn't enough Amazon Prime held an Good Omens Afterparty on Saturday night. The event held at Lightbox Event Space filled up three floors with Hell on the ground level, Heaven downstairs, and a exclusive VIP area upstairs in a private area. There were Demons and Angels on hand for photo ops and free snacks and themed drinks for Heaven and Hell were served. Overall a good way to end a day.
Starz American Gods American Gods Website; Facebook; Twitter; Instagram
American Gods Panel
Panelists Neil Gaiman, Ricky Whittle, Pablo Schreiber, Emily Browning, Orlando Jones, Yetide Badaki, Crispin Glover, Bruce Langley, Omid Abtahi, Mousa Kraish, and Demore Barnes; Moderated by Patton Oswalt
Following the epic showdown at Easter's party, Season Two, which picks up hours after the end of the first season, ups the ante with Mr. Wednesday continuing his quest to pitch the case for war to the Old Gods with Shadow, Laura and Mad Sweeney in tow. But when things don't go as planned at the House on the Rock, they all find themselves on a haunting journey through Middle America. The storm is brewing and old and new gods are gearing up for an epic showdown.
The panel which was extremely well attended in the Hammerstein Ballroom gave a few clues to what to expect in the new season. But also fans were able to interact with their favorite characters such as when Bruce Langley (Technical Boy) gave off an answer in blazing speed, truly representative of his character. Speaking of Technical Boy it was revealed fans will get to see a bit more of him especially as he came to power and replace Telephone Boy. Other topics discussed were the dynamic between Emily Browning's Laura and Pablo Schreiber's Mad Sweeney as well as other characters roles in the coming season.
Season Two of American Gods comes back to Starz in 2019.
But it's not all serious here's a great clip of Ricky Whittle showing fans what it's like to work with green screen
American Gods Booth
Where one half of the Starz booth, which I previously covered, featured Outlander the other half centered on American Gods. Starz gave NYCC fans a treat by recreating a central location from the show the Motel America Diner including everything from the Motel America sign and numerous Easter eggs to the authentic countertop. Even the placemats had an authentic NYCC feel with a history lesson about Motel America including the fact that the New York City location of Motel America which opened in 1974 was the 147th motel to join the family. Bet you didn't know that!
Apart from taking in the authentic diner feel fans were given a photo opportunity with either an old gods or new gods background which they could share on social. An iconic Motel America t-shirt and a character button rounded out the swag given out at the booth.
American Gods Signing
Unlike the Good Omens cast signing which was a pre-show lottery fans interested in getting a chance to meet the cast and creators of American Gods were able to try their luck at the Starz booth. Done via a ticket draw at the Starz booth on Thursday and Friday morning fans were able to head to booth to try their luck at winning a cast signing by pulling a winning ticket out of a box, a similar drawing was done for Outlander. Once won fans were given a ticket to return for the signing on Friday. For me I finally won on my sixth try of circling the line to get a ticket, so you know I was going to be there for the signing.
Chronologically I did this signing before the Good Omens one so this was extra special to me since I was not expecting to do any more at the convention. Also having followed the first season I was really looking forward to the American Gods presence at NYCC. The signing was really fun, it was held at the Starz booth and fans were given a truly amazing poster drawn by Matt Taylor that actually featured each cast member who was in attendance at NYCC with the exception of Ian McShane who due to health reasons was unable to attend. Fans got to talk, shake hands, and even sneak a selfie or two with their favorite character. Afterwards we were all given a copy of the book which was a really nice gesture by Starz!