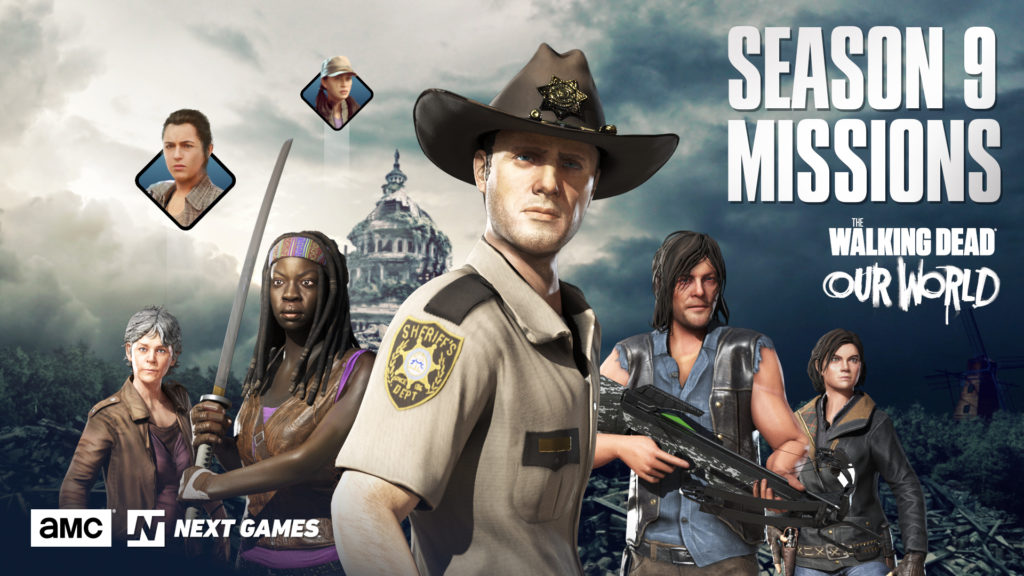 AMC Games and Next Games' recently released The Walking Dead: Our World – a location-based, augmented reality mobile game.
Expanding on AMC's hit TV series The Walking Dead: Our World lets players fight off the Walker apocalypse in their own neighborhood or anywhere they go for that matter. Whether it's a famous landmark or a scenic locations, the game map, powered by Google Maps, allows users to experience the action of AMC's The Walking Dead anywhere they go.
Defend your surroundings by fighting walkers on the streets, in the park, on your sofa – wherever you are and whenever you feel like it. Join forces with Rick, Daryl, Michonne and all your favorite characters from AMC's The Walking Dead and team up with friends by chatting within your guild and earning rewards.
[Update 10/23/18]
At New York Comic Con and Ahead of Season 9 of The Walking Dead I was able to meet and talk with Clayton Neuman, VP of Games & Entertainment at AMC Networks, and talk to him and get some insight regarding the Walking Dead: Our World augmented reality game.
HDN: There are a few other popular AR games on the market…
CN: What we really wanted to do was to provide fans of The Walking Dead and they are a legion, it's been the number one show on TV for the past six years in a row, a way to live out this hypothetical that the show always poses to them which is – What would I do in a zombie apocalypse? We wanted to bring the zombie apocalypse into the real world. We wanted to turn your home, your office, your neighborhood store, your walk to work, into a zombie apocalypse version of that. The mechanics of location based and augmented reality were just the best most seamless way to do that.
HDN: One of the features soon to be rolled out is going to be a weekly mission following each show. Can you give some more details?
CN: For Season 9 we are rolling out a lot of new features we are excited about that we think the fans are going to enjoy first and foremost among those is Season 9 missions. Season 9 missions will tie in direct with what you have seen on the previous night's episode. On Sunday night you will watch the episode and on Monday you will boot up the game and there will be a new mission wherever you are and it's going to be inspired by the previous nights episode… with environments that look like Season 9 and it will guarantee rare and epic show heroes related to the episode. Either characters that already exist in the game or rolling out new characters debuting in the game.
Other features coming in Season 9 include Bait, though not for the premier, which is essentially an arcade mode in the game. Bait, a resource you can find in game, can be dropped wherever you are and will supply an endless walker hoard you have to fight and kill as many as you can before you are killed. So if you're pressed for time or can't get out the developers have you covered as you can drop the bait and you will have an allotted time to play; with higher scores yielding higher rewards. Another feature will be that anyone can play your Bait with a leader board so you can see who played your Bait and what their high scores are to be competitive.
Another aspect currently in the game, flares, are a way to allow you to drop a flare and anyone within a player group can travel digitally to the location. This allows members of your group to play a mission if there is a really good mission. Players also have a list of flares that you can travel to at any time to check things out.
HDN: One of the features I appreciate is the range set-up for reaching encounters; can you tell us how you decided on some of these mechanics.
CN: That is something we were very conscious of. We wanted to make sure that whether you are in the middle of New York City or out in a cornfield with absolutely nothing around you that you have the same density of things to interact with, the same density of missions, the same density of stashes so that you never feel that this game is fun only if I am in a big city. Second is we expanded the radius of how you can interact with things. So a normal one wave mission you only have to be within 100 meters of; for an infestation you only have to be within 200 meters of that. So the idea is no matter where you are…there will be a handful of missions for you to play.
HDN: Our last question – If you have any tips for people starting out in the game what would it be?
CN: The best thing I can say that is true of the world and is true of our game is that players that try to survive alone don't do as well as people that join groups. When you join a group you have a lot of gameplay mechanics that encourage you to work together to collaborate on missions, complete tasks, to get higher and higher rewards. So people who are really advanced in the game are in a group that collaborate and work together with one another and make sure they are completing these tasks to get these rewards. A lot of games can feel very solitary but our game is incredibly social at its core. So the number one tip I can give is to embrace the social features of the game and you will survive a lot better.
"We can create this really seamless play that encourages players to go out into their world, to scavenge for supplies, fight walkers, find survivors, build shelters, form groups with other peoples. All of those themes tie into the show itself and give players a way to tell their own stories in the universe" explains Clayton. The Walking Dead: Our World game lets fans of the shows play year round and not just the 16 or 32 weeks the shows are on air.
Get The Walking Dead: Our World game from the Google Play App Store for Android or through the Apple App Store for iPhones