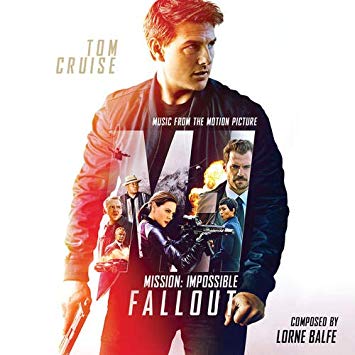 MISSION: IMPOSSIBLE – FALLOUT OFFICIAL SOUNDTRACK is an imposing and boisterous companion to Team Cruise's madness reborn.
Review by Matt Cummings
I've really enjoyed over the years the various musical interpretations of MISSION: IMPOSSIBLE. From Hans Zimmer (M:I 2) to Joe Kraemer (ROGUE NATION), we've gotten a nice diversity while matching the director's vision. As I sat transfixed by Team Cruise's newest outing MISSION: IMPOSSIBLE – FALLOUT, I became very much aware that some of the pure enjoyment I was experiencing was due to Composer's Lorne Balfe dark and brooding score. The effect vaults it into the rarefied air of Best of 2018 (so far), an imposing and boisterous companion to the madness of Director Christopher McQuarrie's return engagement.
THE MOVIE
Ethan Hunt (Cruise) and his Impossible Mission Force have dealt The Syndicate a crushing blow in recent years, wrapping up assets around the world since the capture of boss Solomon Lane (Sean Harris). Unfortunately, a deal to secure three plutonium cores goes awry, leaving their location in the wind. Saddled with the CIA "observer" Walker (Henry Cavill), Hunt attempts to re-secure the plutonium via the mysterious broker White Widow (Vanessa Kirby), but soon comes face to face with his old ally Ilsa Faust (Rebecca Ferguson). She is hunting the whereabouts of Lane, who has been shepherded from country to country to answer for his crimes. But soon, Hunt is forced to realize that he might need Lane if he is to secure the cores. What he doesn't know is that Lane is again one step ahead of him, having both inserted a Syndicate agent within the US government and pinning several crimes on Hunt. Forced to once again go rogue, Hunt, Benji (Simon Pegg) and Luther (Ving Raymes) must locate the cores before they're detonated, while staying one step ahead of the CIA, the IMF, and Lane's men.
THE SCORE
Balfe's score is very different than that of previous efforts. Even the theme Fallout enjoys a darker, longer play than normal, producing whole notes instead of half notes, which extends the track about 20 seconds. Although it could have been used in one of the movie's many action scenes, the effect sends a really interesting message about what we're going to get from Balfe. My only issue is that you have to wait until Track 8 to enjoy it. I'm not sure why that was the case, as I remember it coming much sooner in the movie; further viewings (and there will definitely be more) will reveal the answer. But before you get there, you'll hear things you haven't heard in a M:I movie: snare drums, piano, pressing brash horns, and even a choir. Balfe throws many score subgenres into the mix, enjoying successes throughout this mammoth 26-track, 90-minute release.
Those first seven tracks – starting with A Storm is Coming, Your Mission and Should You Choose To Accept It – we get the sense that Hunt is on a more personal mission than in previous iterations, as he's haunted with a world overtaken with nuclear madness. This works really well with the idea of the film's narrative: for all the good intentions he's created, Hunt will have everything threatened that he cares about, as Lane's Apostles conspire to deprive Hunt of his family and friends. That sense of impending doom permeates throughout the film and score, with Balfe taking bold steps throughout the score. But you'll want to listen to Track 3's Should You Choose to Accept It multiple times – it's an extraordinary piece, as we get an almost desperate feel from the strings, which in my opinion is the best edited sequence of the film. There's no dialogue or sound effects, but it works so damn well as a potential submission for Film School 201. Things get much darker as we tumble headfirst to Fallout, but not because Balfe is just making noise; he's composing a nuanced score which merges seamlessly into McQuarrie's epic beatdown.
Track 9's Stairs and Rooftops is extraordinary for many reasons, but it's led by a really great piano sequence as well as an almost comical jolt of choir as Hunt jumps from building to building to capture John Lark. It's unlike some other scores I've reviewed recently where the director, desiring background set-up noise, orders something that does nothing to press the story. Listening to noise like that – a common play these days in many scores – will make things feel disjointed, something that Balfe is able to skirt. If he was ordered to toe that sort of line with FALLOUT, he delivered far more than perhaps what McQuarrie and Cruise were expecting. Take for example one of the final tracks Syndicate, an emotional piano/keyboard piece that resonates with Lane's overarching desire for revenge, just as he moves his IMF chess pieces into their final positions. Balfe compliments Team Cruise's efforts on screen so well that it's clear why I love McQuarrie so much. His attention to every element of a film's production places music on an equal footing with action, story, and direction. Change of Plans is another favorite track, evoking the popular low keyboard movement made popular in TRON: LEGACY. As the track proceeds, we move into another familiar sequence: Balfe tips his hat to fellow Composer Hans Zimmer and his epic treatment of Batman. Just like the movie, the score is filled with these tips-of-the-hat, but is still able to wonderfully blaze its own path in so many ways.
Balfe really impressed with 13 HOURS: THE SECRET SOLDIERS OF BENGHAZI, PENGUINS OF MADAGASCAR, and PACIFIC RIM: UPRISING. Each is quite different, with PENGUINS a lot more playful and BENGHAZI blowing us away with its dark melodies. In FALLOUT, Balfe is painting huge landscapes of spy mayhem, including the somber and even desperate-sounding The Last Resort. It's nice to see him able to deftly mix some subgenres that for lesser people would have produced potentially unmanageable results; enjoy the lightest (and final) track Mission Accomplished to understand just how masterful Balfe plays his hand. The overall effect is a lot more like Kraemer's ROGUE NATION, but FALLOUT might be my favorite. I hope it becomes the breakout hit for Balfe, as his rising star should be rewarded with more chances for the Scottish-born composer to strut his stuff.
THE BOTTOM LINE
MISSION: IMPOSSIBLE – FALLOUT ORIGINAL SOUNDTRACK is one of the best of 2018, a mesmerizing orchestral experience that succeeds because it takes so many chances. Composer Lorne Balfe hits the heights with his concoction of powerful drums, pulsing strings, sweeping heroic moments and desperate sequences as Ethan Hunt attempts to avoid nuclear disaster. It helps to overcome some of the movie's predictability by keeping us focused on McQuarrie's march, rewarding us often and forcing us to revisit it with multiple listenings.  I wish that music from the Super Bowl trailer – a hauntlingly dark piano piece – would have been added here, but I'm not sure if Balfe created it just for the trailer. Otherwise, this is an instant hit and one that should play well for years to come.
La La Land Records released FALLOUT July 13th on digital and as well as a 2-disc set later that month. At the time of this posting, we were unaware of any special packaging or additional tracks.