The Movie

Video Quality

Audio Quality

Supplements
The Darkest Minds is a 2018 American science fiction thriller film directed by Jennifer Yuh Nelson, and written by Chad Hodge, based on Alexandra Bracken's young adult novel of the same name. The film stars Amandla Stenberg, Harris Dickinson, Mandy Moore, and Gwendoline Christie, and follows a group of teenagers who are on the run from the government after mysteriously obtaining superpowers.
Purchase THE DARKEST MINDS on Ultra HD Blu-ray Today!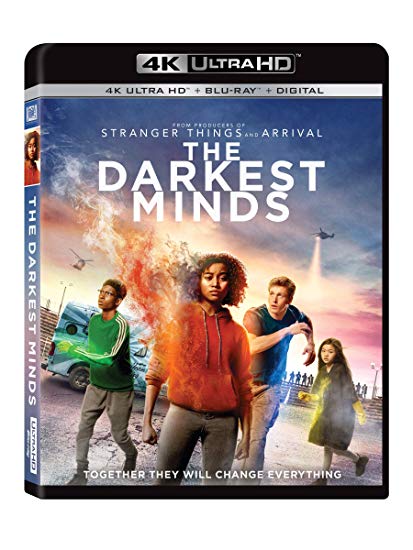 THE MOVIE:

It's set in the future in the USA where a virus had killed off most of the children. Adults are fearful of the teens that are left, and when a group of teens develop superpowers they are held captive in a detention camp. The group must now work together to escape and seek a safe haven for themselves and others just like them.
VIDEO QUALITY:

THE DARKEST MINDS releases onto Ultra HD Blu-ray with High Dynamic Range that showcases great depth in the dark levels which plays well on this film. 4K lends itself well to this release with the teens abilities. THE DARKEST MINDS has a few flat scenes, but the colorful powers etc. allow for full vibrant brights in ULtra HD Blu-ray. That said overall great video quality on this release.
AUDIO QUALITY:

One of THE DARKEST MINDS' stronger points of it's release on to Ultra HD Blu-ray format is that of the Dolby Atmos track. The DTS HD Master 7.1 track is grand in it's own right but the atmos is mind boggling. Gotta love this genre of film with a well done audio track. Immersive audio with the front speakers and center channel handling the main load with nice surround from rears while your sub woofer will pack the punch to knock your socks off.
SUPPLEMENTS:
The Ultra HD Blu-ray disc contains only the same Audio Commentary from the blu-ray disc and the blu-ray special features are listed below.
Jennifer Yuh Nelson: Heroine at the Helm
Remember – A Look Beyond Ruby and Liam's Last Kiss (Original Animatic by Jennifer Yuh Nelson)
Ruby: Harnessing Hope
Liam: A Complicated Relationship
Zu: Awakened Abilities
Chubs: Found Family
Clancy: Crafting a Possible Future
Feature Commentary by Jennifer Yuh Nelson, Dan Levine and Dan Cohen
Storyboard to Screen Comparison
The Power of Georgia
Behind the Scenes in Georgia
Gallery
Deleted Scene
Gag Reel
Theatrical Trailer
The film was released in the United States on August 3, 2018, by 20th Century Fox. It received negative reviews from critics and grossed $41.1 million worldwide against its $34 million production budget. – wikipedia