The Movie

Video Quality

Audio Quality

Supplements
Superman (informally titled Superman: The Movie in some listings and reference sources) is a 1978 superhero film directed by Richard Donner starring Christopher Reeve as Superman based on the DC Comics character of the same name. An international co-production between the United Kingdom, Switzerland, Panama and the United States, the film stars an ensemble cast featuring Marlon Brando, Gene Hackman, Christopher Reeve, Jeff East, Margot Kidder, Glenn Ford, Phyllis Thaxter, Jackie Cooper, Trevor Howard, Marc McClure, Terence Stamp, Valerie Perrine, Ned Beatty, Jack O'Halloran, Maria Schell, and Sarah Douglas.
Purchase SUPERMAN THE MOVIE on Ultra HD Blu-ray Today!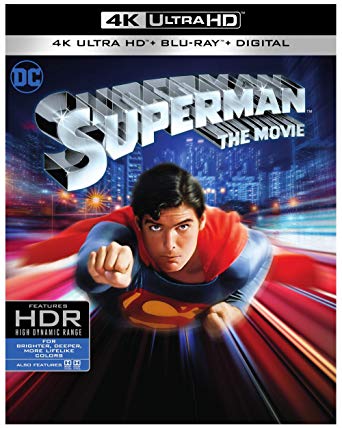 THE MOVIE:

Much like the recent Man Of Steel movie starring Henry Cavill this original film from 1978 has the same original story line of Superman. SUPERMAN THE MOVIE stars none other than film icon Christopher Reeves. Before the destruction of his home planet Krypton Jor-El sends his infant son Kal-El on a spaceship to Earth. Upon landing in Kansas, farmers Johnathan and Martha Kent raise young Clark who discovers he has superhuman powers. Clark Kent moves to Metropolis to fight crime and evil mostly in that of Lex Luthor and all the while tries to sweep Lois Lane (his co-worker) off her feet.
VIDEO QUALITY:

SUPERMAN THE MOVIE comes to Ultra HD Blu-ray with a picture that doesn't impress for the format. However if you look as far back as the DVD we received VHS like quality, and the picture quality pretty much took the exact same turn with each format there forward. Blu-ray was like DVD, and now we have Ultra HD 4K Blu-ray that is looking more like Blu-ray. All in all I've chalked this one up long ago to being issue of the source material and how much can be done given the limitations. So if you are looking for the best version of SUPERMAN THE MOVIE, then here it is. If you are looking for a disc to show off the abilities of UHD then this is not it. With all that being said, it's Christopher Reeves, it's Superman, it's worth having.
AUDIO QUALITY:

One of the better parts of this release is that of the Dolby Atmos TrueHD Track that comes with this Ultra HD Blu-ray version. While the visual side may leave a lot to be desired, the audio is a major improvement. The Blu-ray is DTS HD Master 5.1 and is also a very well done track. Mostly front heavy, but all in all an immersive Atmos track none the less. No real complaints here.
SUPPLEMENTS:

The audio commentary is available on both the 4K UHD and Blu-ray discs. In addition to a nice glossy slipcover at release the edition also comes with a digital copy.
Audio Commentary with Pierre Spengler and Ilya Salkind
The following special features are in 480i PQ
The Making of "Superman: The Movie" (almost an hour long)
Superman and the Mole-Men (almost an hour long)
Super-Rabbit (a cartoon of bugs bunny)
Snafuperman (World War II-era cartoon)
Stupor Duck (a cartoon of Daffy Duck)
Teaser Trailer
Theatrical Trailer
TV Spot
The most expensive film made up to that point with a budget of $55 million, Superman was released in December 1978 to critical and financial success; its worldwide box office earnings of $300 million made it the second-highest-grossing release of the year. It received praise for Reeve's performance, and was nominated for three Academy Awards, including Best Film Editing, Best Music (Original Score), and Best Sound, and received a Special Achievement Academy Award for Visual Effects. – wikipedia