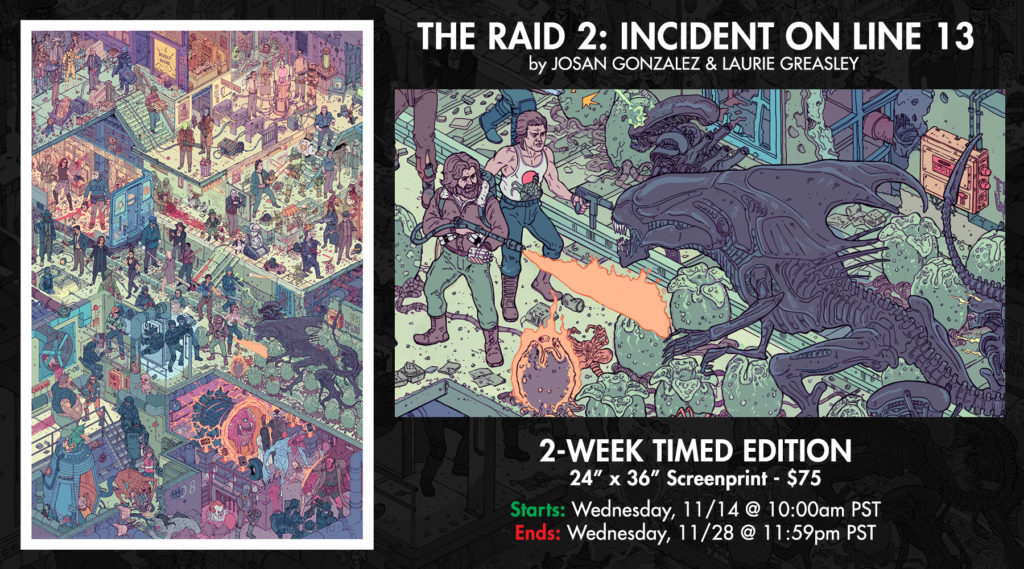 Continuing on the release of their RAID print series Hero Complex Gallery (HCG) will be releasing a follow-up print – RAID 2: Incident on Line 13.
Designed by Josan Gonzalez & Laurie Greasley the poster is a perfect mix of sci-fi and horror that may even be better than the first. Releasing on Wednesday, November 14th at 10am Pacific at the HCG webpage. But fear not if you don't get there right at 10am this is a timed edition print running until November 28th.
Along with the timed screen print edition there will be a small edition of giclee versions that will be immediately available as well as a keyline variant like before. On top of that there will be a few copies of the original RAID poster available as well!
Be sure to head on over to and grab this amazing print:
https://hcgart.com/collections/RAID
Finally for those looking for a challenge HCG will be giving away 5 screen prints to the 5 people who come closest to guessing the 109 references in the new poster.
Submissions can be made HERE:
https://hcgart.com/pages/the-raid-2-incident-on-line-13
Good Luck!