The Movie

Video Quality

Audio Quality

Supplements
The Predator is a 2018 American science fiction action film directed by Shane Black and written by Black and Fred Dekker. It is the fourth installment in the Predator film series, following Predator (1987), Predator 2 (1990), and Predators (2010). Black had a supporting role in the original film, while John Davis returns as producer from the first three installments.
Purchase THE PREDATOR on Ultra HD Blu-ray Today!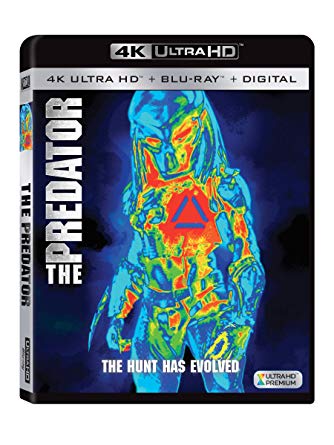 THE MOVIE:

THE PREDATOR hit theaters with mixed reviews, and now we're at the time of the home release. THE PREDATOR is definitely different and falls a bit more in line with Predator 2 in regards to "in the city" aspect. PREADATORS was a film I felt was always underappreciated so I've been anxiously waiting to see this new PREDATOR film. Unfortunately it had a hard time resonating with me, but still had its popcorn flick like moments. If you are a fan of the PREDATOR franchise then it's definitely one to check out.
VIDEO QUALITY:

One of the best parts of this release is the blu-ray and UHD transfer. Vibrant colors and deep darks. This is one of those films that really has a murky and dark look much of it with many night scenes. Ultra HD allows for a dark rich and thick like view of the blacks with no film grain.
AUDIO QUALITY:

THE PREDATOR comes to Ultra HD Blu-ray with a pumping Dolby Atmos track. With the amount of guns, explosions, and everything else one can expect from a Predator flick this thing just bangs! Front and center are heavy, but the bass will rock! The Blu-ray comes with a DTS HD Master 7.1 audio track that is equally impressive.
SUPPLEMENTS:

The Predator special features include the following and comes with a nice slipcover and the disc is dbox motion code applicable.
Deleted Scenes
A Touch of Black
Evolution of the Predator
Hunting the Predator
Predator Catch Up
Gallery
Trailers
The Predator premiered at the Toronto International Film Festival on September 6, 2018, and was theatrically released in the United States on September 14, 2018 by 20th Century Fox, in IMAX and Dolby Cinema, as well as standard formats. – wikipedia