The Movie

The Video

The Audio

The Supplements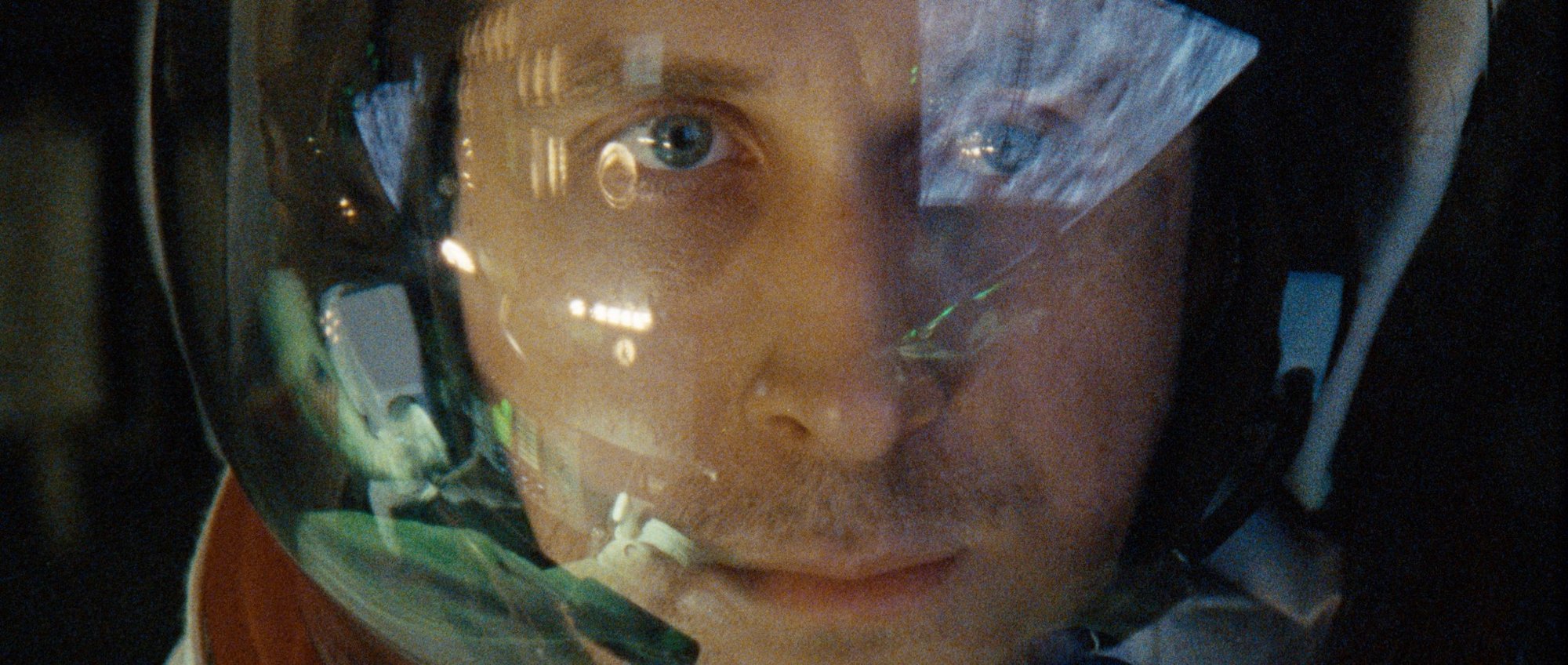 FIRST MAN makes a beautiful, harrowing run for the Oscars as it arrives on a terrific 4K/Blu-ray presentation.
By Matt Cummings
With SpaceX recently announcing the return of humans to the Moon, the discoveries of hundreds of exoplanets (including Planet X), and the revelation that water (and possibly life) exists on Mars, space has become popular again. Hollywood lately has done its share to reignite interest in space, celebrating to wide acclaim the remastered 50th anniversary of 2001: A SPACE ODYSSEY, while Hulu's THE FIRST kept the human drama of preparing for a Mars mission focused mostly on the ground. The Neil Armstrong biopic FIRST MAN takes us to space in a 4K/Blu-ray release that's already an early candidate for best of of 2019, sporting fantastic audio, stunning clarity, and a deep collection of extras.
THE MOVIE:
When we first meet Neil Armstrong (Ryan Gosling), he's just survived flying the then-experimental X-15 rocket/plane, nearly dying in the process but also becoming sub-orbital. His bosses don't take too kindly to Armstrong's handling of the situation, benching him while he fills out reports. All that changes when the shy, introverted test pilot applies to NASA's Gemini program, which will send the first Americans into space. His dutiful wife Janet (Claire Foy) isn't so impressed: she sees their marriage and the raising of their children being supplanted by Neil's overwhelming desire to see space again. As Armstrong's stock begins to rise, he and Janet will face challenges and tragedies at home, before Armstrong departs to place his soul (and foot) on our nearest neighbor in space.
If 2015's THE MARTIAN represents the most "rock n' roll" science-based space drama, and THE RIGHT STUFF taking the prize for a dialogue-driven, grounded character study, FIRST MAN easily slides into this latter category. This is a a rewarding character biopic, thanks to Director Damien Chazelle's insistence on keeping things centered on the human drama of venturing into space. Some will find that sort of silent resplendence a bit tedious (there's a lot of talking and a ton of shaky close ups on our actors), until each of the massive and gorgeously-shot rocket scenes arrives to knock us back in our seats, then forward to the edge of them as Armstrong faces each life-defying challenge after challenge. Chazelle's obsession on reproducing the technological awakening of the 1960's is astounding, as we actually realize that the Gemini and Apollo space vehicles are essentially no thicker than tin cans, heaved to the top of massively powerful rockets. This sort of fragility is a common theme in Chazelle's movies, but here we know the stakes are much higher. To heighten that, cameras are placed so close to the actors that many times all we see are their eyes. This works very well for Foy as she dresses down mission commander Deke Slayton (Kyle Chandler) when Neil's Gemini mission goes awry. It paints a wonderful analogy, but it also demonstrates Foy's ability to personalize the dangers which her husband doesn't seems to handle rather calmly. To him, the struggles that nearly kill him are merely problems to solve, but as we see with Apollo 8's disaster – which claimed the lives of Gus Grissom (Shea Wigham), Roger Chaffee (Cory Michael Smith), and Ed White (Jason Clarke) – those dangers were real. That's the theme of fragility coming back into play, but it also demonstrates just how masterful Armstrong was at taming those dangers.
Gosling, who essentially plays the human version of K from BLADE RUNNER 2049, also executes his role masterfully. He's nervous and ill-placed around people, unsure how to raise his two boys and deal with his daughter's terminal brain cancer, caught between the desire to slip gravity once more and unaware that he's creating immeasurable amounts of stress at home. It's a understated performance, but one that's as effective as any we saw from a mostly bereft 2018. Foy is great as well, reminding us that Space Wives (and that was a name given to them) also deal with the weight of their husband's successes (and potential failures). One scene in particular sees Janet run to assist a fellow wife (Olivia Hamilton) as she contemplates a dark resolution after her husband dies in the Apollo fire.
Chazelle and his support team also take us to dizzying heights that look fabulous in 4K/Blu-ray, focusing on in-cabin POV shots rather than the standard 'god's view' imagery. Cinematographer Linus Sandgren and Composer Justin Hurwitz make such genius decisions in their respective areas that the final product might surpass the gold standard in this subgenre, 1983's THE RIGHT STUFF. Thanks to Chazelle, it's now entirely possible to watch both movies consecutively, which is exactly what I'll do as I consider my conundrum. Some moviegoers will not engage with FIRST MAN at all, as it is a slow film with a rather abrupt ending; touche on the last argument, but I'll bet that was in response to the stunning moon scenes which make up all of Act 3, as Armstrong chooses a new landing site at the last minute, steps on the lunar surface, utters his now famous "One small step" mantra, and leaves a special gift on the surface, all while we're treated to a 2001-style breathing apparatus with no music. It's a lot to do well, and Chazelle absolutely nails it.
VIDEO QUALITY: 4K & Blu-ray
Universal Pictures presents FIRST MAN in two equally appealing formats: HEVC format for 4K and MPEG-4 AVC for Blu-ray. Both look incredible, with the Blu-ray eeking out a slight win. Originally shot on film and then upscaled to 4K with Dolby Vision, there is a tad more softness present here but nothing that will make you upset that you spent the money on 4K. Color and clarity (especially on the Moon's surface) is outstanding, with individual pebbles and dirt easily viewed after Armstrong plants his foot on the surface. The Blu-ray benefits from a sort of "drip-down" effect of the upscaling, which is probably why I'm awarding it a close victory. You will see more natural grain in 4K, which makes for a more realistic presentation. Universal apparently assigned both transfers equal importance, with clarity and color really benefiting. Pores and freckles on faces leap out, while the individual strands of hair on Armstrong's head are easily seen. I also believe that the Blu-ray release benefited from the Dolby Vision color grading, as Chazelle's use of 60's era lenses presents some amazing hues. Oranges, reds, blues, and even whites jump out of the image, while sets like the dinginess of the Lunar Landing Module reminds us that this isn't a JJ Abrams world but one that chose function over form. A film like this could have suffered from unstable black levels, but shadows do just fine here, especially during the kitchen scenes and others on Earth. There's no banding of the sky when Armstrong crash lands, and even if there were I would have accepted them because of Chazelle's use of antique lensing. However, don't expect to see a huge difference between the 4K and Blu-ray, something that might irk those of you who thrilled in seeing the differences between DVD and Blu-ray. They aren't here, but I still think it's worth your dollars to pick up the 4K/BD version.
AUDIO QUALITY:
Universal was one of the first to take immersive audio experiences to the next level, as I've celebrated many times in my reviews over the years. Here, the Dolby Atmos track appears on both platforms, and in each it's hard not to celebrate the immensity of sound each presents. It's not a wall of sound, but an engaging, sometimes ear-splitting experience with a thundering LFE during the flight sequences. Even if you dial down the audio during the action sequences, you can feel a resonance that's as powerful as more tender sequences on display. Remember, most of FIRST MAN is made up of dialogue, but that's not to suggest that the experience isn't any less profound. We still get crystal clear center dialogue, which isn't simply dialed up – leaving the music and sound effects far behind – but an isolated one with no other sounds present. That's been a Universal trademark of their higher end films, and one I wish all studios would employ, especially given the promise behind Atmos. The left and right channels process movement of vehicles quite well, pinpointing button clicks and door closings to the correct side of the speaker. But when those flight missions engage, it's another experience entirely as we feel every rattle and strain, every creak in the superstructure, as well as the pilot's heavy breathing.
It's a controlled chaos that I never imagined would be presented so well, as the IMAX experience was second to none. At home, it reminds me just how fragile the entire experience was for these men, without ever feeling that my future ability to hear was in jeopardy. However, FIRST MAN pushes that experience to the edge: watch the Saturn V launch and tell me that isn't the most immersive and pleasurably piercing experience you've had with a movie lately. The same goes for the Gemini 8 launch, as Gosling steps out onto a catwalk that's creaking and moaning against the sound waves of a simultaneous rocket launch. Intense isn't the word here, but it's all in great fun as Chazelle wants us to feel the experience. Mission accomplished. I also need to mention Justin Hurwitz's creepy but beautiful score: it's rendered at once beautiful and tender as Armstrong deals with the death of his daughter, but is also a march into history as he's forced to take control of the Lunar Module late in the third act. This track ticks off all of my needs for a well-balanced presentation that does everything great; Universal should be very proud of their achievement which must now occupy top billing on everyone's list of demonstration-worthy tracks.
SUPPLEMENTS:
Universal presents a well-apportioned set of extras for FIRST MAN, which appear on both the 4K and Blu-ray discs. Although everything is presented in 1080p, the visuals are rich and clear, and offer interesting perspectives on the making of the film:
Deleted Scenes: Two scenes are presented which I wish had been included in the theatrical cut: House Fire and Apollo 8 Launch.
Shooting for the Moon (3:40): Director Chazelle discusses his entrance into the film, how he recruited Gosling, and Neil Armstrong's complicated character arc.
Preparing to Launch (3:39): We learn a lot about Armstrong in this featurette, which took many of the cast and crew by surprise.
Giant Leap in One Small Step (4:31): This one also discusses Armstrong, but also how the cast and crew did everything they could to present an honest portrayal of the man who never thought he was a hero.
Mission Gone Wrong (2:42): Taking a book out of Tom Cruise's insane stunts, we learn how Gosling signed on to do all the stuntwork himself, including a harrowing drag sequence during a training mission.
Putting You in the Seat (7:09): One of the best featurettes of the set, we learn how all the space sequences were shot using a giant LCD screen, which allowed the actors to imagine themselves in actual space, and which provided for the extraordinary visuals for the film.
Recreating the Moon Landing (6:01): Another of my favorites, we learn how committed the cast and crew were to getting the landing accurate. It includes the shooting location, the efforts to make the Moon surface as realistic as possible, and the genius move of employing the actual lenses taken to the Moon to shoot this sequence.
Shooting at NASA (3:11): This sequence take us to NASA itself, as the actors are treated to backstage view of the various rooms used during the Moon missions and travel in the exact van which transported Team Armstrong to the Saturn V rocket. It's clear that the actors really enjoyed these visits, which I believe made their way into the final product.
Astronaut Training (4:02): Again, it's like going to Space Camp as the actors engage in several training scenarios, learn how to fly using mock-ups, and touch actual Moon rocks.
Audio Commentary by Director Damien Chazelle, Screenwriter Josh Singer, and Editor Tim Cross: The trio give us many interesting perspectives on shooting FIRST MAN, but stick around to the end as they wonder if anyone does in fact listen to these commentaries. Yes, we do!
Our evaluation copy arrived as a 4K/Blu-ray/Movies Anywhere Digital Copy.  The 4K slipcase is glossy and embossed, although there's no interior artwork. At the time of this posting, we were unaware of any special editions, but I wish a NASA-themed steelbook would have been released.

THE BOTTOM LINE:
FIRST MAN does exactly what a great biopic should, sharing new angles about its subject and inspiring you to start your own research to uncover this complex man and the many hurdles (including strong opposition to the enormous budgets) which almost ended the program before it got off the ground. Armstrong's story is as eye-opening as the technical challenges he and others faced, and that creates a stirring mix of gorgeous visuals and truly harrowing moments. FIRST MAN reminds us that we're about embark on the next chapter of our journey into space: visits to the Moon and Mars are upcoming, and it's entirely possible that the question of life on other planets will soon be answered. These realities put us in a perfect place to move forward by looking back to the days of high heroism by Armstrong and others, who tested the limits of technology and bravery in an effort that benefited all of mankind. The home release comes complete with amazing sound, gorgeous visuals, and a set of very entertaining supplements. It should be a showcase for any platform you throw at it, and it comes highly recommended.
FIRST MAN is rated PG-13 for some thematic content involving peril, and brief strong language and has runtime of 141 minutes.