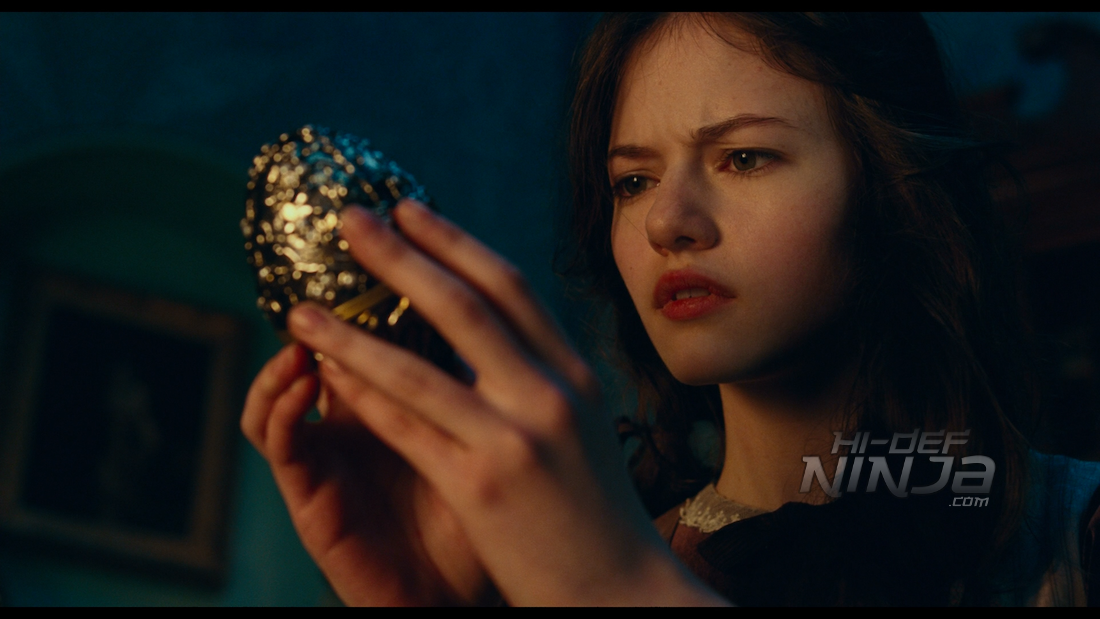 THE NUTCRACKER AND THE FOUR REALMS 4k Ultra HD Review
The Movie

The Video

The Audio

The Supplements
In Victorian London, England, The Stahlbaum family is getting their Christmas presents on Christmas Eve. This will be the family's first year without their mother and wife Marie since she passed. Clara has received an egg-shaped box but she doesn't know how to open it. Also inside the box is a note from her mother saying that inside the egg is all she will ever need.
The family always attends a Christmas Eve ball held by the children's godfather Drosselmeyer. Clara asks him if he knows how to unlock the egg and he tells her that it was something he made for her mother when she was young. When it is time for the gifts, each person has their name on string to follow to their gift. Clara follows her own string to a magical, wooded area and she spots the key. She can't reach to before a thieving mouse takes it and runs off.
 
THE NUTCRACKER AND THE FOUR REALMS is directed by Lasse Hallström and Joe Johnston. Hallström's previous works are films like WHAT'S EATING GILBERT GRAPE and THE HUNDRED-FOOT JOURNEY. Johnston has films like CAPTAIN AMERICA: THE FIRST AVENGER, THE ROCKETEER, and JUMANJI on his resume. Both have their merits when it comes to filmmaking but Hallström seems to be stronger in drama and Johnston has a knack for putting the fantastic on film. Even though he wasn't involved, this movie feels very much like the Tim Burton live-action Disney films that have been released over the past few years. The visuals that are used make sure that in no way do you get the idea that this has been filmed in a practical place. Color plays a big role in the film so that's why everything has their own palette.
Cast
Mackenzie Foy – Clara Stahlbaum
Jayden Fowora-Knight – Captain Philip Hoffman
Keira Knightley – The Sugar Plum Fairy
Helen Mirren – Mother Ginger
Morgan Freeman – Drosselmeyer, Clara's godfather
Misty Copeland – The Ballerina Princess, a gifted dancer
Eugenio Derbez – Hawthorne, regent of the Land of Flowers
Richard E. Grant – Shiver, regent of the Land of Snowflakes
Matthew Macfadyen – Benjamin Stahlbaum, Clara's father
Anna Madeley – Marie Stahlbaum, Clara's late mother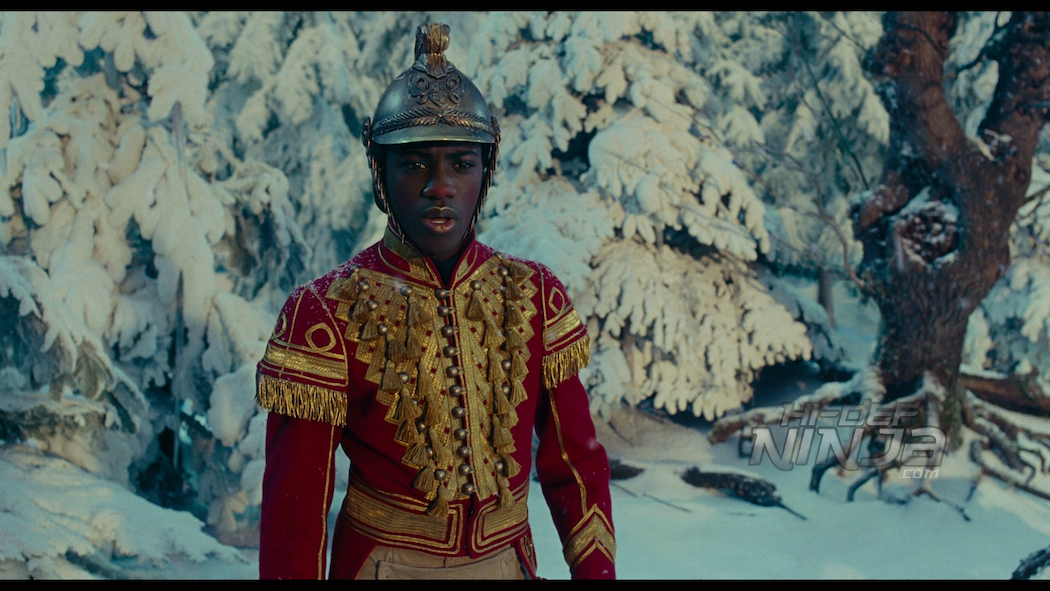 VIDEO QUALITY:
The video is a 2160p HEVC presentation that looks wonderful. There is a fine grain on the film that keeps it from looking like a squeaky clean, digital film. There are a lot of practical effects when it comes to the costumes for the magical characters. The intricate detailing on those costumes that makes them shimmer and sparkle can be clearly seen in this high resolution. Skin textures are well defined on the old actors (sorry Helen and Morgan) and the young. Before Clara reaches The Four Realms, the movie is on the darker side with dark shadows and heavy blacks. The contrasting is strong and is consistent until the end.
As for the coloring, the pastels are brilliant and the red is bold in any scene where it shows up. The HDR10 plays a role in the heavier blacks as well as making the colors brighter. That being said, the differences in the coloring is huge but enough to tell what format you are viewing.
AUDIO QUALITY:
The audio is a Dolby Atmos mix that will default to a Dolby TrueHD 7.1 mix. The use of the overhead speakers in the sound field just seems to create a wider sound field. There are some moments that have some nicely layered sound with big effects and a great score. The ballet scene is done with elegance and superb music to tell this well known Christmas tale. LFEs are good but they could use a little more oomph. Dialogue is clean and well prioritized in this busy mix.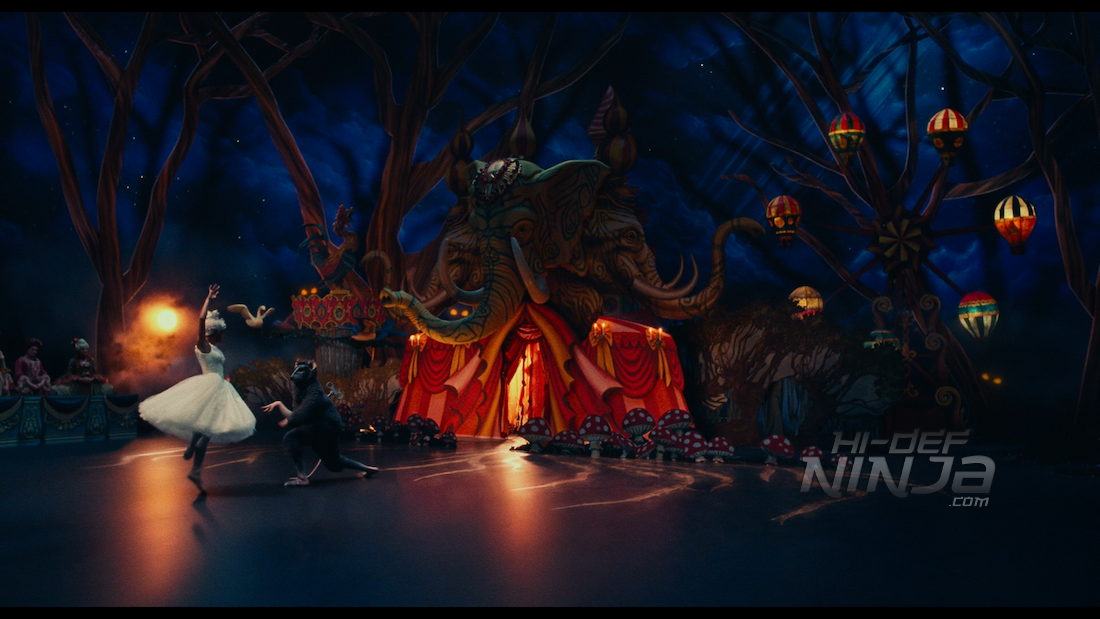 SUPPLEMENTS & PACKAGING
-On Pointe: A Conversation with Misty Copeland: The incredibly talented dancer plays the Ballerina Princess and here she discusses her role.
-Unwrapping THE NUTCRACKER AND THE FOUR REALMS: This is how the cast and crew worked on creating this new world for the movie.
-Music Video: "Fall On Me" Performed by Andrea Bocelli Featuring Matteo Bocelli.
-Music Video: "The Nutcracker Suite" performed by Lang Lang.
 
-Deleted Scenes
 
Disc Details
2-disc set w/1 4k UHD and 1 Blu-ray
Digital copy
 
Running Time
99 mins
 
Edition Ratings
Rated PG
 
Region Coding
Region Free
 
4k UHD
Video Resolution
2160p HEVC H.265
HDR: HDR10
Aspect ratio: 1.85:1
 
Audio Mixes
English Dolby Atmos
English Dolby TrueHD 7.1
French Dolby Digital 5.1
Spanish Dolby Digital Plus 7.1
 
Subtitles
English SDH
French
Spanish
 
Blu-ray
Video Resolution
1080p AVC MPEG-4
Aspect ratio: 1.85:1
Audio Mixes
English DTS-HD Master Audio 7.1
French Dolby Digital 5.1
Spanish Dolby Digital 5.1
 
Subtitles
English SDH
French
Spanish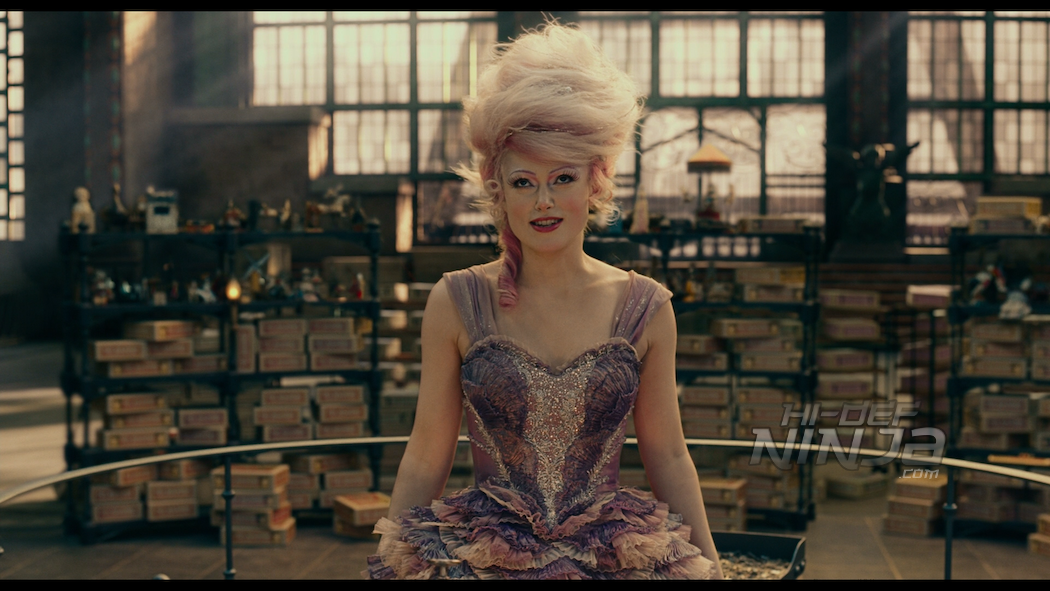 THE BOTTOM LINE:
THE NUTCRACKER AND THE FOUR REALMS has a really good story to it and draws some elements directly from the ballet. The story might have been a bit grander over 2 or even 3 films but I understand the gamble of trying an unproven franchise. As for the release, the video is outstanding and the audio is stellar. The extras are ok but a little more about making the movie would've been nice to see. Either way, this is one I can say to check out for yourself but if you enjoyed this in the theaters, its worth picking it up.