The Series

Video Quality

Audio Quality

Supplements
Yellowstone is an American drama television series created by Taylor Sheridan and John Linson that premiered on June 20, 2018 on Paramount Network. It stars Kevin Costner, Wes Bentley, Kelly Reilly, Luke Grimes, Cole Hauser and Gil Birmingham.
Purchase YELLOWSTONE on Blu-ray Today!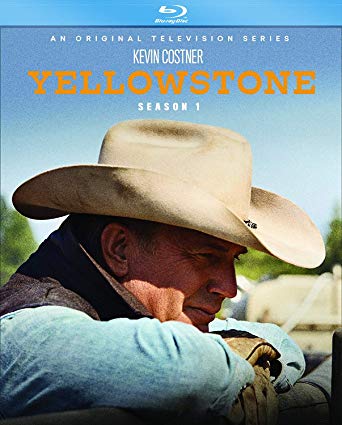 THE SERIES:

YELLOWSTONE is a series on the Paramount network that stars Kevin Costner as the patriarch of a powerful rancher family. He's a 6th generation homesteader and loyal father who controls the largest ranch in the United States. The show focus' on a corrupt world where politicians are bribed by big oil and lumber where land grabs are a stake worth billions.
Alliances, murders and respect. There is constant conflict in a part of the Country that most would think is only serene.
Yellowstone Season 1 is packaged in 3-disc Blu-ray and 4-disc DVD sets, list-priced $39.99 and $29.99 respectively. Also available on the Paramount Network.
VIDEO QUALITY:

Yellowstone comes to blu-ray in 1080p with an original aspect ratio: 2.00:1 in a MPEG-4 AVC (24.50 Mbps) codec. As vast as YELLOWSTONE is you can imagine the visceral and vast treat one would get in cinematography in a series based on the area. There's a great mixture of modern day tv drama's and that of the beauty that is and surrounds the Yellowstone national park area that allows itself to capture itself beautifully in this series. The series is entirely shot on a camera much like the Red called the Arri Alexa and quite amazingly is some absolutely breathtaking shots to boot. Of course that is kind of besides the point, because the little camera has a ton of peripherals that take the price way above the common man to make it comparable to Hollywood cameras none the less.
AUDIO QUALITY:

Yellowstone comes to Blu-ray Disc with a Dolby TrueHD 5.1 multi-channel format track in English. (48kHz, 16-bit) Also included is subtitles in English SDH (for the deaf or hard-of-hearing). Lots of different sounds make up the show/series Yellowstone. From music, horses, cars, ranching, dialogue, Native American culture, and the sounds of Yellowstone, Wyoming. All of which lend itself to the audio track of the show Yellowstone. The audio plays out very well for a show, and even better in that of 5.1 Dolby.
SUPPLEMENTS:

The following is the special features for YELLOWSTONE Season 1 on Blu-ray including more than 80 minutes of behind-the-scenes featurettes, and an all-new exclusive interview with Kevin Costner and Taylor Sheridan. The only major knock is that there is no digital copy, but given that this is a series from the Paramount Network it's understandable.
Inside Yellowstone
Costner on Yellowstone
Cowboy Camp
Character Spots: Beth
Character Spots: Lee
Character Spots: Jamie
Character Spots: Rainwater
Character Spots: Monica
Character Spots: Kayce
Working the Yellowstone: Production Design
Working the Yellowstone: Special Effects
"Yellowstone" Official Theme Music Composed by Brian Tyler
Taylor Sheridan & Kevin Costner on Yellowstone
The series follows the conflicts along the shared borders of a large cattle ranch, an Indian reservation, land developers and Yellowstone National Park. On July 24, 2018, it was announced that Paramount Network had renewed the series for a second season to air in 2019. – wikipedia