The Movie

Video Quality

Audio Quality

Supplements
Robin Hood is a 2018 American action-adventure film directed by Otto Bathurst and written by Ben Chandler and (David James Kelly, from a story by Chandler. It is based on the tale of Robin Hood, and follows his training by John to steal from the Sheriff of Nottingham. The film stars Taron Egerton, Jamie Foxx, Ben Mendelsohn, Eve Hewson, Tim Minchin, and Jamie Dornan.
Purchase ROBIN HOOD on Ultra HD Blu-ray Today!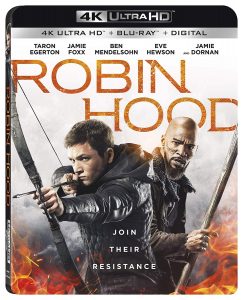 THE MOVIE:

For films that take a modern like twist on classic source material it's typically always a hit or a miss. Robin Hood gets points for what they did creatively and what they set out to accomplish. It's just that the film is either going to end up being far ahead of it's time, or just one that wasn't executed as well as it could be. I'm a huge fan of Robin Hood the story, the character, and practically all Robin Hood films to ever cross the screen. From Errol Flynn's to Kevin Costner's and heck I even found a lot to like in the Russell Crowe version. That being said, perhaps that bias allowed me to find a lot in this new film to like. However there was much I didn't like.
The costume design, whilst obviously intentional was just too modern for me. Personally it just kept distracting me from many scenes as it was comical at times how outlandish it was. The Great Gatsby remake on the other hand didn't distract me. I see some small comparisons in how these films modernized a bit. It's just with Robin Hood we got this film that perhaps wanted to be darker, what with the mines, the slums, etc. but yet it still felt very fun, and thus lacked some seriousness which is what a darker film lends itself too better in my humble opinion. So in turn we have what I call a popcorn flick. Though some popcorn flicks lack a lot of depth, and typically execute poorly but they are still just fun enough to like. Robin Hood on the other hand did have many scenes that were executed well, or really gave us tension, or had great visuals and cinematography at times and that is what makes my verdict all the more confusing. Just as many scenes that were "popcorn" as their was ones executed seriously and well enough.
I thought the opening scenes in the crusades were done very well. I mean once I was able to get past why the whole squad would be Bow's up in close quarters and yet no one is yielding a sword. And while Sherwood forest does exist as mentioned later in the film you might as well just completely forget about Sherwood Forest as the mines ended up being the "sherwood forest" in this version of Robin Hood.
Never the less thankfully the film has many good scenes that seem to string us a long past the bad ones that just come off as cheesy. The training session with (Little) John (played by Jamie Foxx) felt very cringe worthy. At times I thought I was watching more a hodge podge of a Robin Hood, Ninja, and Assassins Creed film. Which in turn if expecting that is and was cool. There was great fighting scenes with fantastic choreography.
Stylistically if you expect something of the nature of Hercules starring The Rock, then you'll be fine with this version of Robin Hood. Movies that are fun, make their own versions of classic tales while modernizing much of the movies and having often predictable plots.
While many critics have bashed this film, and perhaps one might think I am as well It's more so that I need more time to see how I feel about this film's place among the many Robin Hood films. One thing I do know is that I don't feel as if I wasted any time as it was still enjoyable when keeping your expectations low. And when I say low, I mean it only really in regards to the identity of this film. This is not Braveheart, or Robin Hood (Costner) it's a new age type of film-making based loosely on classic material and it looks and sounds amazing!
VIDEO QUALITY:

Robin Hood comes to Ultra HD Blu-ray with Dolby Vision and for a film that has a large amount of dark and dreary scenes it's extremely welcomed. The film features a gritty look especially when we are introduced to the mines. Costume design is dark, and most often the lightest colors are simply grey. With the Dolby Vision tech we get rich deep darks that allow a sharp picture overall.
AUDIO QUALITY:

Much like the video quality being such a strong point, the audio quality is no exception. Robin Hood comes to Ultra HD Blu-ray with a Dolby Atmos track that allows for immense immersion like qualities what with the basis of the film. We open up during the Crusades and some crazy Arrow warfare that features a turret like gun that shoots out arrows in rapid succession. You can feel this scene. Then there's the training scene, more arrows, and lots of other scenes of action when looting etc. All of which allow the Dolby Atmos track the ability to show off.
SUPPLEMENTS:

Along with the below special features Robin Hood features a new very cool experience in that of the Lionsgate VIP. The Small QR code next to the digital copy code is worth checking out! I'll update my review based on this experience tomorrow. (street date)
4K UHD / BLU-RAY / DVD / DIGITAL SPECIAL FEATURES
· "Outlaws and Auteurs: Reshaping Robin Hood" (7-Part Documentary)
· Outtakes
· Deleted Scenes
The film was announced in February 2015, with Egerton signing on as the lead role that September. Hewson, Foxx and Mendleson all joined the cast over the following year, and principal photography began in February 2017, lasting through May. – wikipedia