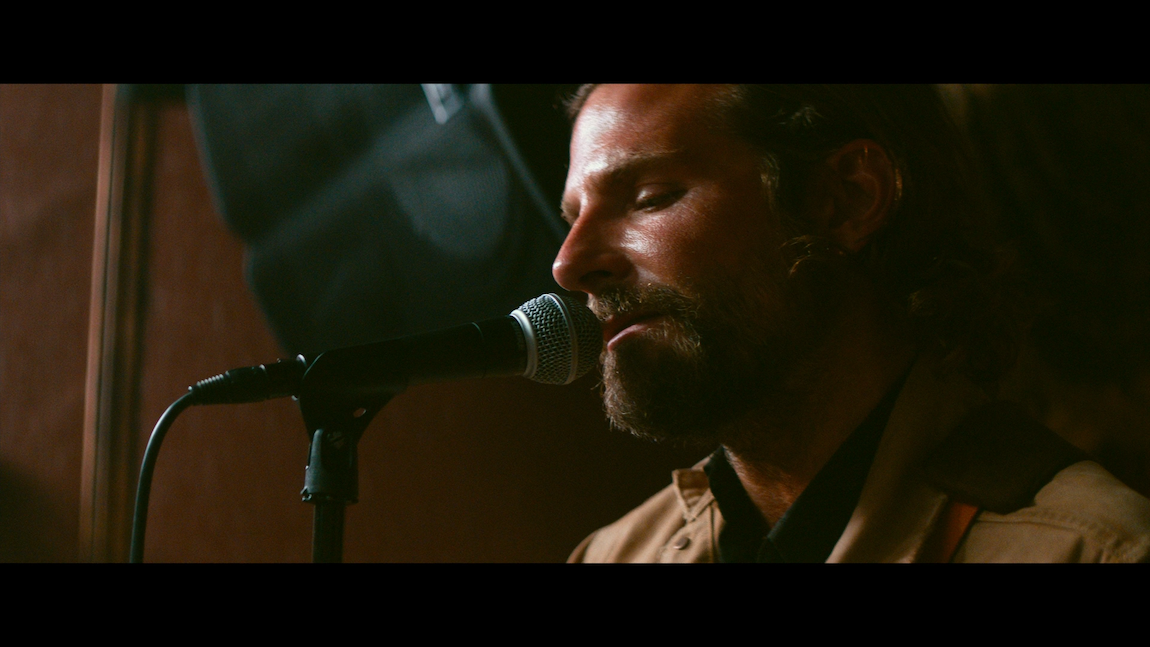 A STAR IS BORN Blu-ray Review
The Movie

The Video

The Audio

The Supplements
Rocker Jackson "Jack" Maine makes music for his fans show after show with the help of his alcohol and pain killers. One night after a performance and out of liquor, his driver takes him to what ends up being a drag bar. There, singing in French, is Ally. When she finishes her song, he is intrigued by her music and meets her in the dressing room. He becomes infatuated with her and she is sort of starstruck but as the night progresses, she sees that he is just a guy. A few drinks later and a solid punch to a bar patron's face, Jack takes her to a grocery store to ice her hand so she doesn't damage it permanently. She does some impromptu singing in a parking lot and he knows that her talent needs to be shared.
In the morning, he asks her to come to a show of his but she tells him that she has to get back to the real world. She changes her mind and comes to the show. After some coaxing, he gets her onstage to do a duet and wows everyone there.
A STAR IS BORN is directed by Bradley Cooper. When it was still in development in 2011, Clint Eastwood was planning on directing and having Beyoncé as the female lead. In the male role, production was in talks with Christian Bale, Leonardo DiCaprio, Tom Cruise, Johnny Depp, and even Will Smith. In 2012, Beyoncé left the project altogether. Fast-forward to 2015 and Eastwood left; having Bradley Cooper took over the film. He became the male lead and Lady Gaga signed on soon after. Before looking up the info about the film, I was convinced that this was a David O. Russell film but he and Cooper have done a few films together so Cooper using a similar filming style makes sense. Plus they both use Jay Cassidy so there's that.
The film has been nominated for 8 Academy Awards including: Best Motion Picture of the Year, Best Performance by an Actor in a Leading Role for Bradley Cooper, Best Performance by an Actress in a Leading Role for Lady Gaga, Best Performance by an Actor in a Supporting Role for Sam Elliott, Best Achievement in Music Written for Motion Pictures (Original Song), and Best Achievement in Sound Mixing. It just goes to show the level of talent in the film with a Best Picture nomination plus both the Actor and Actress in a Lead Role. Not to mention the first-time and very deserving nomination for Sam Elliot in the Supporting Role. He only has a few scenes but every time the man is on camera, he flawlessly delivers.
The real star in the film (yeah, I said it) is Lady Gaga. She has done a few smaller roles in movies before and this film allows audiences to see that talent that she has for the craft. Her role as Ally has her take this emotional journey from a very real place in her life. She opens up about how hard it was for record labels to take her seriously because of her looks. Her alluring voice has a power that can be felt without waver. Her music gives you the feels because it comes from a place deep within her soul and the emotion is so raw that in a way, you feel what she feels. You get this from her time while she is on stage at the start of the film as well as the last. I feel like it is difficult to convey the feeling in words but it is something that makes the entire experience worth it.
Bradley Cooper is the perfect choice to play the aging rocker. So that he could look as authentic as possible on stage, he learned the guitar and even mimics Neil Young's unique style of obliging the note from the instrument. The character's mannerisms off stage remind me of a young Sam Elliot from movies like ROADHOUSE and this makes it more believable that they are brothers. Over the years in my past, I have been around a good amount of people who need drugs and alcohol to get themselves right. It an unmistakable and easy to spot if you know what you're looking for. Cooper makes it feel completely authentic and masterfully done.
Cast
Bradley Cooper as Jackson "Jack" Maine
Lady Gaga as Ally Maine
Sam Elliott as Bobby Maine, Jack's manager and manager
Dave Chappelle as George "Noodles" Stone, Jack's best friend
Andrew Dice Clay as Lorenzo Campana, Ally's dad
Anthony Ramos as Ramon, Ally's friend
Rafi Gavron as Rez Gavron, Ally's manager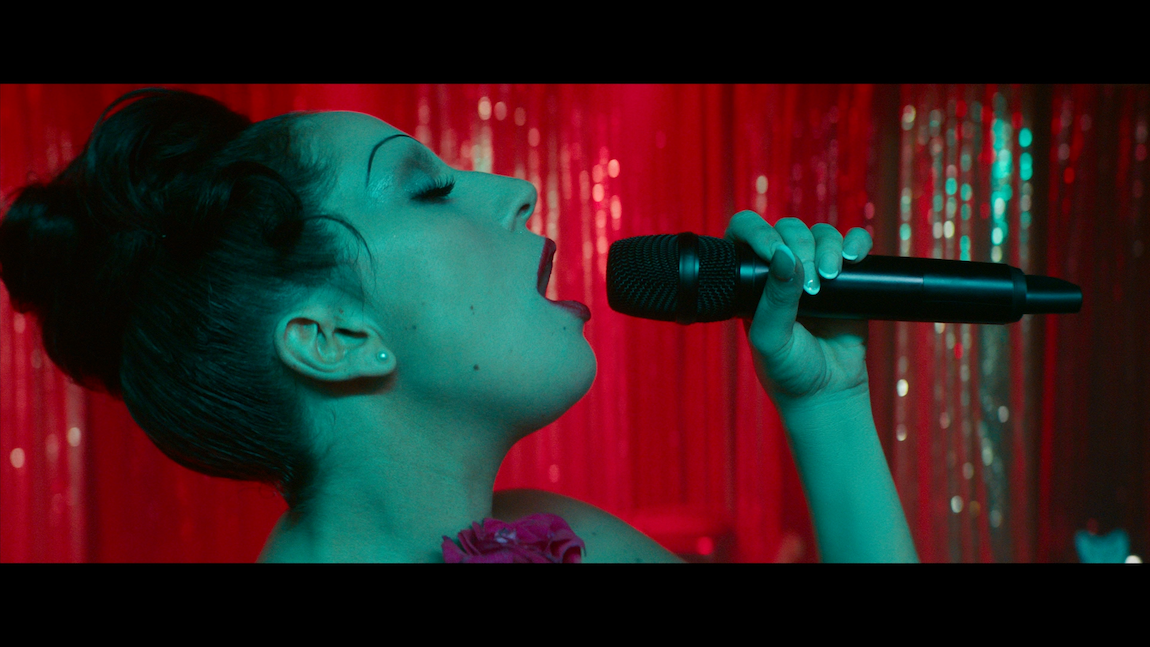 VIDEO QUALITY:
The video is a 1080p AVC presentation that has some incredible imagery on-screen to go with the sound. The images are clean and sharp. The skin tones are naturally warm and show Jack's sunburnt face in contrast to Ally's complexion. The colors are bright where they need to be in clubs and bars but the overall look is toned properly. Skin textures are almost always prominent and show every little facial line as well as imperfection. Other details such as fabrics and dress patterns look fantastic. The blacks are inky and dark. Shadows also look great but there are a few moments such as the bar scene at the start of the film where some of the contrasting fades slightly. Some detail is lost but we are talking about only a few seconds at a time.
AUDIO QUALITY:
The default audio is a DTS-HD Master Audio 5.1 mix but there is a Dolby Atmos mix included. You actually have to select the Atmos mix in the disc's menu and if you have the equipment, make sure to change it. The way that the music sounds in the stadiums, festivals and concert halls is astounding. The overhead speaker use is perfect with the layers of the instruments, the crowds, and the singing. It doesn't just fill the room but the directionality of sound as the camera moves immerses you. The LFEs are robust and deep. Even the little intricacy can be heard including the slow burn of cigarettes/joints and the smallest clink of ice. Dialogue is clear and layered properly. Also worth mentioning is that the TrueHD mix that plays when there is no Atmos equipment might be better than the 5.1 mix with the extras channels.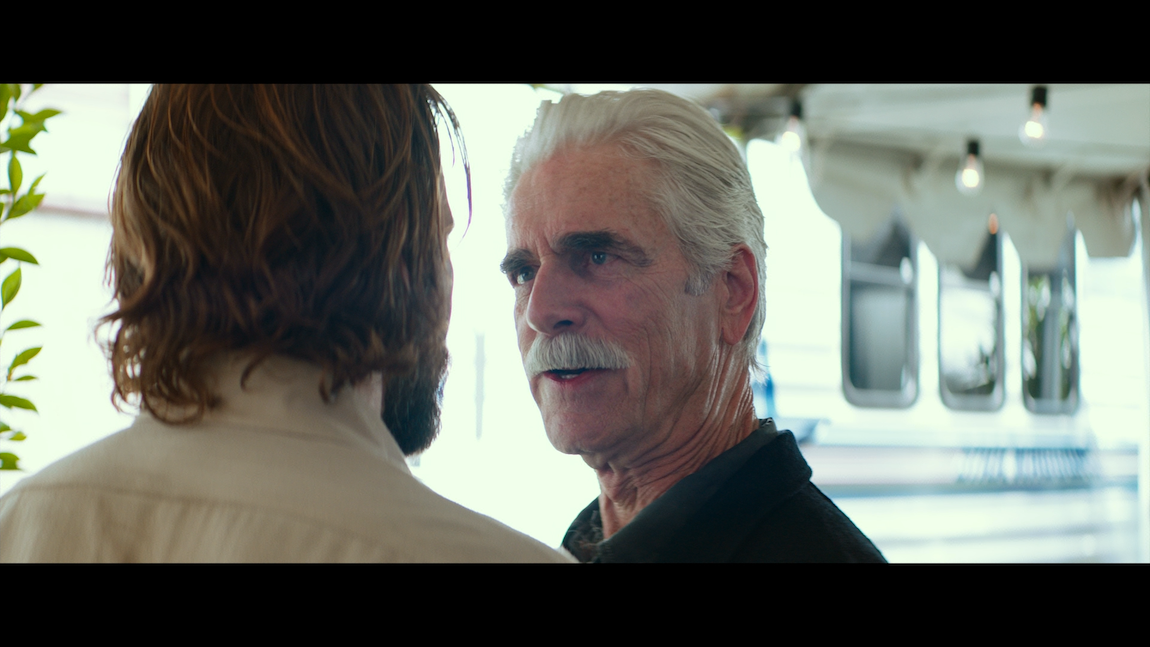 SUPPLEMENTS & PACKAGING
-The Road to Stardom: Making A STAR IS BORN: This 30-minute featurette has some interviews with the cast and crew about making the film.
-Jam Sessions and Rarities: These are the songs in the rehearsal stage.
Baby What You Want Me to Do
Midnight Special
Is That Alright by Lady Gaga
-Music Videos:
Shallow by Lady Gaga and Bradley Cooper
Always Remember Us This Way by Lady Gaga
Look What I Found by Lady Gaga
I'll Never Love Again by Lady Gaga
-Musical Moments: Here you can jump to a particular song throughout the movie.
Black Eyes
La Vie en Rose
Maybe Its Time
Shallow in the parking lot
Alibi
Shallow
Maybe Its Time
Always Remember Us This Way
Why Did You Do That?
Oh, Pretty Woman
I'll Never Love Again
Disc Details
2-disc set w/ 1 Blu-ray and 1 DVD
Digital copy
Running Time
136 mins
Edition Ratings
Rated R
Region Coding
Region Free
Video Resolution
1080p AVC MPEG-4
Aspect ratio: 2.40:1
Audio Mixes
English Dolby Atmos
English Dolby TrueHD 7.1
English DTS-HD Master Audio 5.1
English Dolby Digital 5.1
French (Canada) Dolby Digital 5.1
Spanish Dolby Digital 5.1
Portuguese Dolby Digital 5.1
Subtitles
English SDH
French
Portuguese
Spanish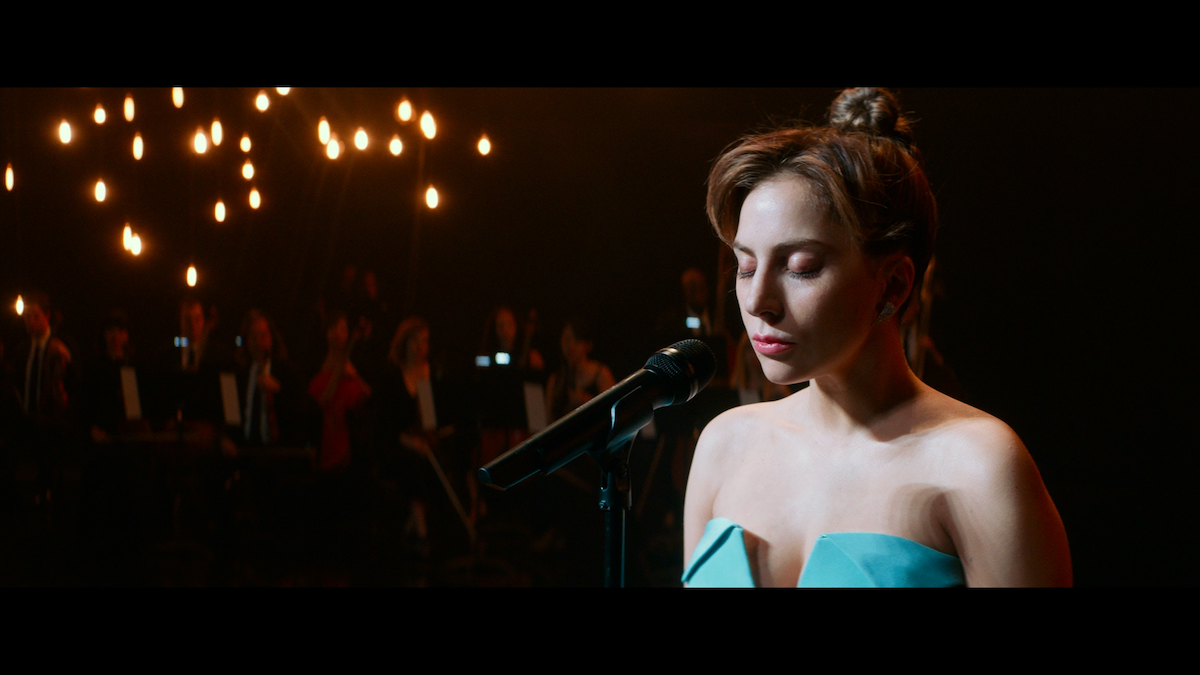 THE BOTTOM LINE:
A STAR IS BORN is a remarkable film and deserving of the Best Picture nomination. Great story with marvelous acting from everyone involved. I do think that Bradley Cooper deserves the Best Director nomination to go along with the others and it is odd that he was snubbed. The release itself is top notch with clean video and one of the best mixes I've heard in quite a while. The making-of featurette is well worth a watch to hear from the various cast members about how they built their characters from the ground up. No matter how hard the times are in the film, the journey that you go on with these characters totally worth every real minute. I highly recommend buying this as soon as you finish this sentence: "music is essentially 12 notes between any octave…all an artist can offer the world is how they see those 12 notes…that's it…"