Each year my coverage of companies on the show floor of the New York Toy Fair gets longer and longer. In this article I'll be focusing on some of the companies producing collectibles, games, puzzles, and other related products. The New York Toy Fair takes up two full levels of the Javits center and what I see is just a portion of the amazing products coming out in 2019. There's a lot to cover so let's not waste time and dive right in!
Insight Editions – Incredibuilds
https://insighteditions.com/
Insight Editions produces illustrated books that cover a wide range of topics in pop culture, entertainment, history, and the arts. From their Walking Dead cookbook, Harry Potter Wand Collection and Buffy the Vampire Slayer Grimoire to their work with Mondo on the Art of Mondo and previously the Art of Jock books Insight Editions are producing some of the highest quality books that reaches a wide range of fandoms.
At the Toy Fair however they focus on their non-books line including IncrediBuilds, Insight Luminaries, and Popcraft collections.
The IncrediBuilds collection features do-it-yourself, customizable, freestanding models and educational guidebooks that are sure to delight readers; these also include many licensed properties such as Overwatch, Marvel, Harry Potter, and Star Wars.
Insight Luminaries focuses on licensed candles from these same licenses
Their new venture Popcraft offers up pop-up and quilled cards. They have everything from Hogwarts Castles and Game of Throne Dragons to Batmobiles and Gotham City. These elaborate cards are perfect for that special occasion!
Ravensburger
https://www.ravensburger.us/start/index.html
A company I've recently started covering is Ravensburger which produces puzzles, games, arts & crafts, and science activity kits with a few sub-companies under their belt. I was introduced to the company when playing one of their games Villainous in my board game group so I decided to see what games would be of interest that were coming out.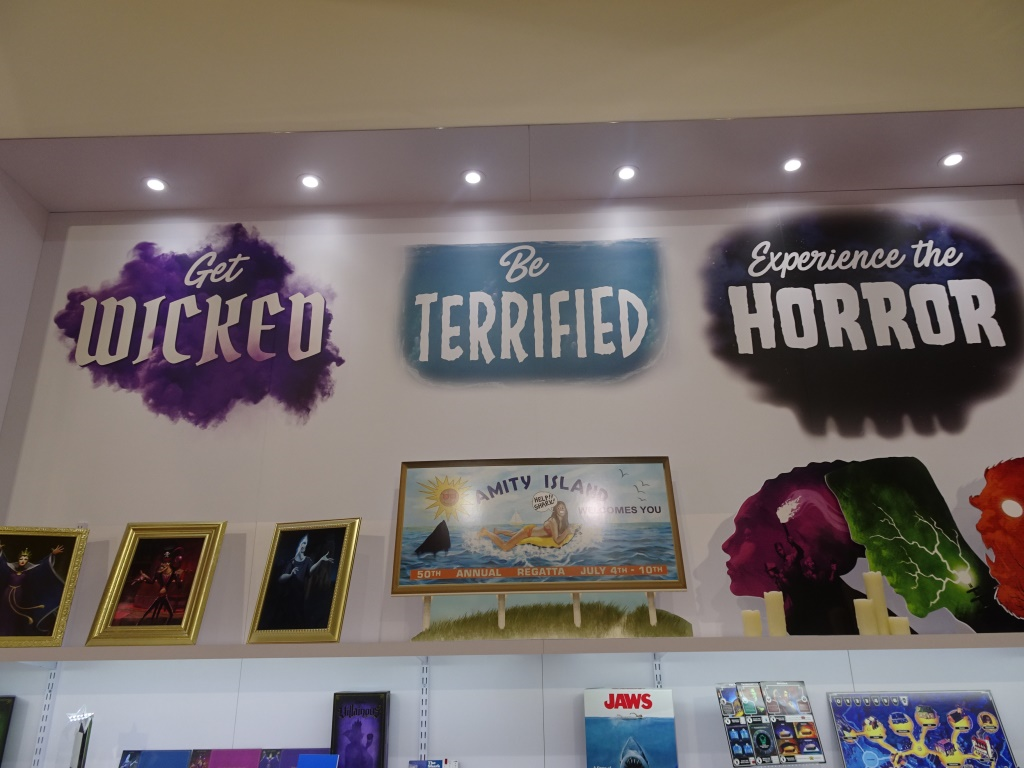 First up is a follow-up to the aforementioned Villainous game. In Villainous players play as one of Disney's villains with each villain having their own objectives while foiling their fellow outlaws. In the Wicked to the Core expansion new strategies, plot twists, and play dynamics have been added. The game can be played either with two or three players as a stand-alone or it can expand up to a six-player game when paired with the original game.
Jaws is a new strategy game set in two acts for 2 to 4 players. In this game one player chooses the role of the shark terrorizing Amity while the other players act cooperatively to take on the shark trying to keep the island safe. In the first act players are working to attach barrels to the shark and gain more power to defeat the shark while the shark is trying to get stronger by eating as many swimmers as it can. Just like in the movie the second act takes place on a boat where the shark starts attacking the boar and the players are trying to predict where the shark will attack from. The artwork and quality pieces will really enhance the playing experience. For fans of movie board games I can see this being very popular in 2019.
Next up is Horrified a 1 to 5 player game. Featuring the iconic Universal Monsters Dracula, The Mummy, The Wolfman, Frankenstein's Monster and his bride your team of heroes must defeat them and save the village. Each monster offers a unique challenge and players can adjust the difficulty after each playthrough.  Again the artwork on this looks really good, the gameplay seems fun and fans of classic horror movies will be happy with the final product.
Harry Potter Labyrinth is a skin on the classic Labyrinth game. As you move the labyrinth aronf discover new paths that were once dead-ends in order to find the characters you need to collect.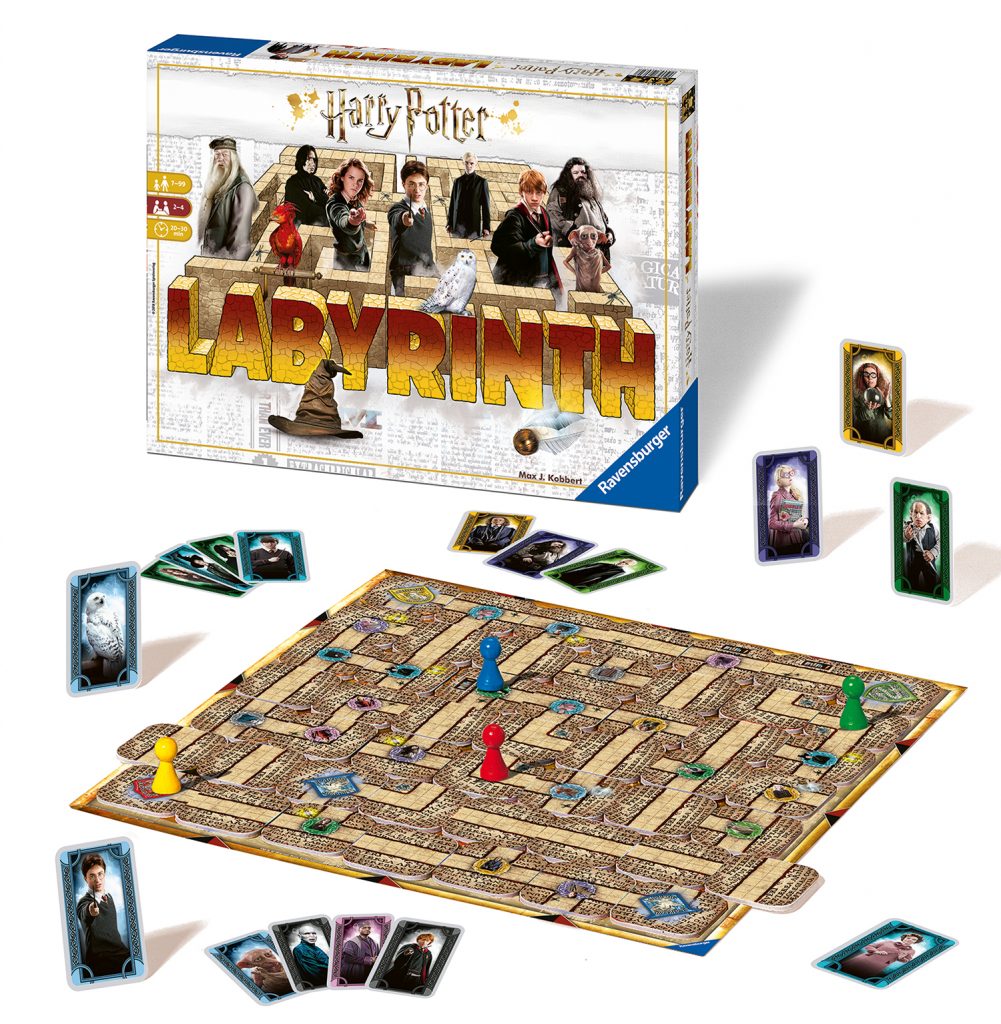 Finally Ravensburger produces some amazing 3D puzzles. Just check out this Porsche!
With so many bespoke boardgames coming out in 2019 I am expecting a rise in the number of ninjas getting into boardgaming.
Metal Earth by Fascinations
http://www.fascinations.com/
Metal Earth models by Fascinations are mini metal model kits that you pop out of metal sheets. With a ton of licenses including Transformers, Lord of the Rings, Marvel, Harry Potter, Disney, Star Wars, and more there is likely a model kit for anyone. Their IconX line is a larger scale set that feature more details.
At the Toy Fair this year they showed off two new items first painted creatures including a Red and Blue Dragon and Parrot as well as thei new Game of Thrones license with a Iron Throne, House Stark Sigil, Drogo, The Mountain, the House Greyjoy ship Silence, and the Red Keep.
Cryptozoic Entertainment
https://www.cryptozoic.com/
Cryptozoic Entertainment, Inc. is a premier developer and publisher of original and licensed board games, card games, comics, trading cards, and collectibles. In the past I have covered their board games which they still produce in license with many partners including DC and Cartoon Network.
In terms of collectibles they are producing a number of Vinyl collectibles including a new horror Vinyl Terrorz line with the first figure being a Freddy Kreuger.
Cryptozoic also produces a bunch of DC vinyl figures in various sizes from Lil DC Comics Bombshells blind boxes to their DC Bombshells Golden Goddess line, their new Wonder Woman Princess of Themyscira Polyresin Statue, and their new 7'' vinyl line figures featuring Lynda Carter Wonder Woman, Classic Harley Quinn, Wonder Woman Movie, and Batman Return's Catwoman figures.
Wonder Woman Princess of Themyscira Polyresin Statue
For non-DC related they have a their CryptkinsTM vinyl figures introduced last year which features creatures based on folklore such as Kraken, Cerberus, Unicorn, Gryphon, and Blue Dragon.
Outside of collectible figures Cryprtozoic dabbles in a bunch of other products including collectible trading cards, and board games.
Quantum Mechanix (QMx)
https://qmxonline.com/
Quantum Mechanix (QMx) develop screen-accurate replicas, collectibles, apparel and artwork based on movies and television shows. They have a range of products on display at Toy Fair including character figures in a range of scales from 1:6 articulated figures, Mini Masters, Q-Figs and Q-Bits. Also showcased were plush figures and Star Trek Discovery badges and pins.
Scale Figures
Q-Figs
Plushes and Badges
Batman Family Statue!
Factory Entertainment
www.factoryent.com
Factory Entertainment, Inc. is a leading manufacturer and distributor of high-quality licensed toys, collectibles and home goods featuring a wide variety of entertainment properties and pop culture personalities, including Star Trek, Harry Potter, DC Comics, Game Of Thrones, Monty Python, Men in Black, Ghostbusters, Universal Monsters, Jurassic World, Back to the Future, Jaws, Friday the 13th, Nightmare On Elm Street, the Goonies and many others.
On top of their lunchboxes, plushes, and foam props Factory Entertainment announced an expansion to their REVOS vinyl figure line featuring a self-righting mechanism built into its base, which allows you to spin'em, rock'em, revolve'em and knock'em. Factory Entertainment also announced a new product line – KUZOS. Detailed die cast metal collectibles each KUZO are approximately 2 inches in width and based on movie and television characters and props.
REVOS
KUZOS
Lunchboxes
Plushes
Other items – Cane Toppers, Statues, Foam Replica Props, and more
Super7
https://super7.com/
With their ReAction, M.U.S.C.L.E., Super Shogun, Drive-Thru Drinkware, and many more product lines Super7 is providing quality figures for the discerning collector. They had a bunch of Maters of the Universe, Aliens, Planet of the Apes, Street Fighter, and more. They also had a new line of MLB figures and mascots.
Super-Buckets
SuperSoapies
Masters of the Universe
MLB Classic All-Stars, Baseball All-Stars, Mascots, Bullpen Buggies, and other products
ReAction from many product lines!
M.U.S.C.L.E. and Keshi Surprise
Toy Tokyo
https://www.toytokyo.com/
Toy Tokyo, a store that opened in 2000 in NY and has grown into a mainstay collaborates with some of the hottest talent in the designer toy industry and have gained a reputation as having unique items from Hong Kong and Japan.
Thanks of course go out to all the companies above for welcoming Hi-Def Ninja into their booths and showing us their newest offerings!