The Movie

Video Quality

Audio Quality

Supplements
Green Book is a 2018 American biographical comedy-drama film directed by Peter Farrelly. Set in 1962, the film is inspired by the true story of a tour of the Deep South by African-American classical and jazz pianist Don Shirley (Mahershala Ali) and Italian-American bouncer Tony Vallelonga (Viggo Mortensen) who served as Shirley's driver and bodyguard.
Purchase GREEN BOOK on Ultra HD Blu-ray Today!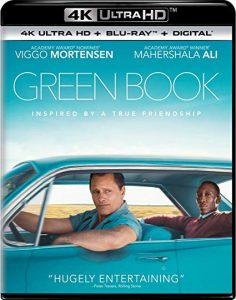 THE MOVIE:

Green Book is a touching movie that even at times when you can predict what may be coming it's executed on the screen flawlessly that it warms the heart. A charming film with with witty intellect and laugh out loud laughs that make the viewing enjoyable. A story that has volume and weight, and not surprisingly won the oscar for best picture. However just as telling of the film's merit and credibility of a stellar film is that of Mahershala Ali also winning best supporting actor. Viggo Mortensen turned in what one could also consider either a best acting or best supporting actor winning type of role.
Dr Don Shirley is a world-class African-American pianist, who is about to set forth on a concert tour in the South in 1962. In need of a driver and protection, Shirley recruits Tony Lip, a tough-talking bouncer from an Italian-American neighborhood in the Bronx, New York. Despite their obvious differences, the two men develop an unexpected and meaningful bond while dealing with racism and danger in an era of segregation. While some of the scenes can be predictable they are not any less gripping, tense and quality in acting/entertainment value.

VIDEO QUALITY:

Green Book looks great in the Ultra HD Blu-ray 4K release with an obvious upside coming from the disc version. The digital copy is quite fine too given a high speed connection. However make no mistake about it the disc is where the action is. Coming across in a better pure bitrate for me the film has deep dark blacks and many scenes lend its way to this what with the traveling deep in the south and states like Mississippi where we had some dark night scenes. However the portrayal of New York and the old cars, and Shirley's house and wardrobe etc. look sharp and give forth a great warm and bright (tho not too bright) colors that allow for that thickness of the UHD/HDR to shine. Green Book features HDR10 in fact which is subsequently practically the same as Dolby Vision.
Encoding: HEVC / H.265
Resolution: 4K (2160p)
Size: BD-66
Aspect Ratio: 2.00:1
AUDIO QUALITY:
Coming to Ultra HD Blu-ray 4K with a Dolby Atmos track that is just as immersive as the 5.1 DTS HD MA and quite arguably better. Green Book thrives with the musical numbers that this audio track performs extremely well with. You won't have any complaints in the audio department for Green Book as the film has crisp clear dialogue to boot as well. You'll likely be too concentrated with Tony Lip's thick New York accent to hear anything else anyways. Ha.
Audio Format(s): English Dolby Atmos, English 5.1 DTS-HD MA, English Audio Description Track, French (Quebec) 5.1 Dolby Digital, Spanish 5.1 Dolby Digital
Subtitles: English, English SDH, French, Spanish
SUPPLEMENTS:
* Virtuoso Performances – Go behind the scenes with Viggo Mortensen and Mahershala Ali as they discuss their characters and the lengths they went to accurately portray them.
*An Unforgettable Friendship – Cast and filmmakers discuss the friendship between Don Shirley and Tony Lip.
*Going Beyond the Green Book – Filmmakers and cast discuss the significance of The Green Book.

As of February 27, 2019, Green Book has grossed $70.8 million in the United States and Canada, and $74.4 million in other territories, for a total worldwide gross of $145.3 million, against a production budget of $23 million. After winning the Oscar for Best Picture it's sure to have another limited theatrical run that will pull in more revenue.