Lifelong ranch hand Ross Bodine decides cowpunching is no kind of life. So he and a raw cowboy half his age rob a bank to get the cash each needs to improve his lot. An indignant posse is soon in pursuit. Filmmaker Blake Edwards made his name with The Pink Panther and other comedies, but he also showed great skill in other genres with the thriller Experiment in Terror, the drama Days of Wine and Roses and this nuanced paean to the West. In performances perfectly matching Edwards' balance of rowdy comedy and hardscrabble period realism, William Holden and Ryan O'Neal play the fugitive saddlebums, with Holden drawing special praise. "As he grows older, he grows better like a great old wine. All the reverberations from the previous roles are beginning to sound" (Roger Ebert, Chicago Sun-Times).
Purchase WILD ROVERS On Blu-ray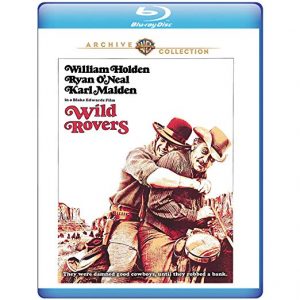 Check Out WILD ROVERS On Blu-ray Here Directly At Warner Archive
WILD ROVERS comes to blu-ray from Warner Archive on a manufactured on demand blu-ray disc in 1080p with a DTS HD Master Audio 2.0 track. WILD ROVERS is a film by Blake Edwards starring William Holden. Roger Ebert held Holden in high regard when referencing his work on Wild Rovers comparing his performance to that of aging wine getting better with time. It's quite hard to argue against those sentiments as William Holden is a western hollywood legend and his performance is that of charm.
A fun western hitting all the cliche scenes that most westerns focus on Wild Rovers excels in that of the script, cinematography and blissful wit. It looks absolutely amazing on this blu-ray and the film has never been treated so well before. Blake Edwards is surely smiling down from Heaven above. Edwards, winner of a career Academy Award, is best known for directing Breakfast at Tiffany's, The Party, the Pink Panther franchise, Days of Wine and Roses, The Tamarind Seed, 10 and Victor Victoria, among numerous other critical and box office hits.