The Movie

Video Quality

Audio Quality

Supplements
Mortal Engines is a 2018 post-apocalyptic adventure film directed by Christian Rivers and with a screenplay by Fran Walsh, Philippa Boyens and Peter Jackson, based on the novel of the same name by Philip Reeve, and starring Hera Hilmar, Robert Sheehan, Hugo Weaving, Jihae, Ronan Raftery, Leila George, Patrick Malahide, and Stephen Lang. An American–New Zealand co-production, the film is set in a post-apocalyptic world where entire cities have been mounted on wheels and motorised, and prey on one another.
Purchase MORTAL ENGINES on Ultra HD Blu-ray Today!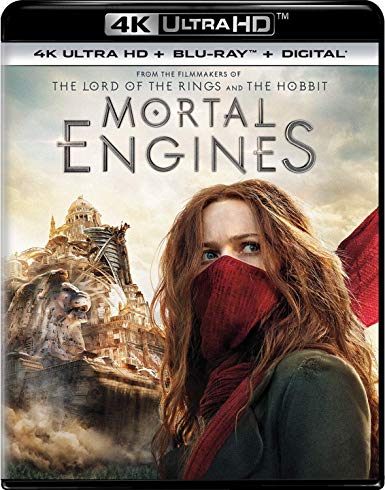 THE MOVIE:

Mortal Engines didn't quite get the reviews it wanted, however it's still a marvel of a movie for it's almost steampunk like futuristic design. Coming from the wheel house of Peter Jackson it no doubt looks amazing and is very impressive on that front. Some cliche type acting and predictable story lines likely are what give it that cheese factor that many complained about. However it's a fun popcorn flick like movie with plenty to keep you entertained and sounds amazing with its audio tracks. It's worth a watch.
VIDEO QUALITY:

MORTAL ENGINES comes to Ultra HD Blu-ray Disc with the type of fantasy and steampunk like cgi and design that lends itself quite well to great video quality. So that begs the question of does MORTAL ENGINES have great video quality? Indeed it does. Here we are granted Dolby Vision which is pretty much the equivalent to HDR10, and it opens up deeper darker and more brighter vibrant color spectrum's. MORTAL ENGINES cgi work and the world building it has is nothing short of amazing and one of the cooler aspects of the film and helps make up for the sometimes weak acting or cliche plot points.
AUDIO QUALITY:

MORTAL ENGINES audio quality is that of a Dolby Atmos track and when we're talking of predator cities that swallow other cities whole basically you have ever the moment for some crazy audio. Cutting, grinding, explosions, flames. etc. Huge metal like arrows that pierce through to penetrate other cities among other crazy scenes that really allow this film to sound as good as it looks. With Peter Jackson behind the project it's not quite the surprise that the film would at the least look and sound amazing.
SUPPLEMENTS:
Special Features for Mortal Engines include the following:
Audio Commentary by Director Christian Rivers
Welcome to London – Featurette
End of the Ancients – Featurette
Character Series – Featurette
In the Air – Featurette
Film New Zealand – Featurette
Jackson purchased the rights to the book in 2009, but the film languished for several years before being officially announced in 2016. Jackson picked Rivers, who won an Academy Award for Best Visual Effects for his work on Jackson's King Kong, to make his directorial debut with the project, and also brought on several members of his production teams from the Lord of the Rings and Hobbit film series. Filming took place from April to July 2017 in New Zealand. – wikipedia