The Movie

Video Quality

Audio Quality

Supplements
Pet Sematary (sometimes referred to as Stephen King's Pet Sematary) is a 1989 American horror film adaptation of Stephen King's 1983 novel of the same name. Directed by Mary Lambert and written by King, the film features Dale Midkiff as Louis Creed, Denise Crosby as Rachel Creed, Blaze Berdahl as Ellie Creed, Miko Hughes as Gage Creed, and Fred Gwynne as Jud Crandall. Andrew Hubatsek was cast for Zelda's role. King, who scripted from his own book, also has a cameo as a minister.
Purchase PET SEMATARY on Ultra HD Blu-ray Today!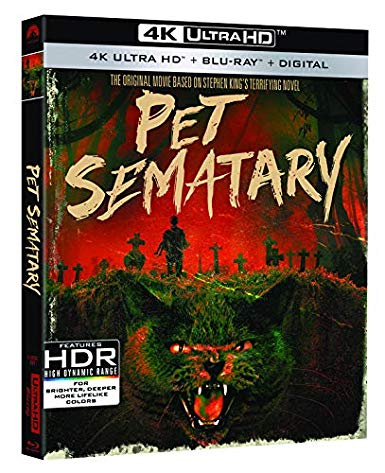 THE MOVIE:
30 Years ago we were graced with PET SEMATARY the film adaptation of Stephen King's famous novel. While it took many liberties on film straying some from the source material it still managed to etch out a place for it's belonging in the hearts of horror aficionados. Stephen King himself even makes an appearance in the film at the funeral (the Minister).
30 Years later the film keeps popping up even as internet memes where they chop up one infamous scene and typically add in something that turns a horrifying scene into comedy. The film itself, the specific scene in particular is still very hard to watch today and unlike many films where we've come desensitized to things in the past that don't typically garner the same shock, scare or effect this notorious scene still hits you at the core. You'll know when you see it. Even if you're new to this film.
The horror genre seems to repeat itself more often then not, but this film had a lot of originality in the story that seems to be returning to cinema now more than ever in the genre.
PET SEMATARY, spelled wrong on purpose as it was spelled wrong in the film on the sign itself has all the qualities of a classic horror film. And like most classic horror films usually not everyone likes every so called deemed classic. Are you a fan of PET SEMATARY? Have you seen the film? If not be sure to check it out on Ultra HD Blu-ray and an exclusive Mondo X SteelBook coming to Best Buy & FYE on March 26th.
VIDEO QUALITY:
PET SEMATARY comes to Ultra HD Blu-ray Disc with Dolby Vision for its anniversary release. The film looks amazing for it's age and Paramount has really out done themselves with the transfer. The outdoor shots at the beginning show great brights that make it hard to believe it can look this good. While the back half of the movie has many dark scenes that while may not be up to the dark standard of today's filming they are still none the less impressive and likely as good as they will ever look.
AUDIO QUALITY:
PET SEMATARY comes to Ultra HD Blu-ray Disc with a 5.1 DTS HD Master Audio track that rips and roars across your home theater set up. (and likely soundbar too) When the trucks would whiz past I could damn near feel it. My front channels and center speaker carried the bulk of the load but the subwoofer put in some real work as well. The movie has so many different scenes that all lend themselves well to the audio track.
SUPPLEMENTS:

Disc 1 – 4K Ultra HD + Special Features:
Fear and remembrance
A look back at this classic with the cast and crew of 2019's Pet Sematary
Re-visitation – new interview with Mary Lambert
Director Mary Lambert shares memories of the movie
3 new behind the scenes image galleries
Never before seen storyboards
Commentary by director Mary Lambert
Disc 2 – Blu-ray + new and original special features:
Stephen King Territory. The characters. Filming the Horror
In December 2017 Paramount Pictures announced that it was remaking the film, with Jeff Buhler penning the script and Kevin Kolsch and Dennis Widmyer set to direct. The new movie stars Jason Clarke and Amy Seimetz as Louis and Rachel Creed, with John Lithgow appearing as Jud Crandall. The movie began filming in Montreal, Canada in June 2018 and was set to be released on April 5, 2019. – wikipedia