The Movie

Video Quality

Audio Quality

Supplements
Man on a Ledge is a 2012 American thriller film directed by Asger Leth, starring Sam Worthington, Elizabeth Banks, Jamie Bell, Edward Burns, Anthony Mackie, Genesis Rodriguez, and Ed Harris. Filming took place in New York City on top of The Roosevelt Hotel.
Purchase MAN ON A LEDGE on Ultra HD Blu-ray Today!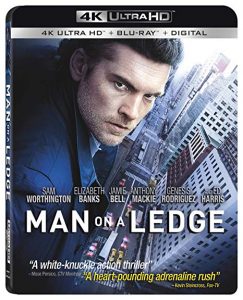 THE MOVIE:
Nick Cassidy played by Sam Worthington who checks into the Roosevelt Hotel in NYC under a fake name of Walker goes to his room on the 21st floor and threatens to commit suicide. The police are called and Nick will only speak with Lydia Mercer who is played by Elizabeth Banks.
Upon being able to grab his fingerprints off of a cigarette they discover he was an ex policeman who was arrested for stealing a 40 million dollar diamond from businessman David Englander played by Ed Harris. Nick had escaped prison one month earlier.
The film plays out with this being a theatrical decoy in regards to what is happening across the street where another attempted robbery is going to take place at Englander's vault.
Man on a Ledge features a few more twists and turns and despite some negative reviews it's not quite as bad as reviews make it out to be. It's definitely a film worth watching at least once, if not every few years. Here we have a great Ultra HD Blu-ray release with Dolby Atmos audio and Dolby Vision that make it the best representation the film has had to date. Perhaps we'll see the Director get a second chance with Hollywood sometime soon. Asger Leth.
VIDEO QUALITY:
Man on a Ledge comes to Ultra HD Blu-ray from Lionsgate with beautiful Dolby Vision and great video quality on this film means Elizabeth Banks and Genesis Rodriguez look all the more lovely in high quality 4K Blu-ray. Elevator scene FTW. Presents in 2160p in 2.40:1 with Dolby Vision.
AUDIO QUALITY:
Man on a Ledge comes to Ultra HD Blu-ray with a Dolby Atmos audio track that does its fair share and more handling the load of this film. Given the tense nature of this film's many scenes it allows for some great audio blissful moments in my home theater and surely anyone's soundbar as well.
SUPPLEMENTS:
Man on a Ledge doesn't offer any new special features but includes the prior features on the blu-ray disc below.
"The Ledge" Featurette
Trailer with Commentary by Elizabeth Banks
The film placed fifth in the box office top ten with a low $8,300,000 gross on its opening weekend. Overall, the film grossed $46,221,189 from its $42 million budget. – wikipedia