The Movie

Video Quality

Audio Quality

Supplements
Eastwood stars as Earl Stone, a man in his 80s who is broke, alone, and facing foreclosure of his business when he is offered a job that simply requires him to drive. Easy enough, but, unbeknownst to Earl, he's just signed on as a drug courier for a Mexican cartel.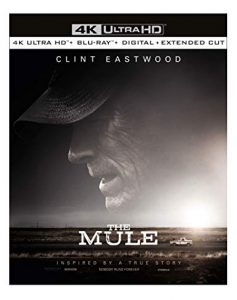 Purchase THE MULE on Ultra HD Blu-ray Today!
THE MOVIE:
It almost blows my mind that as old as Clint Eastwood is that he can still churn out films the way he does whether acting, producing or directing. In this case he does all three. At the ripe ole age of 88 years young he very rarely puts out a film that doesn't go over well with audiences. Lately the only one I can think of is 15:17 to Paris and given that he did the noble deed of allowing the real life heroes a chance to star in the film I'm willing to put an asterisk next to that one. If you want to watch that and spare yourself some of the misery skip to the last act of the film. Thank me later.
Now with The Mule thankfully you can watch is all the way through and while not as strong as some of his other work it was still a very pleasurable movie watching experience. It's definitely worth a watch, if not a purchase. The film takes a little bit of a while to start out and find it's pace but the slow start was necessary for back story and character development of this true story so that you have better insight in to who exactly is Earl Stone. (Clint Eastwood)
Unless you've been living under a rock you've likely already seen the trailer that had a good deal of marketing behind it on national TV. The Mule just like its metaphoric definition is exactly what Earl Stone ends up becoming. A mule for a drug cartel in Mexico that uses and old white man to run drugs across states under the disguise of exactly that. An old white man who they call tata and also Grandpa. He looks like an angry farmer with his beat up truck for much of the movie until he gets a brand new Lincoln truck that makes me wonder if that was product placement. HA.
Bradley Cooper, Michael Pena, Andy Garcia and even Clint's own daughter Alison Eastwood also star in the film and help hold the film together as it fights to keep good pace and dialogue with simply Clint and Mexican Cartel Gangsters. It's a far cry from Gran Torino, seems to be missing more intensity from the police scenes that it could offer, but for fans of Eastwood or those who grew up enjoying his films you'll likely find an enjoyable watch and another "good one" for the vast library that is Clint Eastwood films.
VIDEO QUALITY:
The Mule looks stunning on Ultra HD Blu-ray with super dark black levels and plenty of landscape scenes of farms, roads, Mexico, you name it. Filmed in 2.8k it still transferred well to UHD and the blu-ray respectively. A film that moves at a somewhat slow pace thus it handles it quite well.
AUDIO QUALITY:
An often quiet at times film the dialogue heavy film is handled well with a DTS HD Master audio 5.1 track. You get scenes like the bar music, party in Mexico, and the tunes of Johnny Cash and others coming from his radio that allow the track it's louder moments in the film. Never the less no audio complaints and the track suits it well.
SUPPLEMENTS:
"The Mule" 4K Ultra HD and Blu-ray Combo Pack contain the following special features below:
Nobody Runs Forever: The Making of The Mule
Toby Keith "Don't Let the Old Man In" Music Video
The Mule was released in the United States on December 14, 2018, by Warner Bros. Pictures. It has grossed over $166 million and received mixed reviews from critics, who called it "poignant and charming" and praised Eastwood's performance, but also noted the lack of true dramatic heft. – wikipedia