Alien is a 1979 science-fiction horror film directed by Ridley Scott and written by Dan O'Bannon. Based on a story by O'Bannon and Ronald Shusett, it follows the crew of the commercial space tug Nostromo who encounter the eponymous Alien, a deadly and aggressive extraterrestrial set loose on the ship.
Purchase ALIEN on Ultra HD Blu-ray Today!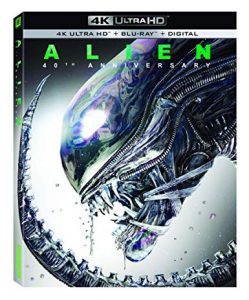 THE MOVIE:
When the crew of mining vessel Nostromo are awakened from their cryo-sleep one year early to investigate a distress signal from LV423, they discover a horrific monster that science officer Ash (Ian Holm) admires because of, "its purity, its sense of survival; unclouded by conscience, remorse, or delusions of morality." For Warrant Officer Ripley (Sigourney Weaver), Ash's words ring hollow, as she witnesses one Xenomorph born from an attack on Executive Officer Kane (John Hurt) kill the rest of the crew including her captain (Tom Skerritt). Their attempts to kill it only result in more casualties, with Ripley learning of the devious reason behind their diversion in the first place. Even when she sets the auto-destruct on the Nostromo, the alien manages to find its way to the rescue pod, leading to a now-epic final battle between them.
At its heart, ALIEN is a magnificent horror film set in space. It's STAR WARS, JAWS, and 2001: A SPACE ODYSSEY blended together into a terrifying spectacle of survival in the face of a superior and deadly life form. Of course, the scene of a scantily-clad Weaver near film's end also helped to elevate it in the minds of geeky boys who hadn't seen such beauty before; but that's a subject to debate later. This is one I can put away for awhile, then watch it again and see so many new things I hadn't caught before. The Theatrical and Director's Cut aren't much different, with scattered moments captured for our criticisms; but there is one inconsistency I'd like to understand. Scott has completely transformed some of the monochromatic screens on the Nostromo into updated dynamic versions, while leaving others woefully primitive. I have no idea why Mu-Th-Ur would be so enhanced while every other screen seems to have been forgotten. In my OCD world, it's probably a minor blip on most other's radars, but one I hope to one day understand better.
Ultimately, ALIEN is an example of the way film can sometimes achieve a magical quality, when everything seems to fall into place regardless of the challenges. Some might claim that the score by Composer Jerry Goldsmith really doesn't match the movie in places, but it's clear he got most of it dead right, setting a tone that James Horner would use quite well in ALIENS. But when you affect the genre so much – even after suffering a last-minute casting change, a tight shooting schedule, and a director who mostly made commercials before doing ALIEN – you realize just how magical the final product is.
VIDEO QUALITY:
ALIEN comes to Ultra HD Blu-ray 4k from Fox with HDR10+. This is essentially a dynamic HDR that can change the colors based on each scene which is practically the same as Dolby Vision. That said it looks amazing and this is the best Alien has ever looked. You'll be pleased with the picture quality on this release.
AUDIO QUALITY:
ALIEN comes to Ultra HD Blu-ray 4k with DTS HD Master Audio 5.1. This is a bit strange that they haven't upgraded this audio track. The theatrical has the option for 4.1 but I guess we don't get Dolby Atmos just like we don't get Dolby Vision for likely licensing royalty reasons they wished to avoid. As simply HDR is open source with no royalties. However we still have Dolby Digital so I'm a bit lost unless one is just dirt cheap compared to the others that they decided to skip it here. The disc is DBOX motion code enabled as well.  As for the 5.1 DTS HD Master Audio track and how it sounds see our write up covering that from before below.
The Blu-ray release for ALIEN is spectacular in every way. The audio, improved to a DTS-HD Master Audio 5.1, sounds more like a 7.1, with enough power and detail to compete against most of today's releases. From the beginning credits, it's clear that Scott and his team have lovingly improved upon the original 5.1 Dolby Digital, turning this experience into something completely new. It's totally immersive, beginning with the forward speakers which give us the standard mix of audio, sound effects, and Composer Jerry Goldsmith's terrifying score. But there's a layer beneath it that not only amps up the volume but makes it crystal clear so that every field is equally represented. The center channel delivers perfect dialogue, with no pops or hisses to speak of. Sometimes, editors turn the gain up to dial in the voices, only to hear background noise. Not here. The real pleasure arrives in the surround speakers, which give us a nearly unending supply of environmentals, from ship interior sounds to the violent world of LV423. There's a lot of contrasting sounds here, from the hissing of the Xenomorph to the thudding of machinery, all handled exquisitely. When bigger moments arrive, such as the Nostromo's landing on the planet, it's full speed ahead, with the rears rippling but never overwhelming you. The other strength of this track lies in the LFE, which pulses, pounds, and thumps with chest-exploding results. Every Xenomorph attack, musical effect, and explosion are all captured for our appreciation. For a film released in 1979, Scott and his team have turned in a masterful reworking of the original soundfield, on par with some of the best I've ever heard.
SUPPLEMENTS:
ALIEN 40th Anniversary Includes the following Bonus Features:
1979 Theatrical Version
2003 Director's Cut
2003 Audio Commentary by Ridley Scott and the Cast & Crew
1999 Audio Commentary by Ridley Scott (1979 Theatrical Version Only)
Final Theatrical Isolated Score – Dolby Digital 5.1 (1979 Theatrical Version Only)
Composer's Original Isolated Score – Dolby Digital 5.1 (1979 Theatrical Version Only)
Deleted Scenes
Alien was released on May 25, 1979 in the United States and September 6 in the United Kingdom. It was met with critical acclaim and box office success, winning the Academy Award for Best Visual Effects. – wikipedia