Glass is a 2019 American psychological thriller film written, produced, and directed by M. Night Shyamalan. The film is a crossover and sequel to Shyamalan's previous films Unbreakable (2000) and Split (2016), serving as the final installment in the Unbreakable trilogy.
Purchase GLASS on Ultra HD Blu-ray Today!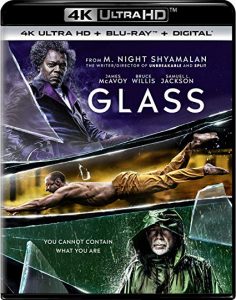 THE MOVIE:
The Eastrail 177 trilogy finally comes to an end, or does it? Unbreakable is an often under appreciated overlooked film especially likely due in the fact that when you think of M. Night Shyamalan you immediately think of films like The Sixth Sense, Signs, and perhaps even The Village. However one would assume that last one is often interchangeable with Unbreakable.
Unbreakable turned out to be a great film that has at last allowed the story to continue with the surprise hit SPLIT, and thus now we have the arc coming together with GLASS. This is not your typical superhero movie nor was it ever even back with the release of Unbreakable in the fall of 2000.
However all of these offer complex intelligent movies that tie together well built characters with super hero like powers. Good vs. Evil in a story that will likely only be appreciated much later. With the financial success of GLASS, let's hope that if more films spurn off this supposed end that they won't do wrong by what was already left fine enough as is.
VIDEO QUALITY:
GLASS comes to Ultra HD Blu-ray in its 4k form from being shot at 3.4k so this is a very close real true transition here. The film makes great use of color hues and palettes to help really add to the ambiance of many scenes. One particular scene is when all three characters are being interviewed together and the hospital wing is all pink. It's really sharp and I found it amusing that none of them really ever pay it any attention. However it's there and it adds to the scene well. The film has great picture quality and you'll be pleased by that most definitely.
AUDIO QUALITY:
GLASS comes to Ultra HD Blu-ray with a Dolby Atmos audio track that is as equally impressive as it is punchy. It sets the tone very well and handles the film just fine. I felt the score was one of the stronger points of GLASS and it appears many others agree. No complaints in the audio quality department.
SUPPLEMENTS:
Glass comes to Ultra HD Blu-ray with the following special features:
Alternate Opening
Deleted Scenes
The Collection of Main Characters
A Conversation with James McAvoy and M. Night Shyamalan
Bringing the Team Back Together
David Dunn vs. The Beast
Glass Decoded
Breaking Glass: The Stunts
Connecting the Glass Universe
M. Night Shyamalan: Behind the Lens
The Sound of Glass
Enhancing the Spectacle
Raven Hill Memorial
Night Vision
The film was released on January 18, 2019, by Universal Pictures in the United States and by Walt Disney Studios Motion Pictures, under the Buena Vista International label, in international territories. It has grossed over $246 million worldwide, against a $20 million production budget, making it the seventh highest-grossing film of 2019 – wikipedia