The Movie

Video Quality

Audio Quality

Supplements
The Lego Movie 2: The Second Part is a 2019 computer-animated adventure comedy film produced by the Warner Animation Group and distributed by Warner Bros. Pictures. A direct sequel to The Lego Movie (2014), it is directed by Mike Mitchell, with Phil Lord and Christopher Miller (writers and directors of the first film) returning as producers and writers.
Purchase The Lego Movie The Second Movie on Ultra HD Blu-ray Today!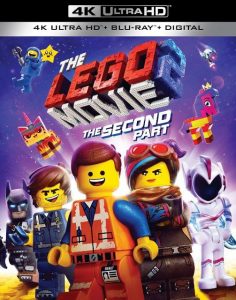 THE MOVIE:
Following up on the success of the first LEGO MOVIE comes The LEGO Movie The Second Part with the cast returning and a new harrowing adventure we're in for a ride! Set five years later after the first Bricksburg gets invaded by LEGO Duplo Invaders from outer space. However it will also feature our heroes having to travel far away to test their building skills in another galaxy in order to save the day.
VIDEO QUALITY:
The LEGO Movie The Second Part comes to Ultra HD Blu-ray 4K with HDR that helped qualify for the Ultra HD Premium Label. A label bestowed upon titles with great video and audio quality merit. That said this animated film in 4K is no slouch. Of course that comes with the HDR that helps the brights light up your screen. Animated films look great in blu-ray, but with the right HDR they look stunning in Ultra HD Blu-ray. The Lego Movie 2 is no different.
AUDIO QUALITY:
The LEGO Movie The Second Part comes to Ultra HD Blu-ray 4K with a Dolby Atmos track that really helps propel this sensation to the next level. LEGO movies have all the sounds of action movies in combination to song numbers that allow this Atmos track to impress.
SUPPLEMENTS:
The LEGO Movie The Second Part Special Features:
Everything is Awesome Sing-along: Sing-along, trivia, games and more.
Commentary: With Director Mike Mitchell, Writers/Producers Phil Lord and Christopher Miller and Animation Director Trisha Gum (1 hour 47 min).
They Come in Pieces – Assembling The LEGO Movie 2: Featurette including Chris Pratt, Elizabeth Banks, Will Arnett and Tiffany Haddish (8 min 49 sec).
Emmet's Holiday Party – A LEGO Movie Short: Holiday themed animated short (2 min 44 sec).
LEGO Sets in Action: Animations of LEGO products for The LEGO Movie 2.
LEGO Designers: LEGO toy designers highlight key LEGO Movie 2 play sets.
Outtakes & Deleted Scenes: Never before seen scenes (12 min 21 sec).
Super Cool Music Video (Official Lyric Version): Music video by Beck featuring Robyn and The Lonely Island (3 min 30 sec).
Promotion Spots
The Lego Movie 2: The Second Part was released in the United States and United Kingdom on February 8, 2019, in 2D, 3D, RealD 3D, Dolby Cinema, IMAX, and IMAX 3D formats. It received generally positive reviews from critics, who commended its humor, animation, soundtrack, and voice acting, although some said it was not as "fresh" as the first film. The film has grossed over $190 million worldwide against a budget of $99 million. – wikipedia