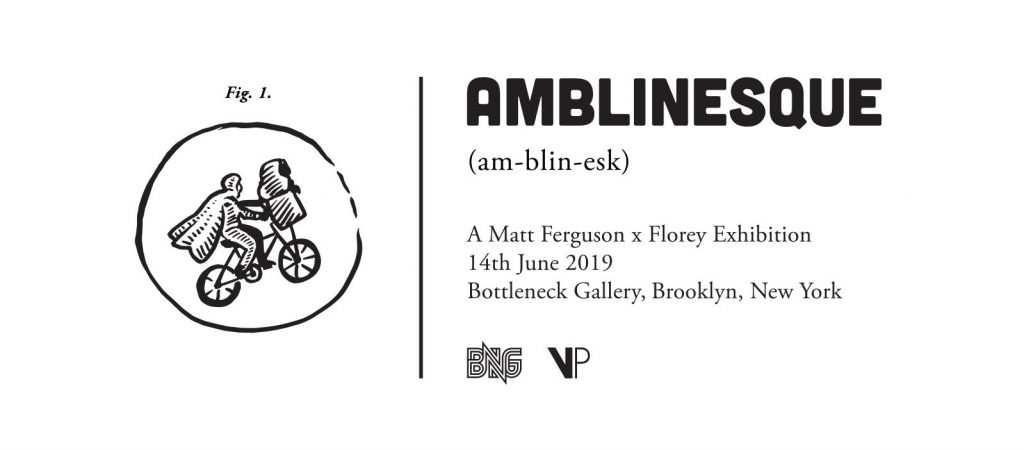 Bottleneck Gallery and Vice Press present an exhibition of original art by Matt Ferguson and Matthew "Florey" Rowan celebrating the films and productions of Amblin Entertainment and Steven Spielberg.

Matt Ferguson (Twitter @Cakes_Comics) co-founder and creative director of Vice Press and Matthew "Florey" Rowan (Twitter @MrFlorey) artist and designer of high-profile brands and properties have selected their favorite Amblin Entertainment and Spielberg movies to produce an exhibition of screen printed film posters and limited edition art prints.
The exhibition, which is free of charge and open to the public, will feature a collection new and exclusive works by Matt Ferguson and Florey celebrating classic Amblin Entertainment and Steven Spielberg movies such as Jurassic Park, E.T The Extra-Terrestrial, Back To The Future, Jaws, Indiana Jones and many more to be revealed at the exhibition launch.

Works from the show will also be available to purchase from www.BottleneckGallery.com and www.Vice-Press.com at a date to be announced.
Information on the Exhibition
The Where:
Bottleneck Gallery
60 Broadway
Brooklyn, NY 11249, USA

The When:
Opening Reception – June 14, 2019 from 7PM until 9PM
Exhibition – June 14, 2019 to July 10, 2019; with hours Monday to Friday, 11am to 5pm