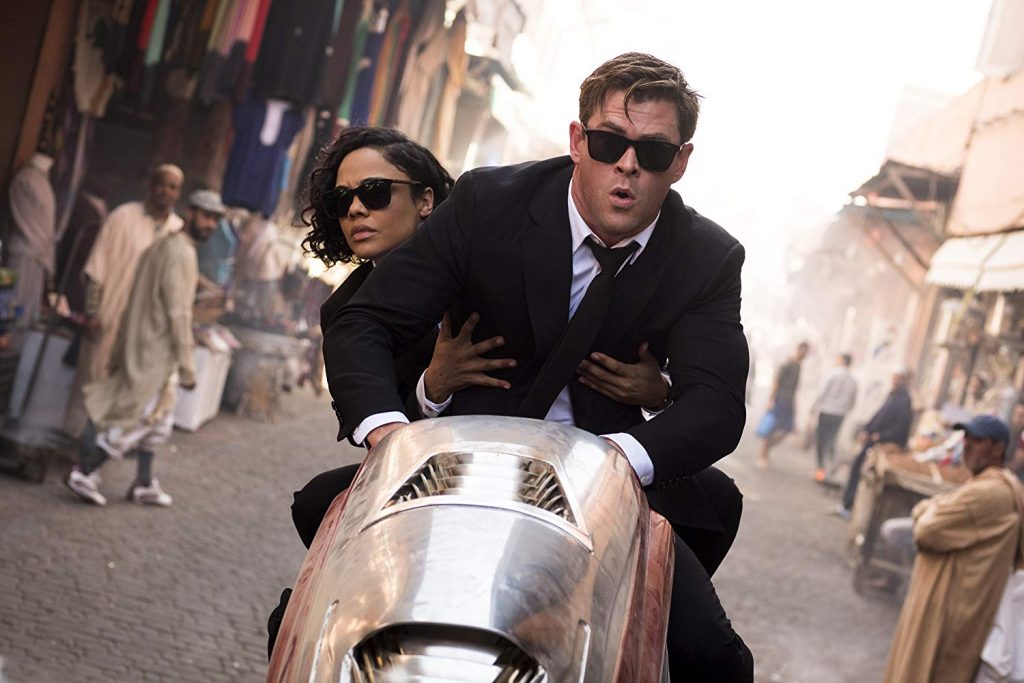 Funny but nothing special, MEN IN BLACK: INTERNATIONAL entertains but takes no chances in doing so.
By Matt Cummings
With Disney essentially propping up a slumping Summer 2019 box office, we arrive at yet another reason why this season has largely failed to spark long lines: MEN IN BLACK: INTERNATIONAL. Although it does its best to entertain, it's a sequel that we really didn't need nor did we ask for. The question is, will anyone re-commit to a series whose last entry was 7 years ago?
Ever since she was a child, M (Tessa Thompson) has known about MIB's existence and has prepared herself to join its ranks, whether they wanted her or not. But when she infiltrates the New York office, M gets the chance she's waited for and is sent to the London office. There, she meets the hunky H (Chris Hemsworth) who was involved in a now-famous battle in Paris with his former partner-turned-boss High T (Liam Neeson). Since then, H has been flighty and unfocused in his duties, which M discovers when when H's alien friend is murdered by powerful aliens. M also learns that London MIB may be threatened from within and suspects Agent C (Rafe Spall), who in turn issues a warrant for her and H's arrest. Soon, the duo is on the run to uncover a mysterious alien technology that could either aid them in defeating the assassins or lead to the death of the planet. The result will see H coming to terms with his famous moment and questioning his own loyalty to MIB.
INTERNATIONAL features a good cast and sports great special effects, but it does little to advance the franchise, take any chances in general, or prove that it deserves a fifth movie. Hemsworth – who's had the hardest time of the Marvel actors to turn his success into broader appeal – shines here along with Thompson; they enjoy an honest and familiar chemistry that probably started in THOR: RAGNAROK, which is boasted by the voice acting of Kumail Nanjiani as a CGI pawn who's sworn allegiance to M. Together they keep Director F. Gary Gray's movie from falling asleep with quick wit and making this episode a worldwide experience. Unfortunately, Gray and Writers Matt Holloway and Art Marcum miss golden opportunities (including important and needed cameos) to address the "Where has this franchise been since 2012?" questions and one keeps waiting for a certain duo to return and tip their sunglasses to H and M.
It's unlikely that new audiences were blowing up Reddit demanding a fourth MIB, but for consistency's sake it won't play well a couple of years from now. Holloway and Marcum do insert some chaos into INTERNATIONAL but give Neeson little to do until the end. By then, we've been led down a surprisingly effective twisted road. However, the conclusion isn't well conceived at all, and our heroes are left to merely shoot at the villain rather than seek smarter ways to save Earth. M's rather nonchalant attitude towards MIB – including his flightiness since the Paris event – isn't well fleshed out either; the ending doesn't quite cut it and our heroes never seem to be in any real danger. At least MIB III made the film a character story with a compelling ending, where here the real effort here is to deceive audiences while C, High T and M deceive one another.
MEN IN BLACK: INTERNATIONAL is funny but emotionally empty summer entertainment. Hemsworth and Thompson have great chemistry, but a lack of important cameos and a bland, vanilla story will do little to elevate this to a rebirth for the franchise. What made MIB special all those years ago isn't here with INTERNATIONAL, and it will be interesting to see if the same audience who fell in love with the property back in 21 years ago will return and bring their children.
MEN IN BLACK: INTERNATIONAL is rated PG-13 for sci-fi action, some language and suggestive material and has a runtime of 115 minutes.