Us is a 2019 American psychological horror film written and directed by Jordan Peele, starring Lupita Nyong'o, Winston Duke, Shahadi Wright Joseph, Evan Alex, Elisabeth Moss, and Tim Heidecker.
Purchase US on Ultra HD Blu-ray Today!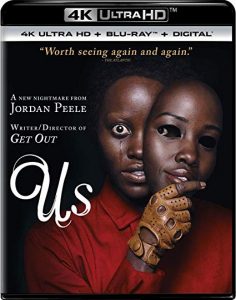 THE MOVIE:
US is the follow up to Jordan Peele's huge success blockbuster film GET OUT. Where does US stack up against GET OUT? Read on! US does a good job at showing how a beauty such as Lupita Nyong'o can also play a role that can totally creep you out. A great score and soundtrack with lots of great camera placement and movement help lend its way to a nice new age psychological thriller.
The film may be a big reach, but if you can roll with the punches and absorb yourself into the content and story line of the film than you can be pleasantly entertained and creeped out all the way. The film requires your attention and there's a nice bit of comedy sprinkled throughout as well.
Jordan Peele is proving himself as a Director and screen writer and we look forward to his next film.
VIDEO QUALITY:
US comes to Ultra HD Blu-ray 4K with Dolby Vision which helps this colorful movie from the dark scenes, the beach scenes, the outside scenes etc. The film is really all over the place with scenery and with lots of darks and brights the HDR allows for a great deep viewing. US looks amazing on Ultra HD Blu-ray.
AUDIO QUALITY:
US comes to Ultra HD Blu-ray 4K with Dolby Atmos and with a track and score like that of the one from US the Dolby Atmos really gets its chance to shine. From the infamous "I Got 5 On It" track from Luniz and Yukmouth to that of the creepy score. Great audio clarity, and sound effects to boot.
SUPPLEMENTS:
Scene Explorations – The making of three iconic scenes from the film including the Tyler house massacre, Jason's abduction and Adelaide's underground flashback.
Seven Second Massacre
It's a Trap
I Just Want My Little Girl Back
The Duality of US – Jordan Peele goes in-depth on some of the key themes and imagery in US–including Doppelgängers, Hands Across America, The Nutcracker dance scene, rabbits and the infamous 11:11 coincidence.
The Monsters Within US – Examine how the great cast were able to find their characters, whether they were playing one of the Wilsons or their sinister doppelgängers.
Tethered Together: Making US Twice – Making of a movie is hard. Making a movie where all the main cast play dual roles can be downright mind-bending. In this piece, filmmakers, cast, and crew discuss some of the technical challenges to making the film, as well as some of the design choices for the characters.
Redefining a Genre: Jordan Peele's Brand of Horror – In the space of two films, Jordan Peele has set himself apart as an invaluable artistic voice. Hear cast and filmmakers highlight what makes him so unique, as well as Jordan's own thoughts on his inspirations and the relationship between horror and comedy.
Becoming Red – Using behind-the-scenes footage from between takes, we take a closer look at Lupita Nyong'o's intense and mesmerizing performance as "Red."
Deleted Scenes:
I Am Not Even Near You
Rabbit Season
That's Badass
Driftwood
The P is Silent
I Wanna Go Home
We're All Dying – Hilarious outtakes from the conversation between Winston Duke and Tim Heidecker on the beach.
As Above, So Below: Grand Pas de Deux – An extended version of the dance sequence from the film, cutting between adolescent Adelaide at her recital to Red in the Underpass.
The project was first announced in February 2018, and much of the cast joined that summer. Peele produced the film alongside Jason Blum and Sean McKittrick (with the trio previously having collaborated on Get Out and BlacKkKlansman), as well as Ian Cooper. – wikipedia