Alita: Battle Angel is a 2019 American cyberpunk action film based on the 1990s Japanese manga series Battle Angel Alita by Yukito Kishiro. It was directed by Robert Rodriguez, co-produced by James Cameron and written by Cameron and Laeta Kalogridis. Rosa Salazar stars as the heroine Alita, a cyborg who awakens in a new body with no memory and sets out to learn her destiny.
Purchase ALITA BATTLE ANGEL on Ultra HD Blu-ray Today!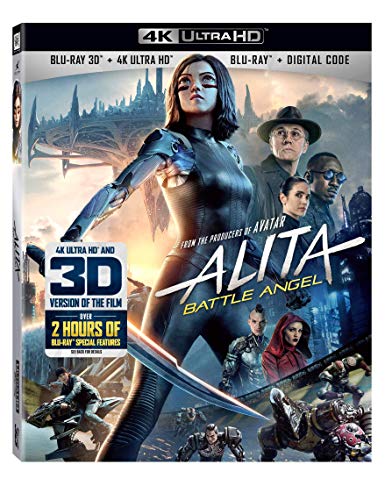 THE MOVIE:
Alita: Battle Angel has many of it's fair share of stars such as Rosa Salazar, Christoph Waltz, Jennifer Connelly, Mahershala Ali, Ed Skrein, Jackie Earle Haley, and Keenan Johnson to name most. Alita folllows a cyborg who wakes up with no memory to a Doctor who soon finds out that she has a heart and soul and a secret of a extraordinary past.
Alita's old programming returns and she demonstrates both incredible power and dexterity while seeking answers to her initial death. Meanwhile, the gangster Vektor (Mahershala Ali) learns of Alita's rebirth and takes violent steps to force her into his service. Vektor works for the powerful Nova, who runs the last floating city on Earth and keeps the rest of society tightly controlled through fear, violence, and the occasional roller derby events. Branded with a new sense of purpose, Alita sets out to learn about her past and seek revenge against Nova, forcing Ido and the mysterious research scientist Chrien (Jennifer Connelly) to relieve a painful memory from their shared past.
Can she fight to save her friends and the world she has now come to love?
VIDEO QUALITY/ AUDIO QUALITY:
ALITA BATTLE ANGEL comes to Ultra HD Blu-ray with Dolby Vision & Dolby Atmos. Dolby Vision dynamically gives us perfect tone blacks and brights according to the true intention from the editing room with the Director.
Robert Rodriguez has always been a visionary, and teaming him up with James Cameron in any aspect especially one with cgi etc. you can simply expect for the film to pop off your screen. And that it does. Cameron a big supporter of 3D may have had something to do with the following packaging stateside also coming with a 3D disc.
ALITA BATTLE ANGEL is a great value set offering the 4k Ultra HD Blu-ray, 3D Blu-ray, a Digital Code for MoviesAnywhere etc. and lastly a regular blu-ray disc which in this turn of events takes the place of the never needed DVD disc that is typically thrown in.
The Atmos track is pure ear candy in your home theater set up as it was in mine so I find most any set up will find it amazing.
SUPPLEMENTS:
Alita: Battle Angel Blu-ray™ Special Features
Alita's World – get a deeper look into the world of Alita: Battle Angel with these dynamic motion comics.
The Fall – a look back at the terrible war that almost destroyed two planets and set the stage for the cyborg warrior Alita's return 300 years later.
Iron City – Hugo gives a guided tour of the Iron City he knows, showing off its dark corners and broken-down neighborhoods.
What it Means to be a Cyborg – hunter-warrior Zapan tracks his mark across Iron City while musing about what it means to be a cyborg.
Rules of the Game – A high-octane "crash course" in Motorball, introducing the rules, game-play, and the top-ranked players and their arsenal of weapons.
From Manga to Screen – a behind-the-scenes look into the origins of Yukito Kishiro's beloved manga, "Gunnm," and the long road to bring it to life on the big screen.
Evolution of Alita – how Alita was brought to life, from the casting of Rosa Salazar, to performance capture, and final VFX by WETA Digital.
Motorball – go inside Iron City's favorite pastime, from the origins and evolution of the sport, to rules on how the game is played.
James Cameron, Robert Rodriguez and Cast Q&A moderated by Jon Landau.
Robert Rodriguez's 10 Minute Cooking School: Chocolate – a cooking lesson on how to make delicious chocolate like that seen in the movie.
2005 Art Compilation (2019) – James Cameron's original compilation of concept art for the then-titled "Battle Angel: Alita," presented with new voiceover and music.
Scene Deconstruction – view three different stages of the production – the original live action performance capture, the animation stage, and the final Weta VFX from four different scenes
Alita: Battle Angel had its world premiere at the Odeon Leicester Square on January 31, 2019, and was released in the United States on February 14, 2019 by 20th Century Fox in all 3D formats. It is the first film produced by Lightstorm Entertainment since Avatar and the last to be solely released by Fox before The Walt Disney Company took control of the studio as part of their acquisition of 21st Century Fox on March 20, 2019. The film grossed over $404 million worldwide. – wikipedia