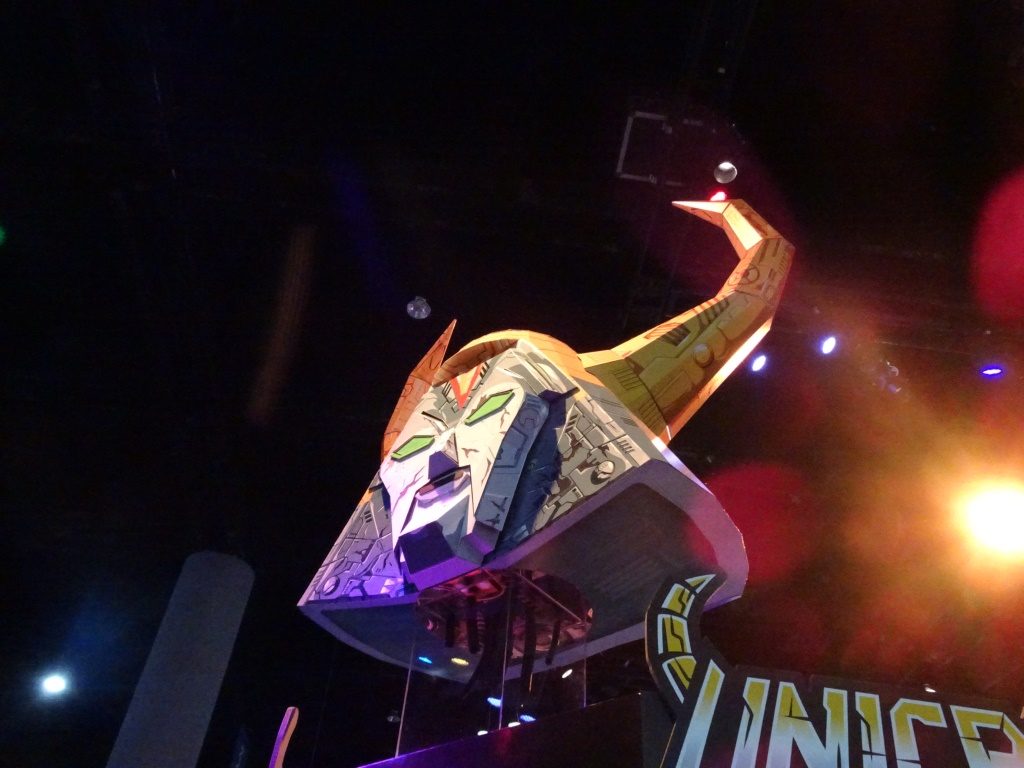 Hasbro's booth presence at San Diego Comic-Con continues like clockwork with a huge display area for their massive amount of properties along with a completely separate HasbroPulse (formerly Hasbro Toyshop) booth selling their line-up of exclusives. A mainstay on the show floor and at the convention the display area is where current products as well as new reveals are on display throughout the show. This year that included an area for new brands Overwatch and Power Rangers the latter with a display of suits from various iterations.

The big reveal this year though was a prototype display of Haslab's newest crowdfunding project – Unicron. The second Haslab project after last year's Sail Barge there is absolutely no other way to describe this Transformer than anything but massive; the amount of detail that went is going into this figure makes the $600 price tag seem justified. Within the Transformers Display there was also a nice look at the Transformers X Ghostbusters Optimus Prime collaboration. The Masterpiece Prime is decked out in Ghostbusters colors and even comes with a slimmer. I've been told that Ectotron, a previously released figure in the collaboration, fits inside the trailer. An Astrotrain figure set for release later this year was another figure that caught my eye in the Transformers display.
Hasbro also revealed plenty of new waves in their Marvel Legends line including a new Avengers wave with Iron Man Mark LXXXV, Iron Patriot, Heimdall, Valkyrie which includes a Dude Thor Build-A-Figure and a Spider-Man Wave. During the convention they also revealed some more Legends figures including She-Hulk, Dr. Doom, 80th Anniversary Deadpool & Hit Monkey 2-Pack, and Punisher to name a few. As has become typical the Marvel side also had a diorama display with just about every Legends figure imaginable. A new Captain America Classic Shield and a Gamerverse The Punisher Electronic Helmet also rounded out their premium roleplay line.
Here are some better photos direct from Hasbro of all the Marvel Legends reveals from Avengers, New Mutants, X-Men, X-Force, and more
Also in celebration of 80 years of Marvel Comics, Hasbro created some amazing comic book cover images featuring a variety of figures from the new Marvel Legends 80th Anniversary line, including characters such as Iron Man, Thor, Storm, Colossus, and more.
For Star Wars the reveals were a bit light. Outside of the Rise of Skywalker Sith Trooper no new movie reveals were present at the show but Hasbro did reveal a new Boba Fett helmet in their premium roleplay line as well as a Luke Skywalker figure in their hyperreal 8-Inch line, as well as a new wave in the Galaxy of Adventures line.
Below are some photos from the various other Hasbro properties

Overwatch
Power Rangers
Magic The Gathering
Press and media were again offered a closer look at some of these new products at the annual Entertainment Brand Preview Breakfast. The breakfast is always a good place to get some much needed pre-convention food, say hi to friends you haven't seen for a while, get an up close look at the convention exclusives and upcoming products, and chat with the product managers for all the various properties all without having to fight the masses at their booth. We were also gifted a goodie bag of gifts from the various product lines
There are always a wide array of exclusives for all properties at San Diego Comic-Con. This year that included the aforementioned Transformers X Ghostbusters Optimus Prime as well as convention packs in their Trading Card Game and a Transformers: BotBots Con Crew 10 pack. The Star Wars Exclusives included a Black Series Boba Fett in a blister pack, a Rise of Skywalker Sith Trooper in convention packaging, and a Luke Skywalker Jedi Destiny 3-Pack. For Marvel the Legends series included a Marvel Legends The Elders of the Universe 2-Pack featuring The Collector and Grandmaster and a 80th Anniversary The Incredible Hulk action figure. Other Exclusives included a The Power Rangers Lightning Collection 6-Inch Mighty Morphin Red and Zeo Gold Ranger 2-Pack, Overwatch Ultimates Series 6? Reinhardt Figure with Bundeswehr Skin, Magic: The Gathering Dragon's Endgame by this years artist Adam Paquette, as well as other exclusives in the Trolls, My Little Pony, and Uglydolls line.