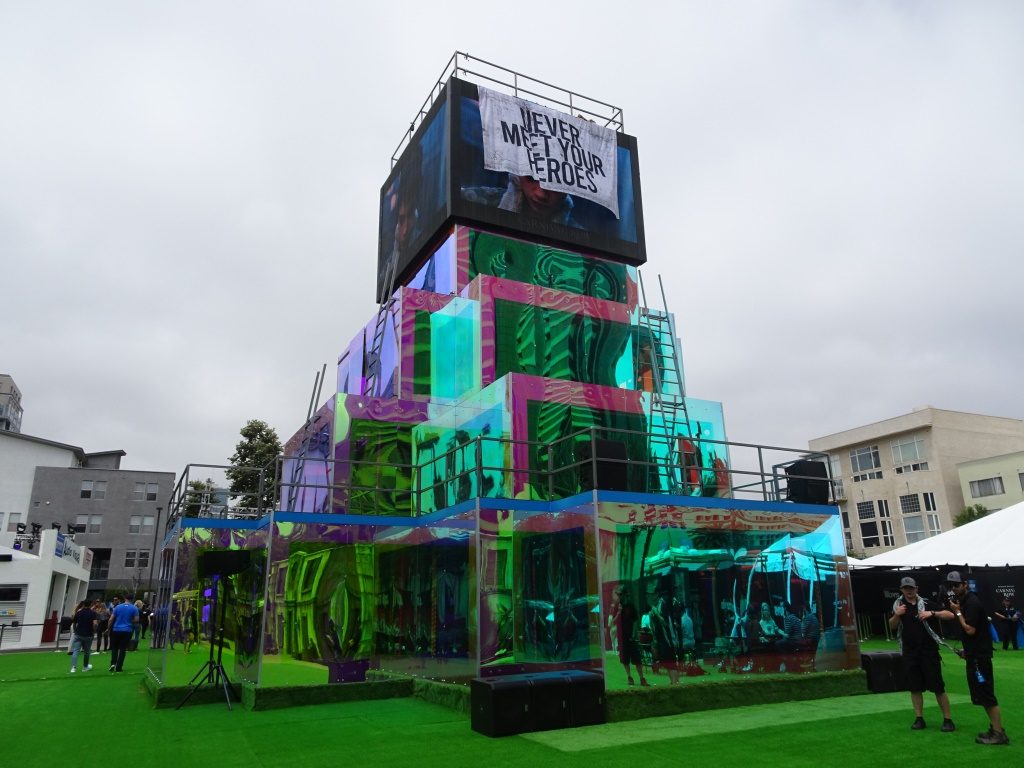 Amazon continues to be one of the premier studios bringing content to comic-con through panels, events, and offsite activations. Following up from last year which saw a huge push for Jack Ryan Amazon again took up the 60,000 square-foot space across from the convention center. This year though the Amazon Prime Video Experience focused on new shows The Boys and Carnival Row as well as for the upcoming fourth season of The Expanse.
Each area of the activation was separated for the three shows and in the center of the whole thing was a 40 foot tower that was playing clips from the three shows as well as live performances. Attendees were given collectible silver and gold coins, each stamped with images from the three shows, which were then used inside the area for experiences, food, and other surprises. However that was not all there were also tented areas to cool off and relax once inside the experience as well as a cosplay photo corner where fans could get professional portraits and a food area to rejuvenate. Carl's Jr. was also on hand with some refreshments during the press day to help promote The Boys. I missed it during the convention but there was also a secret comic book shop with prizes for fans lucky enough to get in!

I do hope Amazon continues to bring more and more content to San Diego Comic-Con as well as New York Comic Con in the fall.

The Expanse
SOCIAL: Instagram/Twitter/Facebook:  @ExpanseOnPrime; #TheExpanse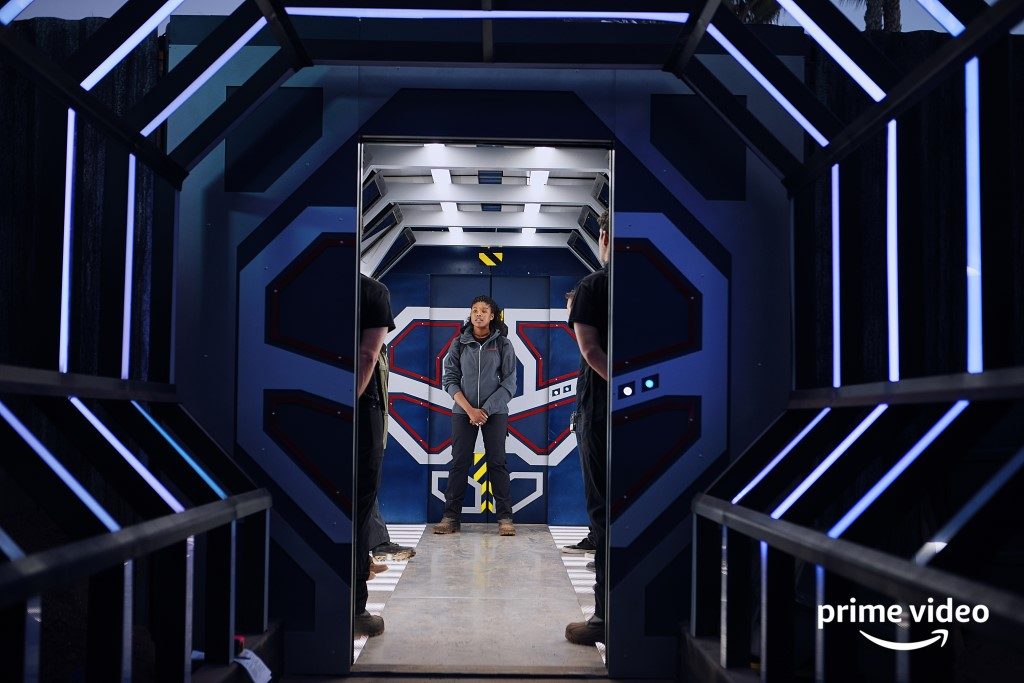 For the The Expanse portion of the offsite adventurers take a ride on a Rocinante on a United Nations peacekeeping mission to a newly colonized planet of Ilus. Before boarding the ship attendees were given their own Belter temporary tattoo which had an interactive portion when put through a filter.  However once you land on Ilus not is all as it seems when you are put in the middle of an inter-galactic conflict.

The area was made up little shacks and alien protrusions as well as many in-character performers and immersed attendees in the skirmish. Once you made it through the experience you were given an Amazon Prime Expanse branded tumbler; a neat bit of swag.
The series follows a future where humanity has colonized the Solar System and a ships crew as they unravel a conspiracy which threatens Earth, Mars, and the Belts fragile peace. Season 4 releases on Prime Video later this year.

Outside of the activation Amazon held a panel as well a Belter Party (dedicated to fellow humans born on the Asteroid Belt) to promote the show.

The Boys
SOCIAL: Instagram/Twitter/Facebook: @TheBoysTV; #TheBoys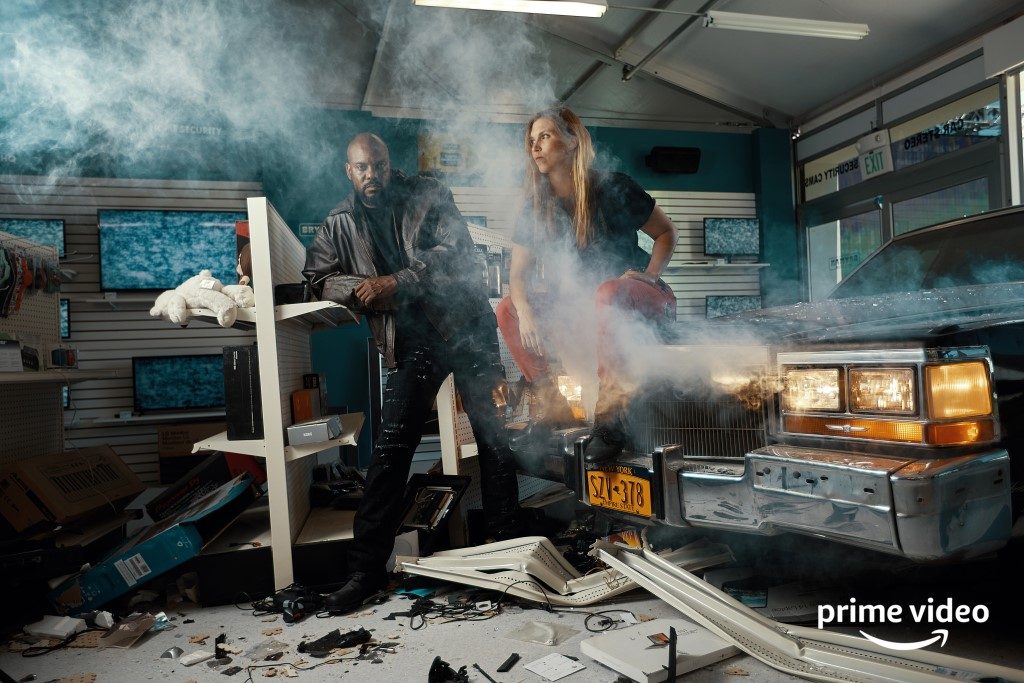 Where The Expanse experience took fans off-world the The Boys experience brought you up close with a crime scene at a Audio/Video Shop. In a world of corrupt superheroes you are put in the cover-up of a superhero kidnapping crime scene. Immersive actors took you through the beat up shop looking to destroy evidence of the crime, why, because F**K SUPES!

The Boys activation was made up of Hughie's Audio Visual shop which had a car run through it. Within the experience actors took you through finding and destroying any evidence of a crime. After exiting fans were given a F**K SUPES pin. This is also the area that had a secret comic book shop; unfortunately it was a secret to me while I was going through the experience but I've learned attendees were given a chance to win prizes and more swag if they got in!   
Based on The New York Times best-selling comic by Garth Ennis and Darick Robertson, The Boys is a fun and irreverent take on what happens when superheroes – who are as popular as celebrities – abuse their superpowers rather than use them for good. After Hugie's girlfriend is killed by a superhero as collateral damage he is recruited by the Boys to uncover the truth about "The Seven" and the Vought, the multibillion-dollar conglomerate that manages the superheroes and covers up their dirty secrets. The series is out now on Amazon Prime Video.
Amazon also held a panel with executive producers and cast during the convention as well as a party that featured a 2-episode sneak peek.

Carnival Row
SOCIAL: Instagram/Twitter/Facebook: @CarnivalRow; #CarnivalRow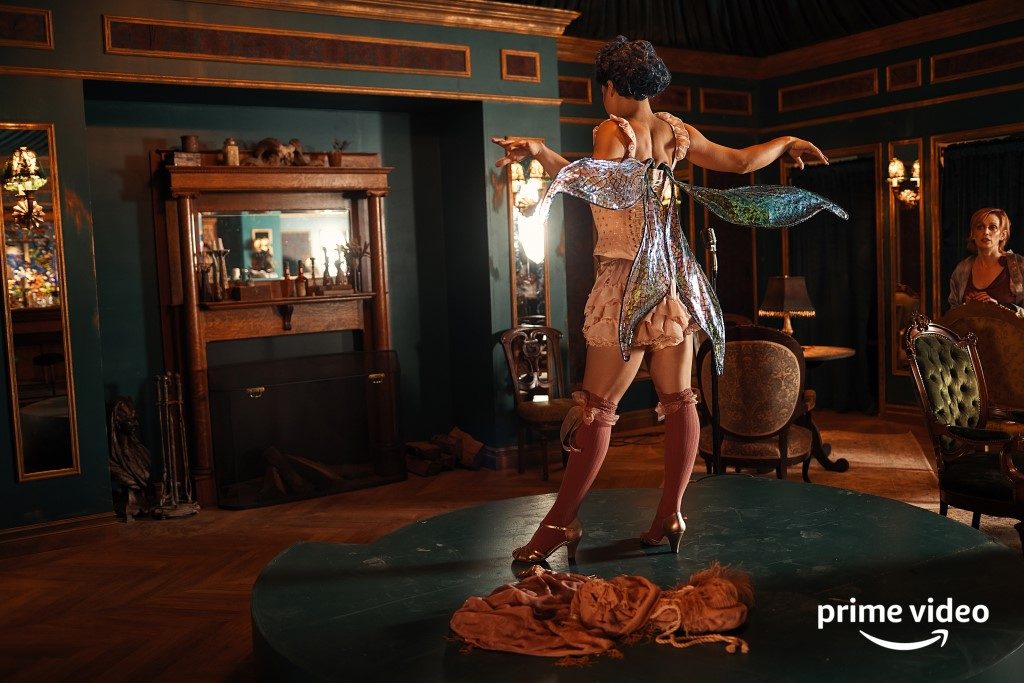 The Carnival Row experience showed the intermingled world of Humans and Critch (A derogatory term for non-human folk). Fans first chose if they wanted to experience the activation as a Privileged Human or an Immigrant Creature. Once chosen you were brought to a Victorian style alleyway full of wares. As you mingled with the creature merchants human police wandered around showing their authority over the lowly creatures.

However it was not all bad after a while we were all herded into the Forbidden Lounge a dark establishment with a burlesque feel with singing, dancing, and very secret nooks. Eventually though a creature seeks refuge in the establishment and Human and Creature work together to hide the fae from the police.
photo credit: Amazon Prime Video
Set in a Victorian fantasy world filled with mythological immigrant creatures whose exotic homelands were invaded by the empires of man, Carnival Row explores how this growing population struggles to coexist with humans. A human detective and a fairy rekindle a dangerous affair as the city's uneasy peace collapses when a string of murders reveals an unimaginable monster.
On top of the activation a panel was held featuring Orlando Bloom, Cara Delevingne, David Gyasi, Tamzin Merchant and executive producers Travis Beacham and Marc Guggenheim giving a sneak peak of the show. A final Come As You Are Party was held on Saturday night where fans were encouraged to celebrate their individuality as they enjoyed a drink and a sneak peek of the upcoming series which premieres August 30.