Detective Pikachu (also known as Pokémon Detective Pikachu) is a 2019 urban fantasy mystery film directed by Rob Letterman. Based on the Pokémon franchise created by Satoshi Tajiri and serving as a loose adaptation of the 2016 video game Detective Pikachu, it was written by Letterman, Dan Hernandez, Benji Samit and Derek Connolly, from a story by Hernandez, Samit and Nicole Perlman.
Purchase Pokemon Detective Pikachu on Ultra HD Blu-ray Today!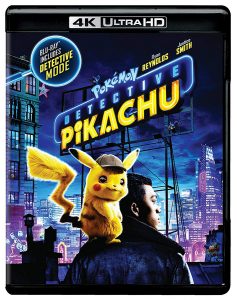 THE MOVIE:
One of the best detectives Harry Goodman goes missing which sets up our protagonist Tim, his 21 year old son to try and find out what happened. It doesn't take long for Tim to bump into Harry's former partner Detective Pikachu. Pikachu and Tim are connected and thus they work together as only Tim can talk to Pikachu. The two team up to try and find out what has happened to Harry Goodman and to unravel the mystery before them.
VIDEO QUALITY / AUDIO QUALITY:
Sorting the Ultra HD Premium tag Pokemon Detective Pikachu comes to Ultra HD Blu-ray with HDR and Dolby Atmos. The film has all the colors that allow it to pop as Pikachu practically jumps off the screen with his adorable vibrant yellow. While there are a lot of night scenes never the less it allows the deep dark blacks of the HDR to shine. You won't have any complaints in the PQ department for a film of this nature. It looks great. The soundtrack is punchy and the Atmos is immersive and thus it handles the track quite well.
SUPPLEMENTS:
All of the special features are housed on the blu-ray disc of the release and not that of the Ultra HD 4K disc.
Detective Mode
My Pokémon Adventure
Creating the World of Detective Pikachu
Uncovering the Magic
Colorful Characters
Bringing Pokémon to Life
Welcome to Ryme City
Action!
Alternate Opening
Mr. Mime's Audio Commentary
Ryan Reynolds: Outside the Actor's Studio
"Carry On" Music Video by Rita Ora & Kygo
Filming took place from January to May 2018 in Colorado, England, and Scotland. It was released in Japan on May 3, 2019,and in the United States on May 10, 2019, distributed by Warner Bros. Entertainment in RealD 3D and Dolby Cinema. It is the first Pokémon film to be distributed theatrically in the United States by Warner Bros. since Pokémon 3: The Movie (2000).- wikipedia