Avengers: Endgame is a 2019 American superhero film based on the Marvel Comics superhero team the Avengers, produced by Marvel Studios and distributed by Walt Disney Studios Motion Pictures. It is the sequel to 2012's The Avengers, 2015's Avengers: Age of Ultron, and 2018's Avengers: Infinity War and the twenty-second film in the Marvel Cinematic Universe (MCU).
Purchase Avengers Endgame on Ultra HD Blu-ray Today!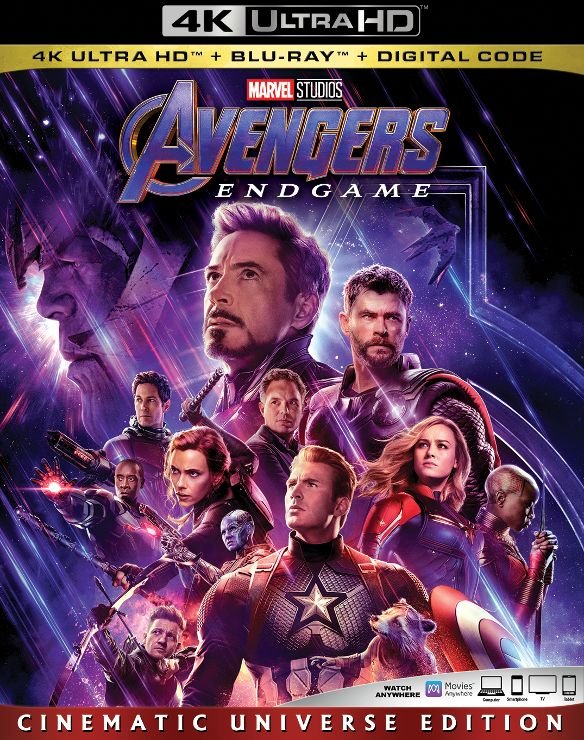 THE MOVIE:
After witnessing both defeat by the Titan Thanos (Josh Brolin) and the deaths of literally half of the universe, the remaining Avengers including Captain America (Chris Evans), Black Widow (Scarlett Johansson), Bruce Banner (Mark Ruffalo) Thor (Chris Hemsworth), Rhodie (Don Cheadle), Tony Stark (Robert Downey Jr), Nebula (Karen Gillian) and Ant-Man (Paul Rudd) hatch an impossible plan to regain The Infinity Stones. Their efforts will reunite them with old friends including Hawkeye (Jeremy Renner) and the powerful but off-world Captain Marvel (Brie Larson) as they set to right Thanos' mad actions.
ENDGAME is both a final farewell for some characters and a beginning for others. If you read comics, you know that no one truly dies, but it's clear that someone here is gonna buy it. That's been inevitable since 2012's THE AVENGERS, along with news that contracts for several stars have now expired. The dark and melancholy tone of INFINITY WAR is mostly here, coming up for sunshine in (perhaps too many) comedic moments for most of its 3 hour-2 minute runtime. But this isn't Shakespeare either, as Rocket Raccoon (voiced by Bradley Cooper) asks the team, "How many of you haven't been to space before?" and then, remarks, "Don't any of you throw up in my ship!" That sort of playful enthusiasm has pervaded this franchise, and it preps us for a beautiful swan song, complete with Composer Alan Silvestri's still stunning heartbeat. Most of it is retread from previous MCU films, but it will still give you chills, especially during one scene near the end.
But ENDGAME is more than mere comedy surrounded by huge battles; it's a film that is tonally distinct and more mature than earlier MCU films. Having established a darkening path with 2014's CAPTAIN AMERICA: THE WINTER SOLDIER and brutalizing us with last year's INFINITY WAR, we've been witnessing a stronger path towards character development, as Thor, Stark and Cap expose moments of anger, regret and worry only to find the next action as overwhelmingly more important than their ruminations. For one Avenger, the physical change is distinct and actually hilarious, until even that becomes a bit of a distraction as we know their next actions could be their last. But it's great to see Downey's Stark actually become more than the rude and shallow caricature he previously portrayed. Here, he has moments to actually act in expressing and exercising his demons which take us back to IRON MAN 3. Ruffalo and Renner too finally establish themselves, with one coming to terms with his complex relationship and the other expressing a newfound darkness that emerges during the movie's first scene.
ENDGAME is both the tear-jerker we thought it would be and a chance to spring new growth as it expands to a universe beyond our Pale Blue Dot.
VIDEO QUALITY / AUDIO QUALITY:
Avengers ENDGAME comes to Ultra HD Blu-ray with HDR and a Dolby Atmos track. While many may wish there was Dolby Vision the picture is still stunning with vibrant brights, deep darks, and an immersive audio track that sounded both in our home theater and soundbar living room environments.
SUPPLEMENTS:
The following special features are located on the blu-ray disc.
Remembering Stan Lee – Filmmakers and cast honor the great Stan Lee in a fond look back at his MCU movie cameos.
Setting The Tone: Casting Robert Downey Jr. – Hear the tale of how Robert Downey Jr. was cast as Tony Stark in the original "Iron Man" — and launched the MCU.
A Man Out of Time: Creating Captain America – Trace the evolution of Captain America with those who helped shape the look, feel and character of this compelling hero.
Black Widow: Whatever It Takes – Follow Black Widow's journey both within and outside the Avengers, including the challenges she faced and overcame along the way.
The Russo Brothers: Journey to Endgame – See how Anthony and Joe Russo met the challenge of helming two of the biggest films in cinematic history … back-to-back!
The Women of the MCU – MCU women share what it was like to join forces for the first time in an epic battle scene — and be part of such a historic ensemble.
Bro Thor – His appearance has changed but his heroism remains! Go behind the scenes to see how Bro Thor was created.
Six Deleted Scenes – "Goji Berries," "Bombs on Board," "Suckiest Army in the Galaxy," "You Used to Frickin' Live Here," "Tony and Howard" and "Avengers Take a Knee."
Gag Reel – Laugh along with the cast in this epic collection of flubs, goofs and gaffes from set.
Visionary Intro – Intro by directors Joe and Anthony Russo.
Audio Commentary – Audio commentary by directors Anthony and Joe Russo, and writers Christopher Markus and Stephen McFeely.
Digital Exclusive:
Steve and Peggy: One Last Dance – Explore Captain America and Peggy Carter's bond, forged in moments from previous films that lead to a momentous choice in Avengers: Endgame.
Avengers: Endgame was widely anticipated, and Disney backed the film with extensive marketing campaigns. It premiered in Los Angeles on April 22, 2019, and was theatrically released in the United States on April 26, 2019, in IMAX and 3D. The film received praise for its direction, acting, musical score, visual effects, and emotional weight, with critics lauding its culmination of the 22-film story. It has grossed over $2.79 billion worldwide, surpassing Infinity War's entire theatrical run in just eleven days and breaking numerous box office records, including becoming the highest-grossing film of all time, overtaking Avatar.
– wikipedia