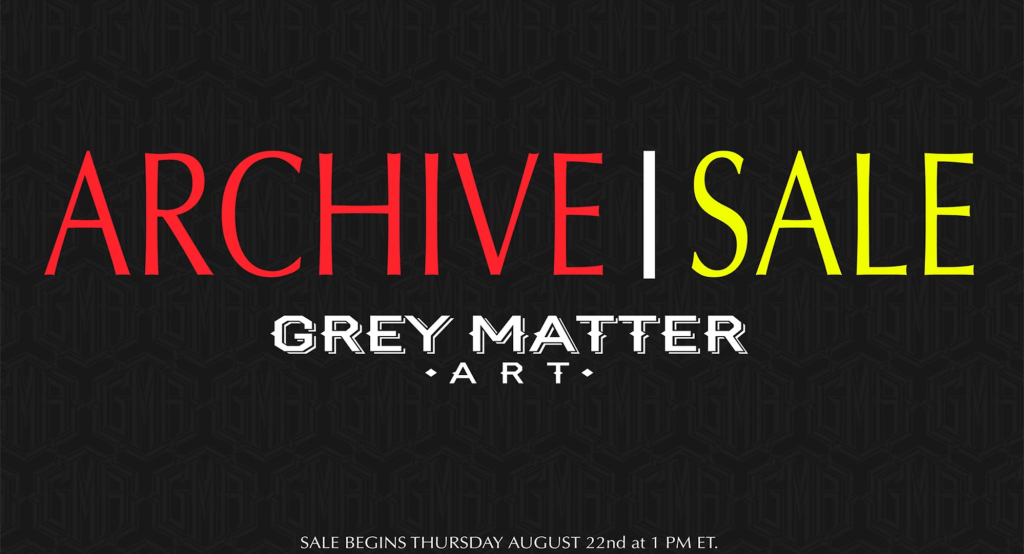 Grey Matter Art will be holding their Annual Archive Sale this week! They have dug deep into their flat files to bring you previously sold-out film & comic posters from past releases by many unique and talented artists. Sale will begin on Thursday, August 22nd at 1 PM ET. Please see the FAQ. for details!
Q. What posters will be available in the archive sale?
A. Once the sale goes live, the best way to see what is available is to click on the shop page, and any prints part of the sale will be labeled as, "Archive Sale."
 Q. Are thesereprints?
A. No, these are part of the original runs. We never reprint our editions.
  Q. Will there be a limited amount?
A. Yes, we have a very limited supply of each poster. Some may only have one or two of each. Others may have more.
 Q. How long will the sale last?
A. Sale will begin on Thursday, August 22nd at 1 PM ET. and will last until the posters are sold out.

 Q. Are all sales final?
A. Yes, there will be no refunds, returns, or exchanges.For all updates and information, please follow Grey Matter Art on Facebook, Twitter, and Instagram.And be sure to sign up for the GMA Newsletter too!
*For any inquiries, please contact them at admin@greymatterart.com