Men in Black: International (stylized as MIB: International in promotional material) is a 2019 American science fiction action comedy film directed by F. Gary Gray and written by Art Marcum and Matt Holloway. It is a spin-off of the Men in Black film series, which is loosely based on the Malibu/Marvel comic book series of the same name by Lowell Cunningham.
Purchase MIB International on Ultra HD Blu-ray Today!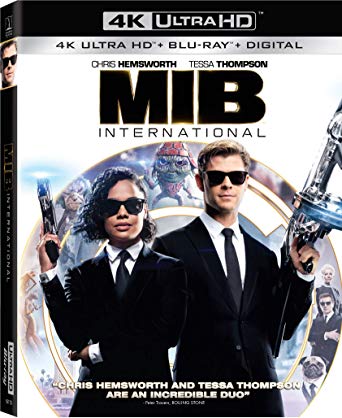 THE MOVIE:
MIB International seemed to be panned by many critics and now I feel a bit bad that I didnt get a chance to get out to the theater to see it during its theatrical run. Why? Because it was far better then the general consensus in my point of view. Sure there was some small servings of cheese, but overall the film had great pace an was an easy watch with bits of humor sprinkled in to some nice sci fi action. Why the villains were able to just break out and dance is still a bit beyond me, but other then that it was an entertaining watch. Chris Hemsworth and Tessa Thompson are still just as captivating on the screen as they've been before during Ragnarok and Endgame.
VIDEO QUALITY / AUDIO QUALITY:
MIB International comes to Ultra HD Blu-ray 4k with both HDR and Dolby Atmos. The high dynamic range allows for deep darks, vibrant brights and good color representation of the utmost clarity. The Dobly Atmos track sounds great what with all the alien tech like guns and the club scene. The speeder bike? If that's what you call it, and then of course that one desert scene.
SUPPLEMENTS:
4K ULTRA HD / BLU-RAY SPECIAL FEATURES
Deleted Scenes
"Alien-cestry.com": Everyone has a little alien in them! Trace your roots with Alien-cestry.com!
"Neuralyzer: Like It Never Even Happened": As NOT seen on Alien TV, order now to get your very own Neuralyzer and erase life's embarrassing moments like a pro.
"Gag Reel": Even top MIB agents forget their lines. See their bloopers in this unforgettable gag reel.
"New Recruits, Classic Suits": Anchored by the delightful chemistry between Tessa Thompson and Chris Hemsworth and supported by icons like Emma Thompson & Liam Neeson, the cast of MIB International is truly out of this world!
"Let's Do This! Inside the Action & Stunts": MIB International is packed with action and stunts, go behind the scenes with the team to see how they pulled it off.
"Look Right Here: Gadgets, Weapons, & Rides": From the iconic Neuralyzer to a tricked out Jag, check out the amazing arsenal of gadgets, weapons and vehicles.
Expanding the Universe of MIG
Les Twins Leave it on the Floor
Frank the Pug & Pawny's Peanut Gallery
In Case You've Been Neutralized: MIB Recap
Men in Black: International was theatrically released in the United States on June 14, 2019, by Sony Pictures Releasing, under its Columbia Pictures label. The film has grossed $253 million worldwide and received generally unfavorable reviews from critics, who criticized the "lackluster action and forgettable plot," although the chemistry between Hemsworth and Thompson was praised. – wikipedia