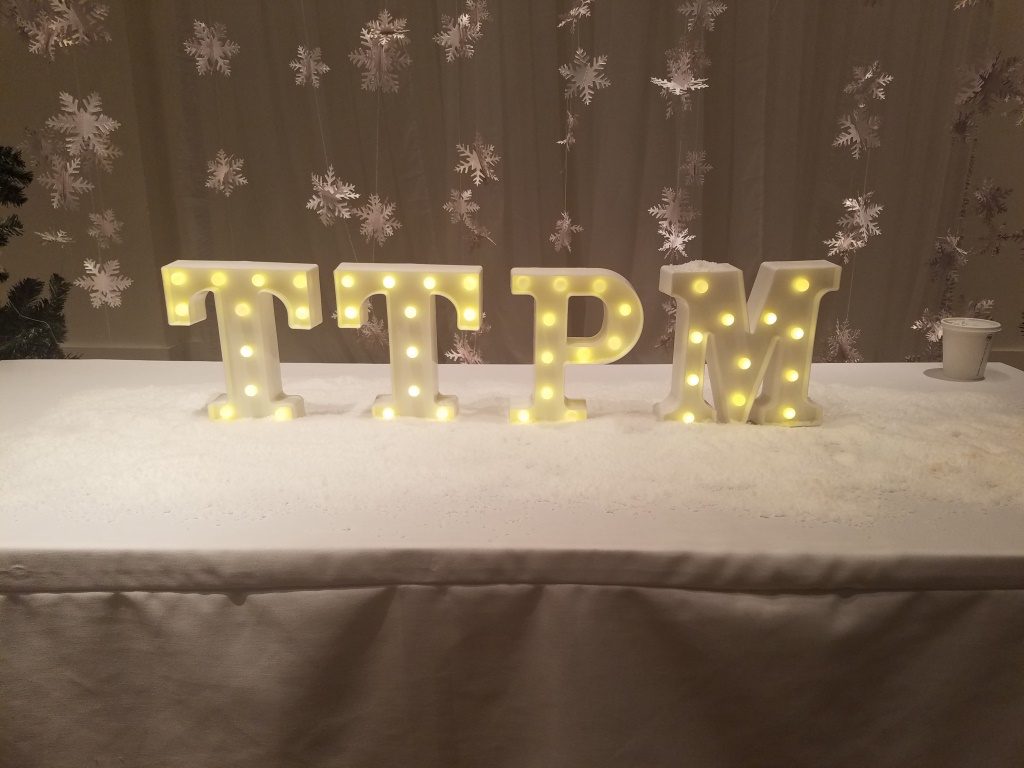 This week Toys, Tots, Pets, & More (TTPM) held their 2019 Holiday showcase. The show started off with an introduction by CEO Jim Silver who started off by discussing what to expect in the coming months. Some of the key points included that companies are becoming more and more tight with their product reveals and are tending to hold off reveals until closer to release to create a competitive advantage. A new trend in the marketplace is the emergence of Blogger personalities creating their own products to unbox such as the FGTeeV Season 1 Giant TeeV
from Bonkers Toys or the Tic Tac Toy XOXO Friends Surprise Box from
Blip Toys. Finally a familiar face is reentering the fold with the comeback of Toys-R-Us, though don't expect a straight brick and mortar store; when Toys-R-Us comes back expect a store that provides more of an experience creating more of a shopping event.
Jennifer Lynch (Editorial/Creative Manager) then came on stage to reveal TTPM's top picks for the 2019 holiday season. TTPM only ever recommends items they have reviewed so if they did not get a sample of something and review it they would not be able to recommend it. You can se a full list of the most wanted items here but special shout out to the LEGO Hidden Side
from LEGO.
TTPM is a resource for purchasers who want to research the best toys for the best prices. TTPM combines reviews (written and video) with live pricing comparisons, one-click purchasing, and product availability of major retailers. With their app shoppers can also make informed decisions when making purchases at the store or online, saving both time and money. For more info please visit their site: http://ttpm.com
As normal I focused on the items I feel are most relevant to Hi-Def Ninja which Lego, Hasbro, Mattel, Bandai, Disney, Warner Bros, Playmates, and Arcade1UP.

LEGO
LEGO had a display of some recent releases including their LEGO Ideas Friends set and the recently announced Disney Train and Station set. Also on display were their Hidden Side line which combines the traditional building and an augmented reality app to add to the adventure. Hidden Side also won an award from TTPM for hot holiday toy. The big reveal however was a new 1,400 piece Ginger bread house.
Gingerbread House (10267)
1477 pieces
US $99.99 – CA $139.99 – DE €89.99 – UK £84.99 – FR €94.99 – DK 799DKK
*Euro pricing varies by country. Please visit shop.LEGO.com for regional pricing.
The LEGO Creator Expert Gingerbread House is a treasure chest of magical details, It features frosted roofs with colorful candy buttons and a delicious facade with candy-cane columns, glittery windows and a tall chimney stack with a glowing fireplace. Inside the house there's an array of fun details and candy furnishings including a tasteful bedroom with chocolate bed and cotton candy lamp, and a bathroom with the essential toilet and bathtub. It also includes a decorated Christmas tree with wrapped gifts and toys, including a rocking horse and a toy train. Includes 3 figures: a gingerbread man, gingerbread woman and gingerbread baby.
Hasbro
Another favorite Hasbro showed off a little bit of everything but of note were the adult roleplay items including the Marvel Legends Iron Man Infinity Gauntlet, the Star Wars Black Series Luke Skywalker Battle Simulation Helmet, and the new Power Rangers Lightning White Ranger Helmet. Other items included the new Ms. Monopoly game, a new line of Star Wars Galaxy of Adventure figures and the Transformers BotBots line.
Disney
Disney also had a booth space at the show showcasing many of their licensed products multiple companies and properties. Shout out as well to the Home Alone game, Hasbro Furreal Simba, and Disney Bros Studio Subscription box but I was most impressed by the Disney Christmas Card and the Marc Davis In His Own Words: Imagineering the Disney Theme Parks books.
Warner Bros.
Warner Bros. was another company that a booth this year showing off a variety of their products from many licenses. They had a Scooby Doo Clue and Monopoly from USAopoly as well as other Scooby Doo products. It was a another property that had many products including Funko Mystery Minis, Abrams Books The World of It, anf the USAopoly It: Evil Below Boardgame. Batman, who is celebrating his 80th anniversary this year had plush figures, LEGO sets, and a Funko POP Comic Moment Batman 80th – 1964 New Look Batman and Robin set and a 80th Anniversary Funko Target Box. However for me the real prize were the Harry Potter themed items which included LEGO sets, plushes, gmaes, and the ultimate Invisibility Cloak from Wow! Stuff which with the use of the Invisibilty App can help you turn invisible!
Bandai
Bandai brought a array of products to TTPM including Tamagotchi, Digimon, Dragonball, and their Loyal Subjects Action Vinyls. The 3.25'' figures have up to 15 points of articulation, come with a collector card, and have interchangeable accessories thus making them "Action Vinyls". The line features various licenses including WWE, Game of Thrones, Masters of the Universe, Rugrats, Spongebob Squarepants, Aliens, Predator, and more.Some of the figures come in blind boxes adding to the collectability of the figures.
Mattel
Mattel brought a little bit of everything to the TTPM fair including Imaginext, Barbie, and Hot Wheels but their new Game of Thrones 700 piece Drogon in the MEGA line was impressive to see in person.
Playmates
https://playmatestoys.com/
With over 50 years in the business Playmates Toys produces some of the most imaginative products from top licenses including Teenage Mutant Ninja Turtles, Ben 10, Super G, Pop Tops. For TTPM they had a display of TMNT and Ben 10 along with their new property Power Players based on the upcoming CW show.
Arcade1UP
https://arcade1up.com/
Arcade1UP provides nostalgia with classic games you remember in 3/4 scale machines.Their counter-cade line is the perfect table top gaming system for the house and the best part, no quarters needed.