Pan's Labyrinth premiered on 27 May 2006 at the Cannes Film Festival. The film was theatrically released by Warner Bros. Pictures in Spain on 11 October and in Mexico on 20 October. It was produced and distributed internationally by Esperanto Filmoj and Warner Bros. Pictures, in association with Telecinco Cinema. Pan's Labyrinth opened to widespread critical acclaim, with many praising the visual effects, direction, cinematography and performances.
Purchase PANS LABYRINTH on Ultra HD Blu-ray Today!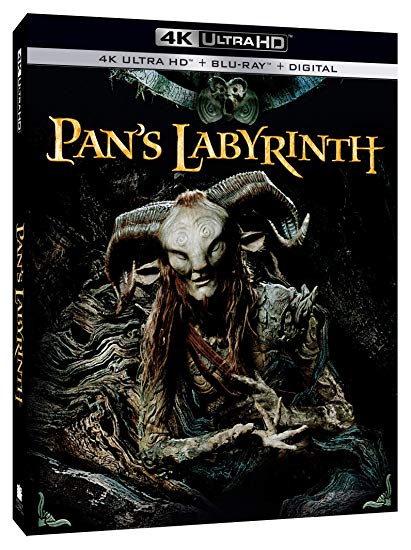 THE MOVIE:
Pan's Labyrinth is a critical hit from Guillermo del Toro that has a cult following from fans that tells the story of a summer in 1944 Spain five years removed from the spanish civil war.
The film mashes up the real world with a mythical world surrounded by an abandoned labyrinth and a mysterious faun creature. The main character Ofelia's stepfather, falangist Captain Vidal, hunts the spanish maquis who fight against the francoist regime.
VIDEO QUALITY /AUDIO QUALITY:
Pans Labyrinth comes to Ultra HD Blu-ray 4K with DTS HD Master 5.1 audio espanol track. The sound of the score, and sound effects are large and while I don't speak much spanish I relied heavily on the subtitles. I wish we had dolby atmos for this, but never the less it still does sound good. The blu-ray disc however has 7.1. Visually we have a treat with the so many darks in this film and them coming through with sharp deep clarity. However I'm not seeing huge differences when compared to Criterion's output.
SUPPLEMENTS:
4K UHD
Audio Commentary: By Writer/Director Guillermo del Toro
Blu-ray:
Enhanced Visual Commentary
The Power of Myth (SD, 14:23)
Pan and the Fairies (SD, 30:27)
The Color and the Shape (SD, 4:01)
The Lullaby – "The Melody Echoes The Fairy Tale" (SD, 2:47), "Mercedes Lullaby" (SD, 2:15)
Director's Notebook
Introduction (SD, :34)
Del Toro's Notes and Sketches – Instructions, Launch, Index
Storyboard/Thumbnail Compares – Instructions, Ofelia Enters the Labyrinth, Ofelia The Frog & The Giant Toad, Ofelia's Death, Death of the Doctor
VFX Plate Comparison (SD, 1:17)
Galleries
The Charlie Rose Show (SD, 49:25)
Comics – The Fairies, Pan, The Pale-Man
Marketing Campaign -Theatrical Teaser, Theatrical Trailer, TV Spots
The story takes place in Spain during the summer of 1944, five years after the Spanish Civil War, during the early Francoist period. The narrative intertwines this real world with a mythical world centered on an overgrown, abandoned labyrinth and a mysterious faun creature, with whom the main character, Ofelia, interacts. – wikipedia