THE HAUNTING ON HILL HOUSE is an American supernatural horror drama web television series created and directed by Mike Flanagan for Netflix.
Own THE HAUNTING ON HILL HOUSE on Blu-ray and DVD on October 15th.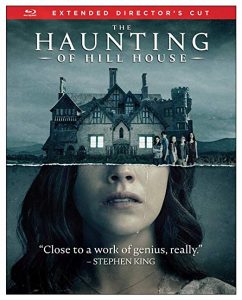 THE MOVIE:
THE HAUNTING ON HILL HOUSE quickly became one of the most talked about original Netflix series debuting in 2018. Fans binged watched the series and started to spread how great it was throughout all of social media. The creepy factor the show displayed was the best show for horror fans since it released in October before Halloween.
The series follows the Crain family in the 1900s living in a huge estate that the parents plan to renovate to quickly flip and profit from. Unfortunately, not every memory from living within the mansion was a happy one. Eventually the Crain's were driven away from unknown forces.
The series flips back and fourth from past to present following the five Crain siblings in their lives. Each sibling has experiences that has changed them dramatically in their current lives from living in the Hill House mansion. Steven (Michiel Huisman) decided to write a tell all best selling novel on the family, Theo (Kate Siegel) is a psychologist with some special talents, Shirley (Elizabeth Reaser) decided to pursue a career as a mortician, Luke (Oliver Jackson-Cohen) has become a drug addict, and Nell (Victoria Pedretti) the twin sister to Luke has suddenly passed away. Nell's passing brings the family back to a time they don't wish to remember.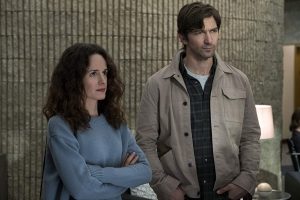 VIDEO/AUDIO QUALITY:
The video is a 1080p quality is acceptable for what the series needed. Although there are some dark moments through the series the quality the episodes were shot in are still visually clear. The transfer to blu-ray was amazing as well. The hair, make-up, house decor and colors through the series was excellent.
The sound was also very clear. Of course with a series there will be a lot of dialogue in the ten episode season. The sounds of living in an old home is also very apparent. The nosies such as creaks, slams, bangs and moans are constantly being heard to scare the family. Overall, the sounds were very well heard throughout the series.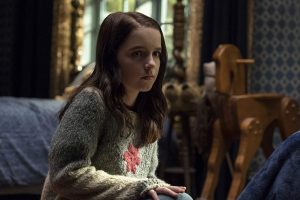 SUPPLEMENTS:
Bonus Features:
Extended Episode with Commentary: For "Steven Sees a Ghost:" Director Mike Flanagan
Extended Episode with Commentary: For "The Bent-Neck Lady:" Director Mike Flanagan
Audio Commentary: For "Two Storms:" Director Mike Flanagan
Extended Episode with Commentary: For "Silence Lay Steadily:" Director Mike Flanagan
Disc Details:
3 Disc Blu-ray set
Running Time:
569 min.
Edition Ratings:
Rated TV-MA
Region Coding:
Region A (B,C untested)
Video Resolution:
Resolution: 1080p
Aspect ratio: 2.00:1
Audio Mixes:
English (Dolby Digital 5.1)
Subtitles:
English