Scarface is a 1983 American crime drama film directed by Brian De Palma and written by Oliver Stone. It is a remake of the 1932 film and tells the story of Cuban refugee Tony Montana (Al Pacino) who arrives in 1980s Miami with nothing and rises to become a powerful drug lord. The cast also features Michelle Pfeiffer, Steven Bauer, Robert Loggia, F. Murray Abraham, and Mary Elizabeth Mastrantonio.
Purchase SCARFACE on Ultra HD Blu-ray Today!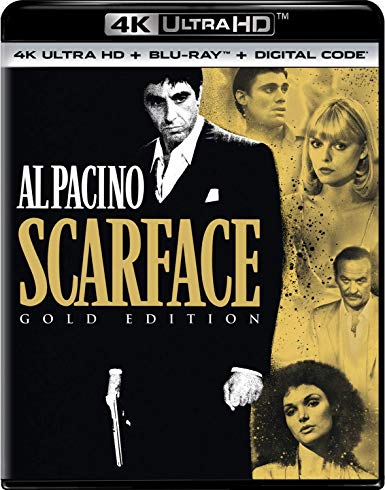 THE MOVIE:
Scarface happens to be hollywood gold that just keeps on getting better with age like fine wine. A movie that has transcended the silver screen and etched it's way into pop culture. Referenced in hip hop music quite regularly, parodied in comic sketches, anime, tv, and beyond it's a film that just doesn't get forgotten. And for good reason to! One of Al Pacino's best performances and mistakenly forgotten as a smashing successful remake! Albeit with many differences from it's predecessor never the less the story is a brutal take on the cocaine laced Miami nights of the 80's.
In the past year my daughter has wondered why I had such an appreciation for Al Pacino (and Robert De Niro as well) because well uhhhh you know it's not like he has been putting out straight fire in a long time. I told her it was cause of movies like The Godfather, HEAT, Scarface, among a few others. (and in the same light Taxi Driver,Casino, Goodfellas, and others with De Niro.) So I first introduced her to The Godfather and as the years went on age she got older she's now seen HEAT and finally Scarface. And she gets it! She totally gets it! Not all films can stand the test of time to be relevant to the next generation but Scarface's pure unadulterated brutality and realism has a sense of intrigue that get's you enthralled in the story and journey that plays out before your eyes.
VIDEO QUALITY / AUDIO QUALITY:
Scarface comes to Ultra HD blu-ray with HDR10 and DTS X Immersive Audio. The picture is sharp, deep, and clear almost throughout. While there is improvements there are still some scenes later on that feel as if they could have been better. Shrug. Never the less the best transfer we have had thus far. The audio track does a great job, and while an interesting choice of the DTS X it was surprisingly very useful with some scenes like the shoot out and helicopter landing.
SUPPLEMENTS:
Includes 4K UHD, Blu-ray and a digital copy of Scarface (1983)
Features High Dynamic Range (HDR10) for Brighter, Deeper, More Lifelike Color
Scarface: 35th Anniversary Reunion
The Scarface Phenomenon
The World of Tony Montana
The Rebirth
The Acting
The Creating
Deleted Scenes
Scarface: The TV Version
The Making of Scarface: The Video Game
Scarface was released on December 9, 1983 and grossed $44 million at the domestic box office and $65.9 million worldwide. Initial critical reception was negative due to excessive violence, profanity, and graphic drug usage. Some Cuban expatriates in Miami objected to the film's portrayal of Cubans as criminals and drug traffickers. In the years that followed, however, critics have reappraised it, and it is now considered by some to be one of the best films in the crime genre, and one of the greatest remakes ever. – wikipedia