Stuber is a 2019 American buddy action comedy film directed by Michael Dowse and written by Tripper Clancy. It stars Kumail Nanjiani, Dave Bautista, Iko Uwais, Natalie Morales, Betty Gilpin, Jimmy Tatro, Mira Sorvino, and Karen Gillan.
Purchase STUBER on Ultra HD Blu-ray Today!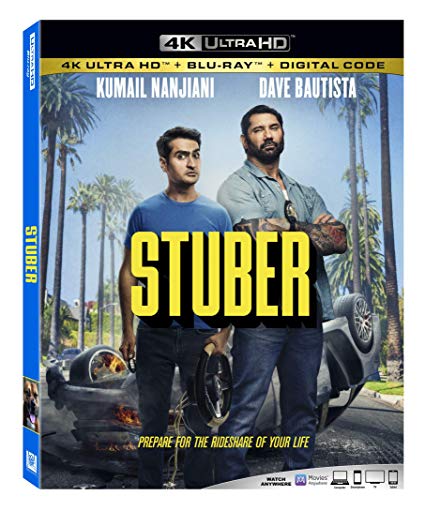 THE MOVIE:
Hardened LA Police Detective Vic (Dave Bautista) is tracking a drug dealer who killed his partner, when he's saddled with Millennial Uber driver Stu (Kamail Ninjiani). Stu has been pining for a long-time friend to notice him at the expense of his happiness and long-term goals. He works a dead-end big-box store job, accepts insults from his boss, and wonders why his Uber customers fail to give him 5 stars. But when the brusk Vic demands a ride, the two are set on a journey through the armpit of LA, testing their bonds through hails of gunfire and an electric car with limited range.
VIDEO QUALITY / AUDIO QUALITY:
STUBER comes to Ultra HD blu-ray with a stellar Dolby Atmos track and featuring HDR10+. The film excels in the video and audio department and exceeds all expectations. You can watch this film effortlessly not worrying about any quality issues and just enjoy the action comedy for what it is.
SUPPLEMENTS:
STUBER 4K Ultra HD, Blu-ray, DVD and Digital HD Bonus Features:
Deleted Scenes
Gag Reel
Joke-O-Rama
Georgia Film Works
Audio Commentary by Michael Dowse and Kumail Nanjiani
Gallery
Theatrical Trailer
Sneak Peak
The film had its world premiere at South by Southwest on March 13, 2019 and was theatrically released in the United States on July 12, 2019. Stuber was produced by 20th Century Fox, but following the merger of the studio with Disney, Walt Disney Studios Motion Pictures handled distribution. The film received mixed reviews from critics, who criticized it for not taking full advantage of its potential but praised Nanjiani and Bautista's chemistry. – wikipedia