It's a Wonderful Life is a 1946 American Christmas fantasy drama film produced and directed by Frank Capra, based on the short story and booklet The Greatest Gift, which Philip Van Doren Stern wrote in 1939 and published privately in 1943. The film is one of the most beloved in American cinema, and has become traditional viewing during the Christmas season.
Purchase IT'S A WONDERFUL LIFE on Ultra HD Blu-ray Today!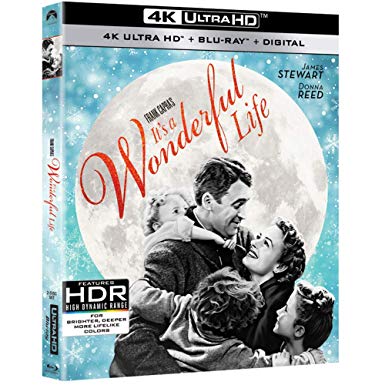 THE MOVIE:
Not much needs to be said about this Holiday classic that hasn't already been said before. You know the film, and now here's your chance to own the best version to ever release to home media. We go in more depth below on how much work was put into this release. Stellar release from Paramount once more.
Ruined by a miser (Lionel Barrymore) on Christmas Eve, a suicidal family man (James Stewart) sees life anew thanks to his guardian angel.
VIDEO QUALITY / AUDIO QUALITY:
Paramount worked tirelessly restoring this classic film for over a year using the original nitrate negative along with two fine grain masters from the 1940s. Each element was carefully scanned using the very latest technology to both preserve the delicate negative and create the best possible digital image. Incredibly, 13 of the 14 reels of the original negative survived, however portions had started to deteriorate so the best image was cobbled together from one of the three original sources from a shot-by-shot basis. In conclusion we have the best picture available than ever before. Sure enough deep dark black and vibrant whites make up this black and white film that looks great given the context.
Audio wise we have a Dolby TrueHD Mono track that sounds as sharp as this can likely be. Previous and accompanied blu-ray is only Dolby Digital.
SUPPLEMENTS:
The 4K Ultra HD Combo Pack includes the black-and-white film in 4K UHD, the colorized version on Blu-ray, and the three special features:
"Restoring a Beloved Classic" – Great insightful watch on what all it took to bring this classic up to today's technical landscape.
"Secrets from the Vault" – Informative watch
"It's A Wonderful Wrap Party." – Vintage footage
Theatrically, the film's break-even point was $6.3 million, about twice the production cost, a figure it did not come close to achieving on its initial release. An appraisal in 2006 reported: "Although it was not the complete box-office failure that today everyone believes … it was initially a major disappointment and confirmed, at least to the studios, that Capra was no longer capable of turning out the populist features that made his films the must-see, money-making events they once were. – wikipedia